Using Corten Steel
Corten is a versatile metal—flexible and sturdy and virtually maintenance-free. It's no wonder designers are so crazy about it.
Corten—or weathering steel—is typically used for landscaping and outdoor construction. It is made with alloys that cause its surface to develop a self-protecting rust when exposed to weather. The insulating patina resists corrosion, requires no painting or weather-proofing, and doesn't compromise structural strength.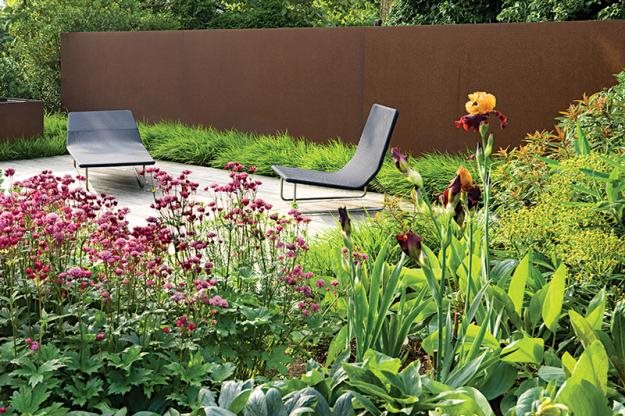 In his own Hertfordshire, Britain garden, designer Tom Stuart-Smith erected a Corten wall and picked up its red tones with Astrantia 'Claret.' Photo by: Marianne Majerus/MMGI.
Landscape designers appreciate Corten for more than its warm hue. Generally available in sheet and plate form, its strength and durability combined with minimal thickness (typically 3/16 or 1/4 of an inch) allows it to serve in situations where a concrete wall, for instance, would not fit or would visually overwhelm its surroundings. Corten has been used for walls, edgings, dividers, planters, gate trims, and arbors; indeed, its versatility seems to be limited only by the designer's imagination.
Using Corten in the Garden
To bring more modest Corten accents into your garden, consider the wide range of premade planters, fire pits, benches, and raised-bed boxes widely available online and at retailers.
Using Corten on a larger scale is best turned over to professional designers and contractors, particularly when drainage, weight-bearing, and soil-retention issues are involved. Larger installations are typically manufactured off-site.
Keep in mind the material's vulnerabilities when choosing where and how to use it: The metal's corrosion-resistance is not as great in salt air or when placed in constant contact with water. Be prepared to provide special drainage for walls grounded in heavy soil, and keep in mind that runoff from the metal can stain adjacent surfaces, such as concrete.
Dallas landscape architect David Hocker says, "I love steel's agrarian aesthetic; it's so reminiscent of miles of steel fencing and pole barns." In Walnut Creek, California, Joe Huettl raves about a mesmerizing juxtaposition in one of his projects that uses "swaying 'Karl Foerster' feather reed grass to backdrop the steady, solid quality of Corten steel walls." And in London, judges of the renowned RHS Chelsea Flower Show practically drooled over the 2010 The Daily Telegraph garden installation designed by Andy Sturgeon, which won Best in Show and prominently featured sculptural Corten screens.
The chairman of judges, Michael Balston, was said to call it a clear favorite among the contenders. "There are some that grab you a bit more and Andy's did for most of us," Balston told The Guardian at the time. "It has a superb dynamic as you walk around it and different views are revealed." The Daily Telegraph itself gushed over the use of Corten as a foil for the plantings. "The purples of salvia and aquilegia are the perfect sultry complement to the [steel's] coppers and bronzes," wrote garden columnist Stephen Lacey.
Given its no-frills, midcentury industrial flavor, Corten fits most easily into contemporary garden plans. Hocker, for example, relied on weathered steel extensively when he turned an old power station compound into a private city garden. In one section, a low edging of plate steel creates a slightly raised buffalo-grass-covered plinth that sets off an adjacent single mesquite tree like a living sculpture. "Steel has a nice, slim profile without the bulkiness of a concrete wall," Hocker says. "And in this project, it recalls the site's industrial past."
For this Austin, Texas, client, LandWest Design Group enlisted almost 3 tons of Corten steel. Photo by: Jon Whittle.
Where Hocker's approach is one of restraint, Sturgeon dominated the Chelsea Flower Show by constructing playful, see-through, person-high fences of Corten steel that subdivided and framed a collection of colorful Mediterranean plants.
For his own Napa Valley, California, garden, landscape architect Jack Chandler used steel plates for his gate, retaining walls, and staircase risers. The resulting look is functional and architectural, but its earthy tonality also links it to the grasses and grapevines of the wine country. Just like the earth, Corten is not at all monochromatic. Subtle shadings give it a depth and a sense of vitality — a reminder, perhaps, that it is a dynamic and not static material.
Corten Steel Vegetable Garden
In a Moraga, California, garden, Huettl's firm carved sheets of 4- by 8-foot Corten into walls, dividers, and seating. It used three Corten panels, spaced a foot apart, to form a backdrop and privacy screen fronted by two floating L-shape ipe benches. To create a low wall at the edge of the lawn, 2-foot-high Corten panels alternated with low stucco walls — the rusty tones nicely offset the gray-green of the stucco, Huettl says.
For a steeply graded San Francisco garden that required earthquakeproof stability and a zigzagged stairway to ease the homeowner's descent, landscape designers James A. Lord and Roderick Wyllie of Surface Design devised a series of trapezoidal steel boxes that edged the flights of stairs; distinguished play areas from entertaining areas; and had triangular planters set into their tops, meant to be viewed from the house above. Lord says the homeowners especially appreciate how the boxes' bold shapes and strong colors reference the sculptures of Richard Serra.
Just as it's impossible to identify the genius who first enlisted this railcar material in service to the garden, no one can say how many of its brilliant applications will show up in the future. We don't know, but we can't wait to see.
The History of CortenU. S. Steel developed the product in the 1930s and trademarked it as Cor-Ten; it was used primarily in railroad coal wagons. Corten became a go-to material for modernistic architecture and outdoor art in the 1950s and 1960s; it can be seen in such projects as the exoskeletal Ford Foundation Building in New York City and the 160-ton Picasso sculpture on Chicago's Daley Plaza. After the Eero Saarinen-designed John Deere World Headquarters in Moline, Illinois, was completed in 1964, local observers approvingly compared its earthy color to newly plowed soil—high praise from the heartland. Corten is just as popular today—witness the facades of so many Southwestern-style food franchises.
To see more examples of how the designers mentioned in this story incorporated weathered steel into landscapes, go to their websites (see below).
Resources: To see more from the designers featured, visit their websites: David Hocker (davidhocker.com), Joe Huettl (huettldesign.com), Andy Sturgeon (andysturgeon.com), Jack Chandler (chandler2.com), Surface Design Inc. (sdisf.com), LandWest Design Group (landwestdg.com), Lucy Redman (lucyredman.co.uk), and Tom Stuart-Smith (www.tomstuartsmith.co.uk).
See More Gardens That Incorporate Corten Steel