2016 Spring Planting Ideas
Tim Pollak, outdoor floriculturist at the Chicago Botanic Garden, shares five design tips that will jumpstart your spring garden.
See our latest spring ideas: 2019 Spring Garden Ideas
At the turn of every season, Tim Pollak transforms the Chicago Botanic Garden with remarkable outdoor planting displays. He creates a design plan for every seasonal container, hanging basket, and planting bed at the gardens. Not only do Tim's designs reflect the season, but they also depict today's most en vogue planting trends. From incorporating plants with Pantone Color Institute's color of the year, to bringing popular home decorating trends to the outdoors, Tim is one of the masters behind the ever-changing beauty of the Chicago Botanic Garden. The tips he shared with us just might give you a jumpstart to creating your own en vogue spring plantings.
1. Don't just focus on flowersA visit to the Chicago Botanic Garden will quickly show you that Tim knows how to use a plant's best features in design. From leaf shape, color, and even furriness, Tim puts a big emphasis on texture. "Every plant has something to offer," he says. "When you go to the nursery to pick out plants, don't just focus in on the flowers. What is the plant also offering? A blue or gray shade of green? Or how about a pairing of bold leaves with very tiny, delicate ones?"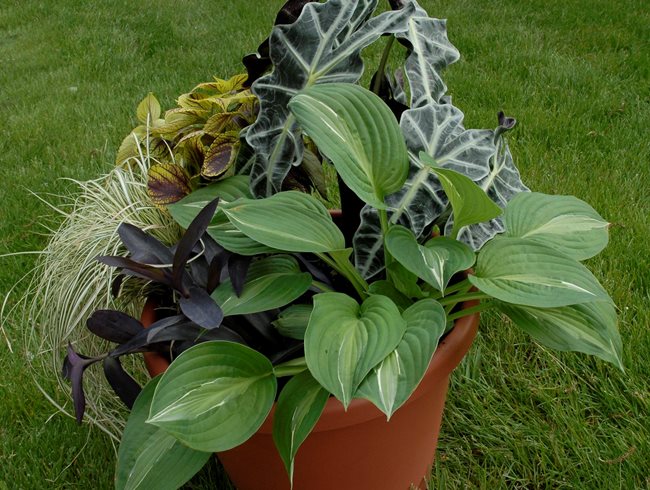 A single container at the Chicago Botanic Garden captures Tim Pollak's advice for emphasizing varying textures in design. Photo by: Chicago Botanic Garden.
2. Captivate with a single colorTrends outside of the gardening world are high on Tim's radar. They're the perfect way to keep the garden current and to challenge Tim and his team to find ways to present them. One trend is repeating a color within beds, in containers and arrangements. "We see trends like this in fashion or home decorating, and I try to bring those outside," he says. This monochromatic presentation was beautifully illustrated at the Chicago Botanic Garden with a Pantone Color Institute color of the year: marsala.
A monochromatic approach to garden design makes marsala the star with big color impact from the Chicago Botanic Garden's outdoor displays. Photos by: Chicago Botanic Garden.
"Marsala is a warm, yet earthy tone that makes neutrals come alive and is surprisingly beautiful with pale blue…or any shade of green…which brings us to the garden," explains Tim in a blog post. Identifying plants that match a certain color is half the fun, says Tim. "The "smoke" on your purple smoke tree (Cotinus coggygria 'Royal Purple')? That's a puff of marsala. Got the charming checkerboards of Fritillaria meleagris? They match marsala. Some coral bells (Heuchera 'Amethyst Mist'), sedum (Hylotelephium 'Xenox'), and purple fountain grass (Pennisetum setaceum 'Rubrum') all shade through marsala as they change tones during the season," he shares.
3. Try creative combinationsDesigners across the country recognize the benefits of creatively combining plants for seasonal luster. One trend is creative manifestations using herbs and veggies treated as foliage. "Ornamental vegetables and herbs add a lot of color and texture," says Tim, who often uses ornamental eggplant and other fruits and vegetables in his designs. "More texture is better," he says. "It helps highlight other flowers. For example, if you have a small-leafed plant next to a big-leafed plant, you can mentally see it better."
Throughout the Chicago Botanic Garden, Tim Pollak has found creative ways to integrate herbs and vegetables with flowers which accentuate each plant's foliage features. Photos by: Chicago Botanic Garden.
4. Use popular colorsEach year plant breeders introduce new colors and new foliage to the planting mix with varieties meant to match shifts in gardening and landscape design. "Bright colors are very present in gardens right now," Tim says. "We've had a good representation of oranges, buffs, and tan colors in the botanic garden in the past."
A popular color combination of orange and buff were demonstrated in the Heritage Garden at the Chicago Botanic Garden. Photo by: Chicago Botanic Garden.
"There are newer plants coming out that maximize the color of the year," explains Tim. Other colors of the year have been marsala, rose quartz, ultra violet and living coral.
A subtle depiction of past colors of the year in pale pink and pale blue on display at the Chicago Botanic Garden. Photo by: Chicago Botanic Garden.
Plant selections by Tim Pollak inspired a colorful plant palette with colors of the year. Photos by: (Clockwise from top left) Ball Seed, Sakata Ornamentals, Ball Horticultural Company, Proven Winners.
5. Grow plants that flower at nightHighlighting the features of flowering plants that show up at night or plants that emit fragrances after the sun goes down are two techniques Tim encourages. "People spend more time at home entertaining and the garden should be as enjoyable in the evening as it can be in the daytime," he says. Three of Tim's favorite plants that invite you into the garden at night include: 'Devil's Trumpet' (Datura meteloides); 'Moonflower' (Ipomoea alba); and 'Tobacco Plant' (Nicotiana sylvestris).
Highlighting the features of flowering plants that show up at night or plants that emit fragrances after the sun goes down are two ideas Tim Pollak encourages. Photos by: Chicago Botanic Garden.
Get more spring gardening ideas