Bacon Wrapped Fig and Honeycrisp Apple Salad with Salted Caramel Pecans
Tieghan Gerard of Half Baked Harvest shares a recipe for a flavorful salad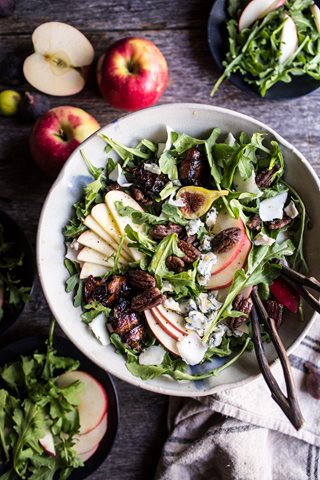 Photo by: Tieghan Gerard.
The 'Honeycrisp' apple, known for its crunch, makes a perfect topping for this mouthwatering salad.
Prep time:
15 minutes
Cook time:
20 minutes
Total time:
35 minutes
Yield:
Serves 6 as a side, 4 as a main dish
INGREDIENTS
Figs
12 fresh figs (black mission or tiger strip), halved
6 slices thin cut bacon, sliced in half length strips
1 tablespoon maple syrup
Pecans + Dressing
1 cup raw pecans
1/3 cup pure maple syrup
2 tablespoons butter
1/2 teaspoon salt
1/4 cup olive oil
2 tablespoons apple cider vinegar
1 teaspoon dijon mustard
salt + pepper, to taste
crushed red pepper flakes, to taste
Salad
6 cups mixed greens (I like using a spring mix + arugula)
2 honeycrisp apples, sliced
4 ounces gorgonzola cheese, crumbled
4 ounces drunken goat cheese (or regular goat cheese)
INSTRUCTIONS
Preheat the oven to 450 degrees Fahrenheit.
Line a baking sheet with parchment paper.
Take each fig half and wrap a slice of bacon all the way around it. Place on the prepared baking sheet and repeat with the remaining figs.
Brush each fig with maple syrup and then place in the oven and bake for 15-20 minutes or until the bacon is crisp and caramelized.
Meanwhile, make the pecans: Add the pecans to a medium skillet set over medium high heat. Add the maple syrup, butter and salt. Cook until the pecans are caramelized, about 8 minutes.
Remove the pecans from the skillet and place on a parchment lined plate in a single layer. Allow to cool.
To make the dressing, whisk together the olive oil, apple cider vinegar, mustard, salt, pepper and crushed pepper.
To assemble the salad, add the greens to large salad bowl. Add the bacon wrapped figs, apples and pecans.
Sprinkle on both cheeses and then drizzle with dressing. Enjoy!
This bonus content accompanies "Crunchier, Juicier, Just Plain Bigger"—an article that delves into the science of why 'Honeycrisp' apples are so crispy—in the Autumn 2016 issue of Garden Design magazine.
RELATED: