Fernwood's Spring Symposium Explores Sustainable Garden Design
At a one-day spring garden symposium, to be held Saturday, March 19, at Fernwood Botanical Garden, Niles, Mich., professional landscape designers and authors will share unique approaches to creating sustainable and distinct garden settings. Four guest speakers will offer a full day of presentations on a broad range of topics, ranging from a new approach to landscaping the American yard to creating garden spaces that connect communities.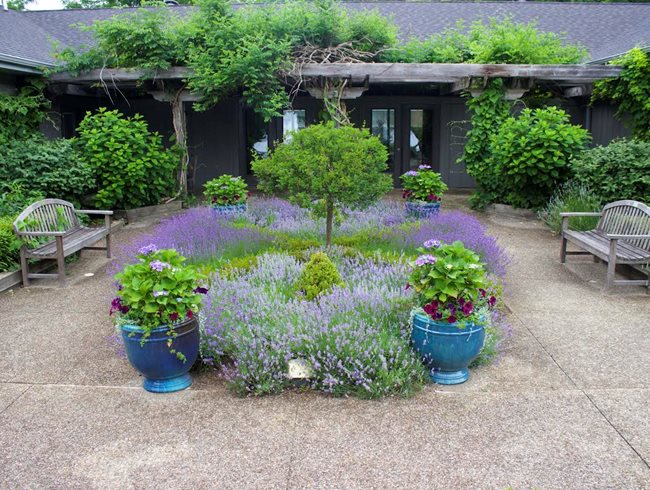 Fernwood Botanical Garden's spring symposium will share unique approaches to creating sustainable and distinct garden settings. In this image, the Martin D. Gapshis Memorial Garden at Fernwood greets symposium visitors with its formal planting of lavenders, boxwoods, and trellis work with an espaliered pear and climbing roses. Photo by: Fernwood Botanical Garden.
"The symposium represents a cross section of what is happening in the garden world today and gives attendees the opportunity to hear from regional and national experts on their projects and philosophies. Regardless of the project or movement, high-profile or less so, beauty and sustainable practice are the underlying themes," says Elaine Rowland, Fernwood's development coordinator.
The session topics include:
Chihuly Garden and Glass - Where Art Meets NatureRichard Hartlage, founding principal and CEO of Land Morphology, Seattle, will show how he blends art with sustainable garden design to create a horticulturally sophisticated landscape. As the landscape designer of Chihuly Garden and Glass (located next to the Seattle Space Needle), Hartlage worked closely with glass artist Dale Chihuly to achieve a spectacular display of color and texture. His designs have been featured in The New York Times, Architectural Digest, Garden Design, The Seattle Times, and other publications in the United States, Japan, and Europe. He recently co-authored The Authentic Garden, a comprehensive book on American garden design.
The Garden of the Future: Reimagining the American YardThe American yard has been dominated by clipped foundation shrubs, groomed lawns, and trees encircled in mulch. Join landscape designer Thomas Rainer, author of Planting in a Post-Wild World, to explore a softer, more natural approach that results in gardens that are more satisfying, more resilient, and require less work.
An Ecologist in the Garden: Use of Ecological Management at the Lurie Garden Scott Stewart, director and head horticulturist of the Lurie Garden in Chicago's Millennium Park, will explain how ecology, as a science, can be a source of inspiration and guidance for landscape designers. Using examples of Lurie Garden's ecologically-informed landscape management, he will show gardeners how to apply them to the home garden.
The 606: Connecting CommunitiesBeth White, Chicago region director of The Trust for Public Land (TPL), will share the challenges of developing The 606, an ambitious TLP project on Chicago's Northwest side that has transformed the former elevated Bloomingdale railway line into a shared recreational garden space for the neighborhoods of Humboldt Park, Bucktown, and Wicker Park.
The Fernwood spring garden symposium is being presented in partnership with Garden Design magazine, Vite Greenhouses, Chicagoland Gardening, and Stonehouse Nursery. Gardeners of all skill levels and interests are invited to attend. Ticket prices are $100 ($80 for members) if you register by March 1, and $125 ($100 for members) if you register after that date. A special VIP package, including reserved front-row seating and a private lunch with the symposium speakers, is also available. The authors will be available to sign their books, which will be on sale in Fernwood's gift shop. For more information, visit Fernwood Botanical Garden.
RELATED:
Midwest Gardening
More Events