Inspiration Point: Philip Johnson's Glass House
We are so thrilled to introduce another post from one of our Advisory Board members. We'll be running regular columns about inspiration and gardening tips from our advisory board throughout the year. (If you missed it, some of our past columns have include how to plant dahlias, by Frances Palmer, creating seaweed art, by Karen Robertson, and creating a container cutting garden, by Saipua, aka Sarah Ryhanen.) This is the first of our Inspiration Point series, where our Advisory Board members write about what has influenced their ideas and work.
This post is by Paul Keyes, who helped create our James Beard garden makeover.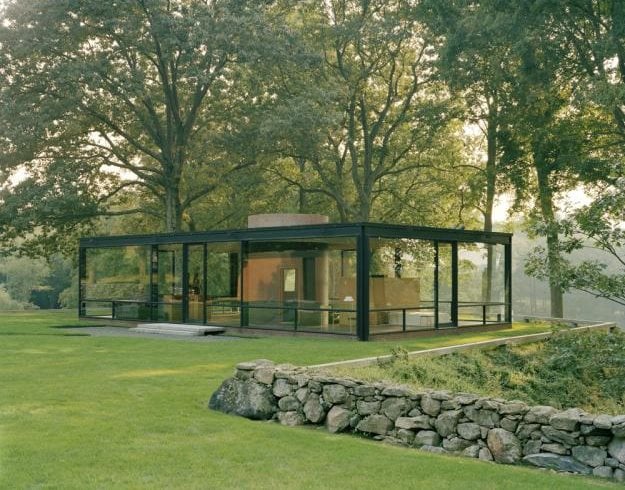 A view of Philip Johnson's Glass House, in New Canaan, Connecticut. Photo by: Eirik Johnson.
When I was about 16 years old I saw an influential documentary on PBS about architect Philip Johnson. The documentary was about his entire life's work as an architect, but I was most impressed by the modern Glass House on his estate in New Canaan, Connecticut.
The Glass House, Johnson's weekend residence, is a masterpiece of steel and glass, and the building is a statement of geometry, bold structure, proportion, transparency and connection to the surrounding landscape and nature. The glass walls look out upon a masterfully organized and manicured landscape of rolling lawn, trees, gravel paths and views, which he referred to as "vestibules." The shape and slopes and curves of the ground were carefully planned and executed and the views were spectacular. "I have very expensive wallpaper," Johnson once said.
A view of the house from below. Photo by: Eirik Johnson.
As a designer I have always been influenced by this historic piece of architecture. To me, it represented a unique relationship between the natural and constructed world. I was always a fan of traditional and historic architecture and I had never seen anything like it.
Not only did it introduce me to modern architecture but more importantly, the Glass House illuminated the relationship between man, the constructed world, and nature for me. I often work on homes designed by architects that fail to see this connection, as they do not see beyond the walls of the house.
This is very frustrating for me, but it also turns out to be a unique and positive side effect for me, a landscape and garden designer. I approach every landscape design job from the inside of the house looking out. I listen to my clients' landscaping and garden needs and then I go inside their homes. My clients are often surprised when I ask to walk through the inside of the house first so I can see inside the rooms and figure out how I can make new connections to the outside. I always look to see where I can add glass, make windows bigger, add doors, tear down walls, and combine inside and outside spaces. Not only do I want to enhance the landscape but I also want to enhance the views from inside.
A view of the property from inside the Glass House. Photo by: Eirik Johnson.
Johnson's Glass House is always on my mind, influencing my design work. I always had a desire to either live in a similar building, so I could experience the feeling of living in such a home myself, or to design something in kind.
I got that opportunity in 2001 when a client wanted me to build a tennis court on a wooded parcel of land in Englewood, New Jersey. I thought this was a typical design appointment but when I arrived he showed me the plans for a 40,000-square-foot Georgian Colonial home with an indoor tennis court. The client asked my opinion of the plans and the project and I said I thought they were horrible because it was not only wasteful relative to his needs, but also overbuilt and it would destroy the magnificent natural setting.
It was not something I wanted to be involved with designing, constructing, or landscaping. I was surprised when he told me to fire the architect and to go find a team that understood my perspective. I found two architects, Robert Rhodes and Stan Jones, who understood my values and eventually designed a private indoor tennis court that was a modern translucent structure in the woods.
Photos of the tennis court. I consider Philip Johnson's Glass House to be the guiding influence for this project. Photos by: Paul Keyes.
I finished the construction of the building with a carefully planned landscape that mimicked and built on the natural setting of the site. It was a great honor and tremendously rewarding to design and landscape this building.
Inspiration for my work comes from many directions and my advice to landscape designers and homeowners is to look past the traditional sources for design. Step outside the box for ideas for designing and for techniques for construction and installation.
Traditional architecture had always held an appeal for me, but that accidental exposure to Johnson's work changed my world and the results on that tennis court project were spectacular. Be open to new ideas and let yourself be influenced in ways that take you out of your comfort zone.
See more New England gardens.