Plant Picks for a Beautiful Winter Garden
Discover Adrian Bloom's favorite plants for adding color and texture to your winter garden
Designing for winter interest in a garden can add a whole new element to your plans. Garden designer and horticulturalist Adrian Bloom, of Bressingham Gardens in Norfolk, England, recommends choosing plants and combinations that marry toughness, color, and texture.
Here are a few of his favorite picks for adding winter color and dimension: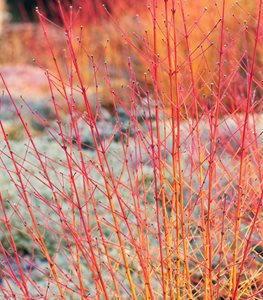 Photo by: Richard Bloom.
CORNUS SANGUINEA 'MIDWINTER FIRE'
Also known as bloodtwig dogwood, this pollinator- and bird-attracting deciduous shrub grows to about 6 by 6 feet. Its fiery stems make a stunning centerpiece through the winter, and then, if not pruned, showy white blooms take over in early summer. "This variety of dogwood is one of a few recently introduced cultivars with stunningly colorful bark in winter," Bloom says.
Zones 5-7
Photo by: Richard Bloom.
PINUS MUGO 'CARSTEN'S WINTERGOLD'
With needles of green in summer and bright gold in winter, "this form of the mountain pine contrasts well with the blue grass Festuca glauca 'Blue Glow'," Bloom says. Another tip from Bloom: "If they're in a lot of shade, they won't go as bright." (Bloom literally wrote the book on conifers: Gardening with Conifers.)
Zones 2-7
Photo by: Richard Bloom.
ERICA CARNEA 'VIVELLII'
This evergreen grows low—up to 1 foot—and eventually will spread to 2 or 3 feet—with bunches of bell-like, scented blooms from January through March that coax out early spring bees.
Zones 5-7
Photo by: Richard Bloom.
BETULA UTILIS 'SICHUAN RED'
Himalayan birch is known for its dangling yellowish or greenish spring flowers, but its peeling bark makes it a winter stunner as well. Growing 30 to 40 feet high with an 18- to 25-foot spread, Himalayan birch can be a definite focal point of the garden. There are several selections of the species (try the native Betula alleghaniensis in Zones 3 through 9). Careful choice will ensure year-round interest, Bloom says.
Zones 5-6
Photo by: Richard Bloom.
ERICA CARNEA 'SPRINGWOOD WHITE'
This variation brings a flurry of delicate snowy blossoms in late winter to early spring and bright green mats of foliage in summer. As with 'Vivellii' and 'Springwood Pink', the dainty-looking flowers of this winter heath are well supported by woody stems and needlelike leaves. They do best in sandy soil and cool temperatures. If you must prune, do so immediately post-flowering.
Zones 5-7
Photo by: Richard Bloom.
BERGENIA 'OVERTURE'
'Overture' has shiny, leathery leaves that o­ffer rich visual interest in not-too-snowy areas. Because it grows low (6 to 18 inches) and wide (to about 18 inches) and does well in most soils and many light conditions, this evergreen can be planted en masse to help build a "floor" for the winter garden. Planting in large blocks or groups makes a grand impression, Bloom advises. 'Overture' turns from green in summer to a deep garnet-purple in winter. In spring, red stems shoot up to 20 inches high, topped with clusters of magenta flowers.
Zones 5-7
Photo by: Richard Bloom.
HAMAMELIS ×INTERMEDIA 'ARNOLD PROMISE'
A robust and fragrant witch hazel from Harvard's Arnold Arboretum in Boston. This ornamental deciduous shrub, also known as winterbloom, may start popping out golden flowers in late autumn and continue through early spring. Low-maintenance and adaptable, with a height and spread from 12 to 15 feet, 'Arnold Promise' has coarse, spindly branches that show well in borders, as screens, or in a woodland garden.
Zones 5-8
Photo by: Richard Bloom.
EUPHORBIA 'BLACKBIRD'
The dome shape of this low-growing euphorbia plant (up to 18 inches) adds contrasting form, texture, and height. The purple-black leaves that deepen in color in autumn make it a popular selection for colder weather, especially in drier, sunnier regions.
Zones 6-10
Photo by: Richard Bloom.
GARRYA ×ISSAQUAHENSIS 'GLASNEVIN WINE'
Echoing the Himalayan birch with its drooping catkins, this version of the evergreen shrub makes an excellent winter selection because it has red tassels, unlike the typical greens and grays, and purple stems. A choice and showy shrub growing up to 8 feet high with a similar width, it makes an excellent screen. "An outstanding but tender shrub," Bloom says, best suited for a sheltered position.
Zones 7-9
Additional winter garden recommendations from Bloom include:
For color or contrast:
Acer griseum
Cornus alba 'Kesselringii'
Cornus sericea 'Flaviramea'
Cornus alba 'Aurea'
Cornus alba 'Sibirica Variegata'
Betula pendula
Evergreen interest:
Juniperus horizontalis 'Lime Glow'
Grasses and low-growing:
Hakonechloa macra
Ophiopogon
Panicum virgatum 'Northwind'
Geranium 'Rozanne'
Learn more about winter garden design from Adrian Bloom.
RELATED:
16 Winter Flowers for Your Garden