An Artist Takes a Creative Approach to Garden Design
Once described as a "mass of misery" this property now boasts a 2.5 acre Japanese garden that attracts visitors from around the globe
A ramshackle 80-year-old farmhouse surrounded by 6 acres of rampant weeds, brambles, and invasive Himalayan blackberries hardly describes a property you would dream of transforming into a beautiful Oriental garden. However, when acclaimed pottery artist Robin Hopper spotted this run-down property in Metchosin, British Columbia, he fell in love with it at first sight.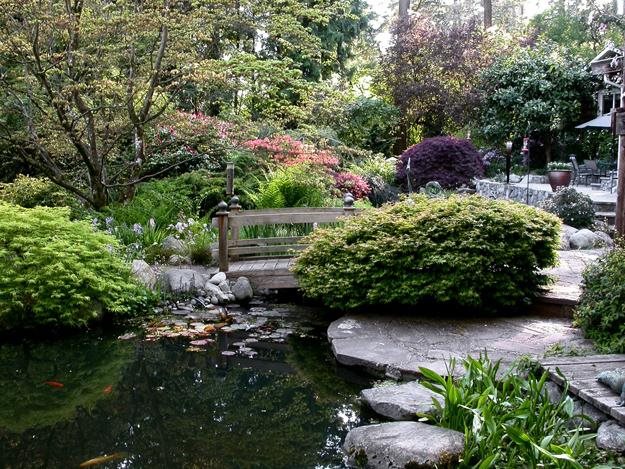 Robin Hopper's artistic flair and love of the Orient is on full display in his lush garden on the West Coast of Canada. "Somebody once said garden design must be the slowest of the visual arts. How true, but it is also one of the most complex and satisfying," he says in his e-book A Potter's Garden — An Artist's Approach to Creative Garden-Making. Photo by: Robin Hopper.
"I knew that I'd found something special," says Hopper in his e-book, A Potter's Garden: An Artist's Approach to Creative Garden-Making. "It was like entering a cathedral. At the front of the house, Douglas firs—some over 700 years old—soared as high as 120 feet, forming an ancient grove with the driveway slipping into their midst. Imagine what was going on then in the world as these trees were starting to grow."
Three linked ponds filled with koi and goldfish sit among a setting of 11 different types of Japanese maples and a variety of rhododendrons. In the fall, the maples provide a continuum of color, starting in August and going on until December. Photo by: Robin Hopper.
Since that day, Hopper set out to transform what he called a "mass of misery" into a family home, showroom, art gallery, and 2.5-acre garden that now attracts visitors from all over the world and was voted as one of the top 10 gardens in Canada by readers of Canada's Gardening Life magazine. Hopper calls his distinctive garden style "Anglojapanadian" because of its strong Japanese influence.
"As both a long-time professional artist and avid amateur gardener, I have noticed that, for me, the most visually exciting, personal, and thought-provoking gardens have usually been those created by artists who work in a variety of visual art media," says Hopper. His dual passions for ceramics and gardening have always gone hand-in-hand. From the outset, his concept was to approach the garden as he does his other works of art—as a medium for expressing ideas, evoking memories, and stirring the senses.
Hopper's "Bridge on the River Koi" spans a dry river bed made from 100 fish-shaped porcelain tiles, with colored glazes resembling different varieties of Japanese koi. Photo by: Robin Hopper.
"In addition to giving immense pleasure to me and my family, the garden has been enjoyed by thousands of people and has been featured in a number of gardening magazines, books, and television shows," says Hopper. "For quite some time I tried to analyze what it was about the garden that intrigued people to such an extent. I have come to the conclusion that it works as it does because of the wide range of influences in the garden, the sources where I find my inspiration, and the way in which a variety of different art experiences are combined to produce a new work of art where the whole is greater than the sum of its parts."
"All large Japanese gardens usually have a gate for the Emperor in the unlikely event that the Emperor goes there," says Hopper. This one is surrounded by various species of rhododendrons. Photo by: Robin Hopper.
In A Potter's Garden, Hopper takes a look at garden design through the eyes and mind of an artist. "I hope to suggest how artists go about incorporating thoughts and methods from diverse areas of art and meld them into a highly personal space that goes way beyond the formula-based approach to garden design," he says. You can learn more about Hopper's work at Chosin Pottery Inc.
Hopper made this Greco-Roman inspired rotunda using logs he found on the beach. It's capped by a dome made from a 10-foot-wide TV satellite dish covered with three different varieties of honeysuckle. The "pebble" mosaic floor is made from pieces of colored porcelain. Photo by: Robin Hopper.
See another garden in British Columbia:
My Garden: Using Planters and Pathways to Lure the Eye