Lansing's Jams and Pickled Vegetables
Travel writer and edible gardener David Lansing shares recipes for jams and pickled vegetables.
At harvesttime, there sometimes is too much of a good thing. So Lansing has collected a long list of ways to use his wide variety of plants. Here, he shares four recipes.
I like to use purple carrots which are much higher in nutrients than orange carrots, but whatever you have on hand is fine. Baby carrots are particularly attractive and make a great appetizer. If you use large carrots, they should be halved or quartered so no spear is wider than ½ inch.
Makes 1 quart
Ingredients
1½ cups water
1 cup apple cider vinegar
¼ cup sugar
1½ Tbsp kosher or pickling salt
2 tsp coriander seeds
2 tsp cumin seeds
1 lb baby or medium-sized carrots, peeled and trimmed
Peel of 1 lemon or, even better, skin from 1 preserved lemon, rinsed
5 to 6 medium garlic cloves, peeled and thinly sliced
4 small dried hot red chiles (like Thai or chiles de arbol), halved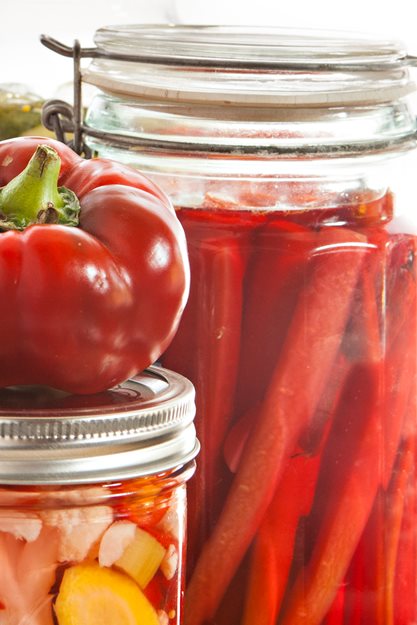 Pickled Turkish carrots.
Photo by: Bret Gum.
Instructions
Mix water, vinegar, sugar, salt, coriander, and cumin in medium saucepan.
Bring to boil and stir until sugar and salt dissolve, about 3 minutes.
Remove from heat.
Pack carrots vertically into a 1-quart jar. If using spears, cut tops or bottoms to fit.
Add lemon peel, garlic, and chiles.
Pour hot brine over carrots and let sit at room temperature for 1 to 2 hours.
Refrigerate. Carrots develop more flavor with time.
This is an adaptation of a recipe by David Chang of Momofuku. The thinness of the beets and their crunch make them as addictive as potato chips. Although it's possible to slice them with a knife, they come out best if you use a mandoline.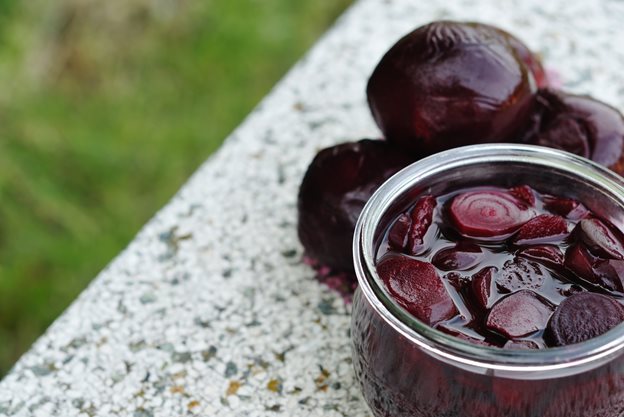 Raw pickled beets.
Makes 1 quart
Ingredients
1 lb medium beets, trimmed, peeled, and sliced paper thin
1 4- by-4-inch piece of kombu (form of seaweed found in Japanese markets)
1 cup unseasoned rice vinegar
1 cup granulated sugar
1 cup water
2 Tbsp kosher or pickling salt
Pack the beets and kombu tightly in a 1-quart jar, leaving at least ½ inch of room at the top of the jar.
For the brine, place the vinegar, water, sugar, and salt in a saucepan; whisk to dissolve the sugar and salt and bring to a rapid simmer for 2 minutes.
Pour the hot brine over the packed beets, making sure to cover them completely but leaving ¼ inch of room at the top.
Let cool, uncovered, at room temperature for 1 to 2 hours. Cover and refrigerate for at least one day, preferably one week, before using.
This is an adaptation of the house pickles served at Gjelina in Venice, California. I always have a jar of these sitting in the fridge and usually just top it up from time to time with fresh sliced cukes, keeping the same brine. These are like spicy bread-and-butter pickles and go well with just about everything. Using a mandoline makes this an easy recipe.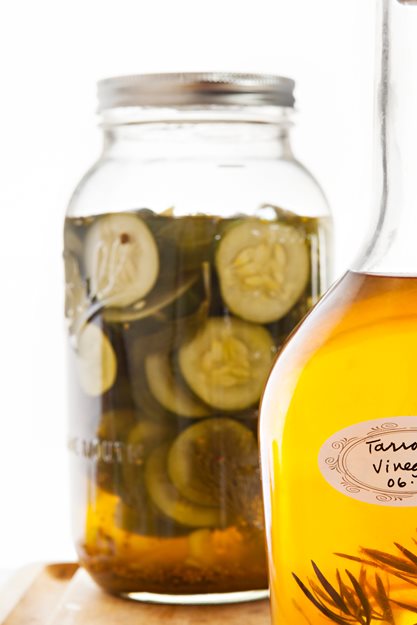 Spicy sweet cucumber pickles.
Photo by: Bret Gum.
Makes 2 quarts
Ingredients
1 Tbsp mustard seeds
1 Tbsp coriander seeds
1 ½ tsp dill seeds
2 cups water
1 cup white wine vinegar
¼ cup sugar, rounded
2 Tbsp kosher or pickling salt
¼ tsp ground turmeric
¼ tsp or more crushed red pepper flakes
1 pound Persian or pickling cucumbers, cut in to ½-inch thick rounds
2 to 3 dill sprigs
2 to 3 garlic cloves, thinly sliced
Instructions
Make the brine by quickly toasting the mustard seeds, coriander seeds, and dill seeds in a dry saucepan over medium heat until fragrant (about 3 minutes).
Add the water, vinegar, sugar, salt, turmeric, and red pepper flakes.
Bring to a boil, lower the heat, and simmer for about 5 minutes.
Remove from heat and let cool.
In two 1-quart canning jars, layer the cucumber rounds, dill sprigs, and garlic slices.
Add the cooled brine to the jars.
Let sit at room temperature for 1 to 3 hours.
Refrigerate.
I never process jam in boiling water: I think it dilutes both the fresh color and taste of good peaches. Instead, I use a trick I learned from Darina Allen at the Ballymaloe Cookery School: Preheat your jam jars and lids in the oven while you prepare your jam. This technique works for all fruit jams.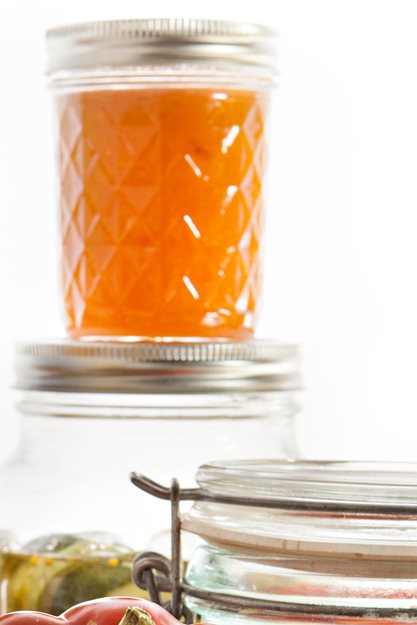 Simple peach jam.
Photo by: Bret Gum.
Makes about 4 half pints of jam
Ingredients
About 2 lb peeled, pitted, crushed peaches (3+ cups)
3 Tbsp pectin
2 Tbsp bottled lemon juice (don't use fresh, which has an inconsistent pH)
3 cups sugar
Instructions
Place jam jars and lids on a baking sheet and place in oven preheated to 250 degrees. Heat jars for at least 30 minutes to properly sterilize.
While jars and lids are in the oven, peel the peaches. The easiest way to peel peaches is to drop a few at a time in to a pot of boiling water for a minute or so, removing them with a slotted spoon into a bowl of ice water. The skins will slip right off.
Coarsely chop the peeled and pitted peaches, then mash with a potato masher.
Put in a heavy pot (preferably copper) and add pectin, lemon juice, and sugar.
Slowly boil for about 25 minutes, stirring constantly to keep from burning, until the jam has a slight shine to it and does not easily run off a cold spoon.
Ladle immediately in to hot jars, leaving ½ inch of headspace at the top. Screw on lids and place on cookie sheet back in the oven for 15 minutes.
Remove from oven and let sit undisturbed on drying rack overnight. The jars will seal as they cool.
This bonus content accompanies "The Globetrotter's Garden"—an article about how a travel writer's garden is informed by his more than 30 years traipsing the globe—in the Spring 2017 issue of Garden Design magazine.