Elderflower Cordial with Black Raspberry Coulis
Gardener, cook, and forager Laura Silverman shares a recipe for elderflower cordial with black raspberry coulis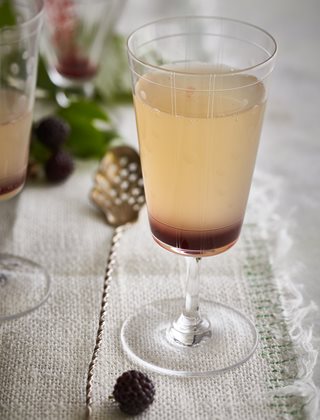 Photo by: Randazzo/Blau.
My favorite way to enjoy elderflowers is in a lightly effervescent, citrusy cordial that perfectly captures their elusive fragrance. Add a jammy syrup of Rubus occidentalis (black raspberry, or blackcaps), which ripen around the same time, and you attain nirvana.
ELDERFLOWER CORDIAL RECIPE
Makes 7 cups
Ingredients
6 oz (about 30) elderflower umbels, stripped from stems
1 lb granulated sugar
½ cup fresh lemon juice
6 cups water
Zest of 4 lemons, in strips
Instructions
Combine the elderflowers, sugar, and lemon juice in a 2-liter glass jar.
Bring the water and lemon zest to a boil in a large saucepan over medium-high heat.
Remove from the heat, cool slightly, and then slowly pour the entire contents over the elderflowers.
Gently stir to dissolve the sugar. Cover the jar with a linen dish towel or double layer of cheesecloth and secure with a rubber band.
Leave the jar at room temperature for 3 to 4 days, until natural fermentation produces carbonation and a complex, tangy flavor.
Strain cordial, then transfer to swing top bottles and store in the refrigerator. Burp every few days to release carbonation.
BLACK RASPBERRY COULIS RECIPE
Makes ½ cup
Ingredients
2 cups black raspberries, fresh or frozen
2 Tbsp honey
½ Tbsp fresh lime juice
Pinch sea salt
Instructions
Place fruit in a small saucepan with a couple of tablespoons of water. Bring to a simmer over medium-low heat and cook until the berries are very soft and broken down.
Push through a fine mesh strainer, pressing hard to get all the pulp. Discard seeds.
Stir in honey, lime juice, and salt.