Italy Inspired: A South Florida Landscape
A South Florida landscape by Sanchez & Maddux is resplendent with old-world charm.
Terry Rakolta has no trouble reeling off words to describe what she desired for her South Florida waterfront property, a wedge-shaped half-acre mostly swallowed up by a Mediterranean-style villa. "I wanted charming, romantic, mysterious, Old World," she says. "I just didn't know how to get there from a big house sitting on a lot."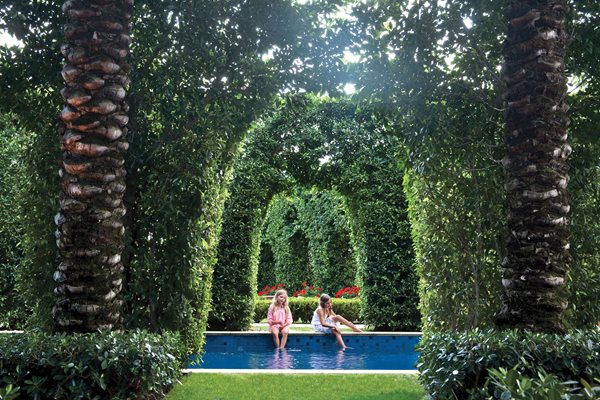 Arches cut out of massive Cuban laurel hedges are a decorative and functional leitmotif throughout the property. Photo by: Robin Hill.
Achieving this sublime vision fell to the Palm Beach-based landscape architecture firm of Sanchez & Maddux, known for their synthesis of classical European garden design elements with exotic tropical plants. The term they use to describe their signature style—"the civilized jungle"—is also the title of a book about their work published last year by Grayson Publishing.
Some initial landscaping had been done in the mid-1990s, when the house was built, but Rakolta was never completely satisfied with it. A few years ago, she contacted principals Jorge Sanchez and Phil Maddux, her head filled with images of northern Italy's lake district. The eventual result was an extensive redo of hardscaping and plantings. "We removed all of the walkways and some of the plants," says Sanchez. "We left the swimming pool and a little terrace, but that's about it."
The distinctive arched hedges hug the sides of the swimming pool, rendering it private and a bit mysterious. Photo by: Robin Hill.
The most difficult challenge was the water view. The house faces the Lake Worth lagoon, which is lovely, but the buildings on the opposite bank less so. "The view could have been either beautiful or common, depending on how it was handled," says Sanchez. A clever workaround was needed.
Rakolta and her husband, John, who use the property as a winter getaway (they also have homes in New York, Harbor Springs and Bloomfield Hills, Michigan, and are building a home in Aspen), often joined by their four children and four—soon to be five—grandchildren, also wanted more privacy. "Boats would anchor and look in at us," she says, a problem since the early days, when the new house was surrounded by a "moonscape," with not a single tree.
Clad in bougainvillea, a pergola tops the dining loggia. The homeowner also likes to set tables on the lawn. Photo by: Robin Hill.
On a trip to Italy's Lake Como, Rakolta had noticed hedges with arches cut out of them. She proposed a similar approach to taming the too-open view of the waterway. "Everyone fought me on it, saying, 'You paid so much for the water view, why hide it?' Only Jorge said, 'Good idea.'" The sculpted hedge, comprising Ficus retusa (Cuban laurel) formed into arches, runs about one-third the length of the property's 200-foot waterfront, between the lawn and a newly built sea wall, and also encloses the swimming pool on two sides. "You get views to the water without it being shown completely, while the eye tends to skip over the buildings across the way," says Sanchez. "There's a little bit of mystery."
The irregularly shaped spaces around the sprawling house were organized as a series of outdoor rooms, each with a strong character of its own. The most dramatic of these is defined by an allée of eight towering date palms, which create a long view to the water from the house's front entrance. "It feels to me like a cathedral," says Rakolta, who plans to put a long harvest table in that serene space.
The dining loggia, a covered open-air patio modeled closely on classical European architecture, overlooks a lawn used for entertaining. Photo by: Robin Hill.
Moving counterclockwise from there, on the more formally designed waterfront side of the house, there's the rectangular-shaped swimming pool "hugged by hedges, which makes it very private," Sanchez says. A recessed open-air dining loggia, overlooking the lawn, is "a gathering place," used for entertaining, says Rakolta: "I like to set tables on the grass." Paved with coquina, a locally quarried, pale-colored stone, and topped by a bougainvillea-clad pergola, the loggia could very well be somewhere in the hills of Italy.
A tiny waterside terrace with footed urns brings in still more of what Rakolta loves about Italian gardens. There's a change in elevation here, says Maddux, an expert on rain forest plants who has worked with Sanchez since 1980. "The terrace drops from the level of the house to the sea wall. The drop is only a couple of feet, but the illusion is that it's a lot more than that," he explains. "You look out the windows of the den and you're right on the water," Rakolta says. "It's very Venetian in feeling."
Peace lilies surround a stone rill and fountain designed by Terry Rakolta, the homeowner, in collaboration with Jorge Sanchez, in a "jungly" area appropriated from a former driveway. Photo by: Robin Hill.
Bougainvillea 'New River' climbs the walls of a brick-paved interior courtyard with a circular wall fountain, next to which, in space reclaimed from an oversized driveway, Sanchez & Maddux created an informal, intensively planted area, referred to as "the jungle." Here the classical symmetry and careful balance of the more formal waterfront areas give way to a naturalistic style.
Closing off part of the original driveway with a decorative iron gate to create the space was a "stroke of genius," Rakolta says. Centered around a big banyan tree, with curved brick walkways and plantings inspired by the rain forests of South America, this hidden garden is redolent with the seductive fragrance of Cananga odorata (ylang-ylang) and Michelia champaca, a magnolia relative (think Joy perfume). "It's wonderful in the evening," Sanchez says. "Usually one or the other is in bloom, and it makes the space very romantic."
Mirrors set within lattice arches create an illusion of great depth, making the property appear more expansive than it is. Photo by: Robin Hill.
Clusters of sky-blue blooms of Thunbergia grandiflora hang from above, while different varieties of palms, Heliconia (the "rhododendron of Florida," Sanchez calls it, for its ubiquity), gingers, orchids in pots, bananas, chalice vine, and confederate jasmine, fill this part of the property with tropical scent and splendor.
Not all of the antecedents for the landscape are Italian. Sanchez counts the Generalife gardens next to Spain's Alhambra palace (whose origins date to the 9th century), with its "placid pools, squirts of water, and little private spaces," among his inspirations for the Rakolta property. Andalusian gardens are historically designed to "draw the eye," as Sanchez says, offering tantalizing glimpses from one discrete space into the next as you move through them. So it is at the Rakoltas' home. "You can take a short walk and find different views," Maddux says. "You don't see everything all at once."
Bougainvillea 'New River' climbs the walls of a brick-paved interior courtyard. Photo by: Robin Hill.
Terry Rakolta knew she was asking for a lot, but she got it. "I'm more than happy," she says. "Until we redid the garden, I really wasn't too excited about the house. Now I feel the love."
RELATED:
Mediterranean Garden Design