East Coast Garden Finds its True Cottage Identity
Landscape architect Douglas Miller takes a Maryland garden facing an identity crisis from steep and exposed to functional and private.
When Douglas Miller, a Landscape Architect who graduated from Michigan State University, first stepped foot on this Somerset, Maryland property the home was facing an identity crisis. Much like a counselor helps his patients embrace their true selves, Miller helped the owner establish a cohesive exterior style. "Originally plastic shutters flanked the windows and the trim was painted a bright white," he points out. These Colonial details were not doing the home justice, so Miller suggested switching to a cottage style. "The first part of the transition was simple; we removed the shutters, painted the trim a dark color, swapped out the front door and added window baskets."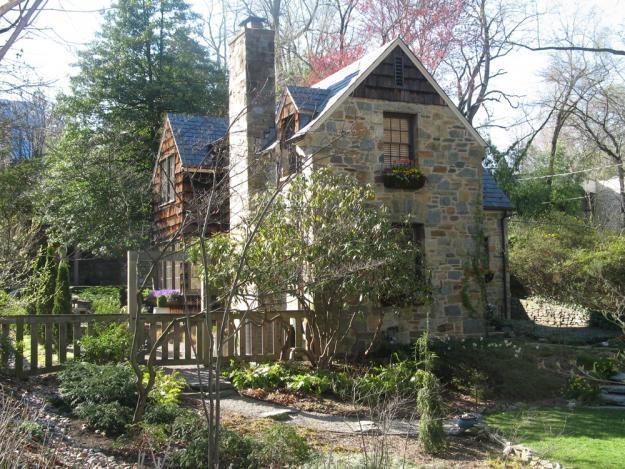 With the shutters removed, trim painted and new window baskets, the home took on a strong cottage feel. Photo by: Douglas Miller.
Next Miller turned his focus to the backyard where he was faced with a steep slope and exposure to neighboring houses that loomed overhead. His primary goal was to create space for entertaining, which was crucial for the homeowner, who is a local philanthropist and elected official. "The garden had to be suited for hosting small, sit-down dinner parties, as well as large, standing room only fundraisers," explains Miller. However, at just 1/3 of an acre there wasn't a lot of space to work with. With the help of stone walls, Miller terraced the hillside and created a series of garden rooms.
A variety of garden rooms were created, including this patio. Photo by: Douglas Miller.
With the home's newly-discovered cottage identity, Miller wanted to create woodsy cottage-like garden spaces. He did so with a two-pronged approach: planting lush greenery and enhancing outdoor privacy. Evergreens serve as the backbone of this garden with perennials mixed in for pops of color and texture. "I wanted a full, woodland-like feel and chose the plants with that in mind." When it came to privacy, plants played a pivotal role. Newly planted trees help screen the garden from neighbors as well as the street. However, the addition of a storage shed made the biggest privacy improvement. "The shed was designed to be vertically oversized as a perspective trick that would bring the focus down from the house above that used to dwarf the garden," says Miller.
A pergola attached to the new shed, creates a cozy garden nook. Photo by: TJ Gaghan.
Integrated into the new shed is an inviting sitting area covered by a pergola. A custom bench, covered with colorful cushions, fills the corner of the garden nook. "The homeowner had a furniture craftsman come out and design the bench specifically for this spot. He cut and finished a log from the Midwest to fit exactly how we wanted." An Akebia vine, which is semi-evergreen, has filled in atop the pergola, creating a feeling of seclusion that makes guests feel as if they've stumbled upon a secret hiding place. Other garden rooms Miller created include a lounging patio and a dining area.
Here the dining area is set up for a small, sit-down dinner party. Photo by: TJ Gaghan.
Special requests from the homeowner also influenced the creation of this garden. First, he insisted on a large lawn because he likes the look of fresh mown grass. Second, he wanted a fence that could contain his Basset Hounds. Third, he asked that modern elements be used throughout the garden to tie in with the way the interior of the home is decorated. This last request was tricky because of the traditional style of the home's exterior. "I designed the garden with simple, clean lines and sharp edges to create a modern feel, but used very traditional materials to tie in with the style of the home," Miller says. Accessories such as containers and furniture also lean towards a modern aesthetic.
This path serves as a secondary entrance. To the right, Ajuga reptans 'Jungle Beauty' grows as a groundcover with autumn fern growing in the background. Photo by: Douglas Miller.
With the help of Miller, this homeowner now has a home with a strong identity that will look good for years to come. Recently, Miller has also helped him complete the front portion of the property with a new driveway.
To enhance the cottage architecture, a new wooden front door was added, and the steps were widened. Photo by: Stephen Rick.
A close-up view of the window baskets, in which the plants are changed with the seasons. Photo by: TJ Gaghan.
For more on Douglas Miller visit www.millergardener.com.
Get more English garden ideas.