My Garden: From Barren Rock to Lush Hillside Retreat
With steep slopes and barren rock, this Idaho garden took buckets of soil, innovation, blood, sweat, and tears to become what is now a lush hillside retreat.
Nestled on the edge of a forest in Coeur d'Alene, Idaho, the hillside property of Claudia Lowry and Bob Bloem is a breathtaking landscape composed of rock outcroppings, grassy slopes, and long runs of flower beds, all surrounded by majestic pine and fir trees. Trails and pathways are found throughout the property and lead you past 15-foot waterfalls cascading down natural rock formations to whimsical vine-covered seating areas and quiet hideaways.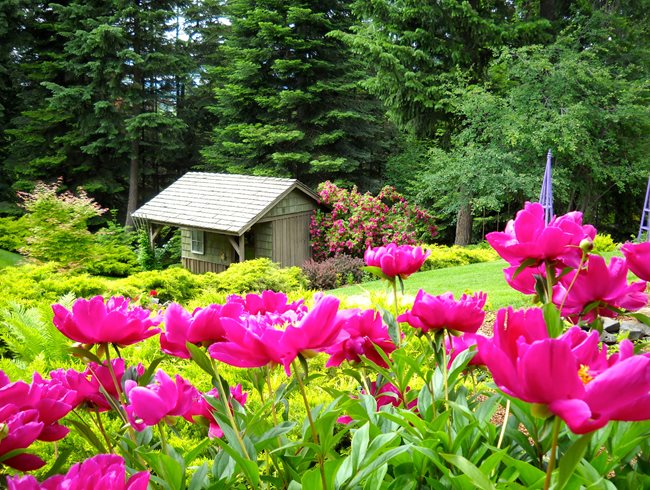 A garden shed filled with old garden collectables sits in a storybook meadow setting under fir trees and framed by peonies. Photo by: Claudia Lowry.
When you live on a terrain of basalt rock and steep slopes, creating a paradise like this one can be quite a challenge—not to mention extremely labor intensive. But for Bloem, who has been gardening as a hobby much of his adult life, it has been a labor of love. And Lowry now shares his passion. "When Claudia first found the property about 10 years ago, she contacted me to see if it was 'manageable.' At the time, she didn't like gardening and wanted to just enjoy the solitude of the forest around the house. Now she loves the garden, and her confidence and creativity have grown. Most of the creations, from the water features to the landscape design, and even the furniture, were imagined, created, and built by us," he says.
When Lowry and Bloem began their transformation, much of the garden was still unfinished, except for a few grassy areas established by the previous owners. "We wanted to accent the ruggedness of the land and to let it flow with the surrounding forested areas. Our first move was to remove the natural brush that covered the rock outcroppings where the waterfalls now exist and then to develop the remainder of the property. For the most part, we seem to do best by just getting a feel for what we have and then working with what is there," Bloem says.
This once barren rock outcropping is now adorned by natural spirea and manicured boxwoods that grow well in the shallow soil. The swing was built from an old, hand-turned porch, and the charming lattice shed in the background houses a push mower for trimming the small patch of grass. Photo by Claudia Lowry.
The most arduous task was building and designing the water features, which run throughout the property. "We wanted water to cascade over the large rocks at the top of the property but were told, because of the nature of basalt, it could not be done. After several attempts, we found a way to create ledges in the rock face by using rebar and carefully disguising them to look like natural pools. The water then spills from one pool to another. We now have over 20 such pools throughout our garden. We use individual pumps for each pool all attached to one main switch. That way we can fit a pool to its settings and control with ease," Bloem explains.
Because the terrain is so steep, wheelbarrows and hauling machinery can't maneuver over it, so Lowry and Bloem rely on 5-gallon buckets to carry dirt, gravel, and mulch. "Whenever we want to add plants, we have to bring in dirt and compost. Hauling around building supplies, cement fountains, and planters have become memorable events for us," Bloem says.
Because of the basalt outcroppings, most of the soil that nourishes the flower beds and grass in the Bloem and Lowry garden has been hauled in by bucket. Photo by: Claudia Lowry.
Choosing plants that will survive and thrive in the Northwest's harsh, unpredictable climate is also a challenge. "We have to avoid fragile plants, so we look for durability. We also want color and texture. Because the property is large and we do all the work ourselves, we also look for practicality," Bloem says.
For the shady areas, they rely on hardy standards such as hostas, astilbe, ligularia, hydrangea, and pachysandra. To soften the rocky terrain, they've also planted a variety of vines, including Virginia creeper, climbing hydrangea, climbing rose, clematis, and akebia. Their favorite trees are Japanese maples, which mix in beautifully with the natural firs and spruce trees. "We also mix the color and texture of Old Gold Juniper, boxwood, and barberry with natural spirea, elderberry, serviceberry, and syringa bushes to keep the blend of natural in our garden," says Bloem.
A pair of swings soars out over a steep cliff, framed by a Blaze climbing rose. "Because of our short growing season, we combine the perennial colors of roses, peonies, begonias, lilies, phlox, and dahlias with the late summer color of Americana Deep Red Geraniums, Inca Yellow Marigolds, and Blue Daddy Petunias," says Bloem. Photo by: Claudia Lowry.
Despite all the blood, sweat, and tears, the couple's passion and energy for gardening is far from flagging. "Most of our fun comes from creating new things, especially things that 'can't be done.' Our garden is truly our place of serenity and relaxation, but we find most of that by working on one of our projects. We are not people who sit very well," Bloem says.
Faced with the dilemma of a rock outcropping where nothing would grow, Bloem and Lowry built this whimsical little hideaway that overlooks a garden below. The spot is covered with Virginia creeper and planters of cosmos, creating a lush, cool retreat. Photo by Claudia Lowry.