Where I grew up, the Easter tree was almost as important as the Christmas tree. Well, almost. But I still can't survive an Easter without one. My mom has carefully saved our homemade blown and dyed eggs over the years, so that when I visit for Easter I'm sure to find some of the same old eggs hanging on her flowering forsythia branches. "We should probably make some new eggs," we always say, but those eggs my sisters and I made in elementary school keep coming out again each year, just like those old homemade clay Christmas ornaments that are almost ugly, but have too much sentimental value to ever throw away. Learn how to stencil Easter eggs with herbs.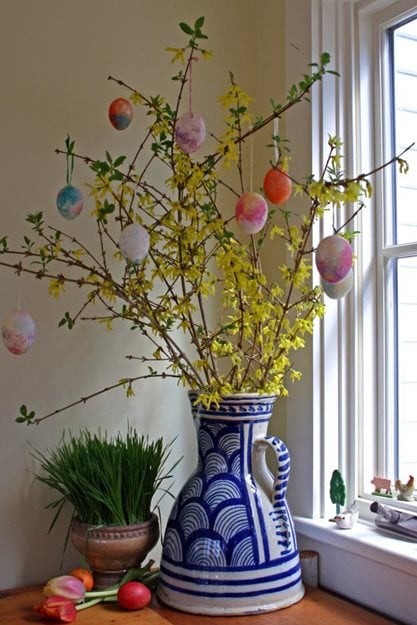 Photo by: Sarah Mustin Stockwell.
An Easter tree is not a complicated affair. No lights, no tinsel, just some flowering spring branches, adorned with colored blown-out eggs. Learn how to make your own Easter tree here.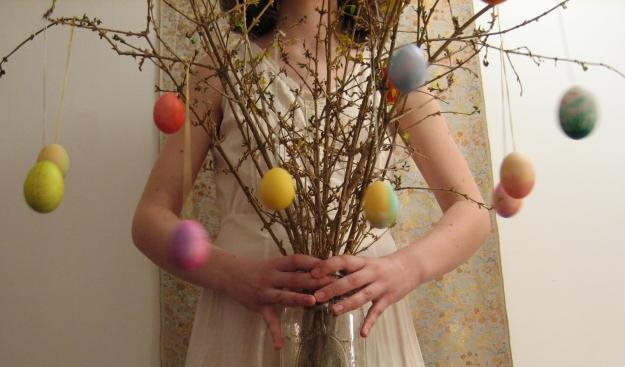 The author with this year's Easter tree. Photo by: Sarah Mustin Stockwell.
It's hard to think of any decoration more full of spring life and meaning than flowering forsythia, quince, dogwood, cherry, or apple branches dangling with glowing colorful eggs. My Easter tree is set up on my kitchen table right now, and I love the way the eggs gently wave on their strings in the breeze from the open kitchen window. Those eggs are my swaying harbingers of spring, and they make me want to wrap my Easter tree up in my arms and carry it with me everywhere I go right now.