10 Gardening Activities for September in the Northeast
Here are a few garden reminders, tips, inspiring ideas, and maintenance suggestions for your garden this month.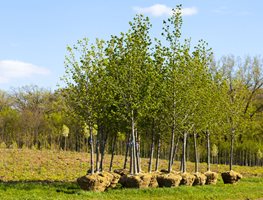 1. Plant Trees Now Through October
Whether you're adding native trees or ornamental trees to your garden, fall is typically the best time to plant. This timing works because the weather has usually cooled some, there's more rainy weather, and there's enough time for roots to get established before the first frost. For a guide to planting trees, watch this video from Joe Gardener. If you need ideas for the best trees to plant in the Northeast, look at plants used at local public gardens. For example, the Highline uses a mix of native and non-native trees and shrubs that thrive in the area. Another great resource is the book Essential Native Trees and Shrubs for the Eastern United States by Tony Dove and Ginger Woolridge. This book provides a great overview of why native trees are so useful (lots of variety, color, adaptability, wildlife support, etc.). Each tree profile includes growing instructions, sizes, companion plants, and more.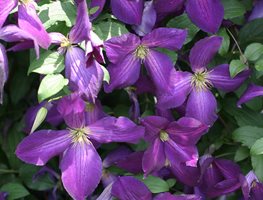 Happy Jack® Purple Clematis. Photo by: Proven Winners.
2. Transplant Clematis
Clematis are one of the most beautiful flowering vines for gardens. With large-flowering, double-petaled, and small-cupped types, clematis are perfect for gardeners living in Zones 4 through 8 who want gorgeous flowers to cover arbors, trellises, fences, or walls. Although clematis can be transplanted in spring, planting during the fall—specifically in September and early October—gives plant roots time to establish. Plants put in the ground in fall may even produce blooms the next summer during flowering season. See How to Grow Clematis to learn the basics, get planting tips, care & maintenance information and design ideas. There are also a number of online sellers with a wide selection of plants: Proven Winners, White Flower Farm, Burpee, and Brushwood Nursery.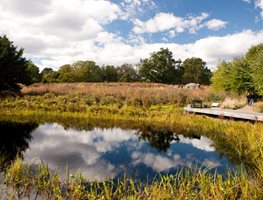 Photo courtesy the New York Botanical Garden.
3. Visit the Native Garden at the New York Botanical Garden
There are nearly 100,000 native trees, shrubs, wildflowers, ferns, and grasses planted in the 3.5-acre Native Plant Garden at the New York Botanical Garden. Designed by famed landscape architecture firm Oehme, van Sweden, this garden is filled with walking paths for botanical observation and exploration. The garden is gorgeous in every season, but fall is particularly beautiful with the tawny grasses and leaves changing color.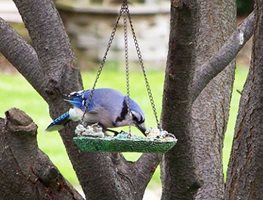 Photo courtesy All About Birds (Cornell Lab of Ornithology).
4. Bring in the Birds
There are a few things you can do in fall if you want a thriving bird community:
Plant native trees that support insect life such as caterpillars to provide food for birds.
Create habitat for nesting and protection from predators. Again, trees are great for this purpose, but so are conifers, dense shrubs, and grasses—all perfect for planting in fall. (Visit the National Wildlife Federation's native plant finder to get ideas for what to plant).
Leave seed heads on shrubs and perennials as food for birds. Seeds will sustain non-migratory birds in the fall and winter, so don't cut back plants until spring.
Put in a bird feeder. This will supplement the food birds usually gather from plants, which will slowly start to dwindle as winter approaches. The Cornell Lab of Ornithology has an article on selecting the right bird feeders because different types of feeders attract specific birds.
Prepare sources of water for freezing temperatures. In some areas, a shallow birdbath or fountain in your garden will do the trick. If you live in an area that gets heavy snow, consider investing in an electric birdbath heater to prevent water from freezing.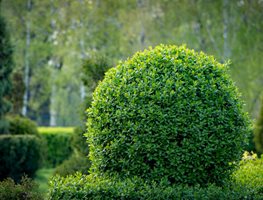 5. Stop Fertilizing Plants—Especially Trees and Shrubs
It's time to stop fertilizing plants to prepare them for winter. Fertilizing them now will stimulate lots of new tender growth that won't have time to harden off before freezing temperatures arrive.
Don't miss what to do in the garden each month, make sure you're getting our weekly newsletter.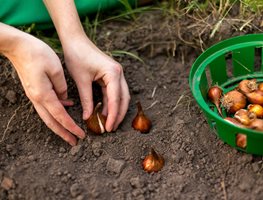 6. Start Planting Bulbs
If you've done your planning and ordered bulbs in August, then you'll be all set to start planting bulbs in mid-September. You can plant through September and into October in most Northeast climates. A good rule of thumb is to plant bulbs roughly 6 weeks before the ground freezes or when regular nighttime temperatures are between 40 and 50 degrees. Planting well before the soil freezes gives bulb roots plenty of time to get established. Learn more about planting and storing bulbs, and check out this video if you'll be planting bulbs in containers.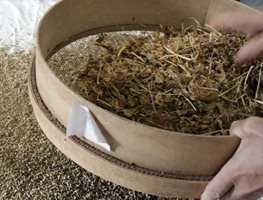 7. Save Seeds
Saving seeds from your favorite plants ensures that you'll have specific varieties you love to plant in your garden next year. It's also an inexpensive way to increase the number of plants in your garden. Though seed saving can seem intimidating at first, there are some edible plants as well as flowering perennials that are easy to collect seed from. For edibles, try beans, peas, tomatoes, and lettuces. Watch this video from Charles Dowding to learn more about saving seeds from edible plants. Learn more about saving flowering perennial seeds such as agastache in this video from the Royal Horticultural Society.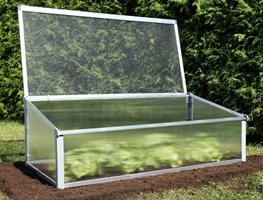 Photo courtesy Gardener's Supply Company.
Photo courtesy Natirar.
9. Visit Natirar
When you have the chance, visit Natirar, an estate in Peapack, New Jersey, that includes a farm-to-table restaurant (Ninety Acres), a cooking school, farm, and other activities. The restaurant is open to the public for reservations. If you can get into the 'Bring Me Food' dining area, do it. You'll get a menu of ever-revolving seasonal ingredients which will then be prepared in front of you. Guests have the opportunity to chat with the chef about techniques and ingredients while the meal is prepared.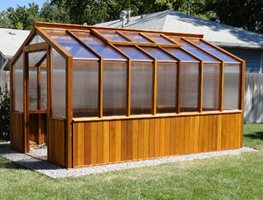 Photo courtesy Cedar-Built Greenhouses.
10. Expand Winter Growing Beyond Edibles
If you want to keep your growing season going through winter, consider getting a greenhouse. Many greenhouses are beautiful as well as functional. And while they allow you to get a head starts on starting seeds for the spring garden, they also give you the opportunity to grow orchids, tropicals, cacti, succulents, bonsai, and other frost-tender plants all year. You can buy a hobby greenhouse that's primarily for production or a beautifully designed wood greenhouse.
If you enjoyed this information, sign up for our weekly newsletter. Each week, you'll get Garden Design's best delivered right to your inbox including design tips, plant picks, great gardens, outdoor living products, and events to enjoy — along with monthly gardening checklists just for your area.
Do you know someone who would enjoy this Northeast Region gardening information? Why not share it with them?
When you purchase products through links on our site, we may receive an affiliate commission. Thank you for your support.