Landscape Architecture Coast-to-Coast Presentation
Free event in New York City, October 15th, 2015
Please join Garden Design magazine in New York City as landscape architect Edmund Hollander of New York and landscape designer Richard Hartlage of Seattle share timeless principles of landscape architecture and planting design as seen in the beautiful gardens they craft. In a conversation led by Garden Design magazine Editor-in-Chief Thad Orr, the trio will explore how gardens of varying styles are created, discuss the influence plants have on architecture, share insights on developing sustainable landscapes, and recount lessons from influential mentors. Hollander will be signing his new book, The Good Garden, following the talk.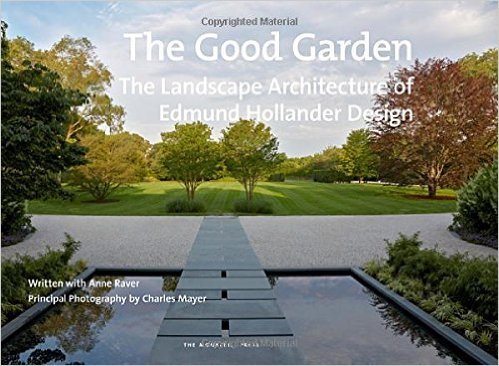 Hollander's new book, The Good Garden, will be available for purchase after the event. Photo by: Edmund Hollander Landscape Architects.
The event (more event details below) is part of Fall Market 2015 which runs October 13-15, 2015 at the Decoration and Design Building in New York City. Here is the brochure for the event.
Since the firm's founding in 1989, Edmund Hollander Landscape Architects, led by principals Edmund Hollander and Maryanne Connelly, has sought to create landscapes which serve as an extension of the constructed building, through scrupulous translation of architectural motifs into the landscape beyond.
The firm's breadth of work ranges from historic estates and horse farms, to urban rooftops — mastering the New York regional landscape. Review their projects here. Photo by: Edmund Hollander Landscape Architects.
Seattle based Land Morphology, led by principals Richard Hartlage and Sandy Fisher, designs rich, spiritual public and private spaces across the United States. Richard's award-winning, innovative designs are renowned as emotive, immersive spaces that incorporate sophisticated horticulture, artful detailing, and historical knowledge that heighten the human experience of the natural world.
Review Land Morphology projects here. Photo by: Land Morphology.
Event Details
Cost: Free
Where: Decoration and Design Building, 979 3rd Avenue #1400, New York, NY - Walters Wicker, Suite 538
When: 11:00 a.m. October 15th, 2015
Notes: Refreshments will be served after the event
Pre-registration: The event is free, but please register here
Sponsor
See more gardening events.