5 of Our Favorite Things from Our Early Spring 2016 Issue
From a Mediterranean-style garden to mismatched bud vases, this issue is packed with vibrant color
The Early Spring issue is about all things colorful and vivid to get you through the sparseness of the winter garden. From vibrant container arrangements to incredibly colored edibles, you'll see colorful designs and plants weaving their way throughout this issue. Though you won't find a story specifically on color in this issue, you will see the many ways color can make its way into the garden and your home. Here are five of our favorite stories inside this issue we can't wait to share.
1. Simple Techniques to Add Color, Texture and Geometry to Your Garden: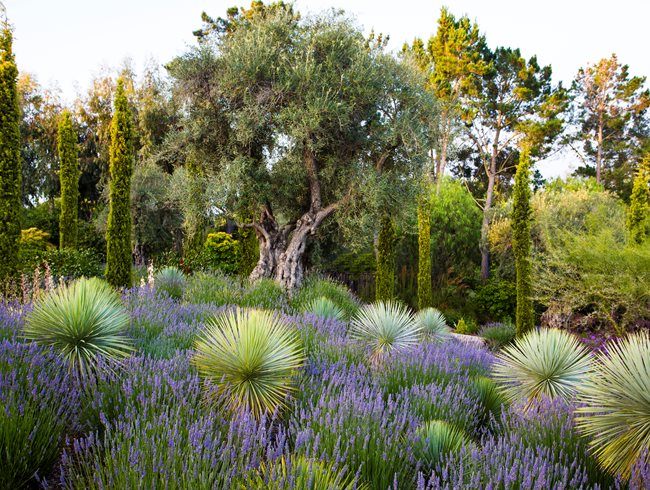 The gnarled trunk of a specimen olive tree planted on a raised mound emerges from a meadow of lavender and yucca in a Mediterranean garden in the Bay Area showcased in the Early Spring issue of Garden Design magazine. Photo by: Claire Takacs.
In "Geometric Impact," three design ideas guided designer Brandon Tyson on this Mediterranean residential landscape in the Bay Area: Use color to excite, define with geometric shapes, and highlight unique trees. From mounding green moss to the gallery of globes and spires in the form of cycads, succulents, palms, and boxwoods, the plants throb with brightness and give each space a sculptural focal point. It's a garden with geometric impact, bold colors and just plain remarkable trees.
2. Bearded Iris Selections to Get Your Heart Pumping
Bearded irises are just too good to overlook with their mind-boggling array of colors and color combos and hybridized new comers unfurling in the Early Spring issue of Garden Design magazine. Photo by: Ngoc Minh Ngo.
In "Spring's Unforgettables," the anticipation of waiting for an iris to unfurl is captured in 14 pages of pure, unadulterated beauty. Coming in a mind-boggling array of colors and color combos, it's no wonder the genus is named after the Greek goddess of the rainbow. The variety of irises is astounding—from reblooming irises to fragrant irises and "plicata" irises, ones whose petals are edged with a different color from the background. The unconventional colors of some irises like browns, metallics, and "dots and dashes," which have just a murmur of a pattern, are part of the treasures of irises.
3. Using Bud Vases to Create a Romantic Display
Whether you have a large collection of bud vases or are just starting out, bring them out of hiding, group them, let them mingle, and enjoy your eclectic collection, as showcased in the Early Spring issue of Garden Design magazine. Photo by: Pia Clodi.
In "A Little Mismatched," the colors jump off the page in a vivid mix of flower buds and mismatched colorful bud vases. It's a floral fair with tips for arranging (place them on antique trays to jazz up your display) to choosing blooms that accent something else in the room like the curtains or a painting. Sources for where to buy wholesale blossoms, find local growers, and where to purchase on-trend bud vases make this article a keeper.
4. Colorful Ephemerals for Renewing Your Spring Garden
A handy list of colorful ephemerals in the Early Spring issue of Garden Design magazine will help you renew your spring garden. Photo by: Rob Cardillo.
In "Color Revival," renewing your spring garden is easy when you learn to rely on colorful ephemerals in blues, purples, pinks, whites, and yellows. Employing a scattered jewel-box effect of shoehorning bulbs and spring perennials amongst later-flowering perennials is one strategy author Noel Kingsbury shares. His list of 19 ephemerals combined with his three-step plan for massing, lining, and naturalizing will help you renew your spring garden with gusto.
5. Inspiration for a Tasty Culinary Garden
Grow a tasty culinary garden with tips from the head gardener of the legendary French Laundry restaurant shared in the Early Spring issue of Garden Design magazine. Photo by: Meg Smith.
In "Recipe for Success," though specifically not about color, the garden of the legendary French Laundry restaurant has some incredibly colorful lettuces, radishes, edible flowers, and microgreens. Though you may never cook like the chefs at the French Laundry, you can gladly learn how they grow edibles of ultimate quality that look even more remarkable on the plate.
Want to see more of what's in the Early Spring issue? Purchase back issues here.