Summer Travel: 6 Incredible Gardens to Visit at Night
Magic happens after dark when six botanic gardens light up the night with an amazing collection of illuminated displays. The gardens blend sculptural fantasy with light and shadows to transform the gardens after the sun goes down. Make it a part of your travel plans to visit one of these stunning exhibitions.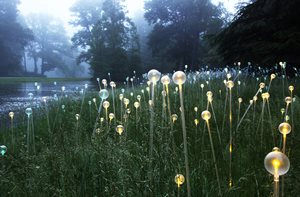 Photo by: Mark Pickthall.
Atlanta:
Hundreds of miles of fiber-optic lights turn the Atlanta Botanical Garden into a dazzling experience now through October. The stunning outdoor art exhibition, Bruce Munro: Light in the Garden, features Munro's best known and iconic artwork such as these 30,000 glowing flower-like stems (pictured). For more information, click here.
Photo by: Butchart Gardens.
British Columbia:
A wonderland of light and shadow comes to life at Butchart Gardens now through September 15 as part of their Night Illumination experience. Thousands of lights varying in intensity and color create a breathtaking transformation. Your stroll through the gardens after dusk is complemented by Butchart's festival of concerts and events. Get more information here.
Photo by: Kelly Rowles.
Philadelphia:
Walk the labyrinth of mosaics at Philadelphia's Magic Gardens' Twilight in the Gardens, for a spectacular multi-sensory experience, every fourth Friday now through October. The garden's surreal environment takes on a whole new personality after dark. Enjoy the experience on these special evenings while listening to lively performances or participating in creative activities, scavenger hunts, and more. For more information, click here.
Photo by: Chicago Botanic Garden.
Chicago:
Enjoy the spectacular lights at The Grand Illumination of Evening Island at Chicago Botanic Garden, now through September 7. The lakeside waters begin to glow as the sun sets, and a lineup of after-hour events make strolling the gardens after dark a unique delight. Get more details here.
Photo by: Missouri Botanical Garden.
Missouri:
A mesmerizing display of lighted artwork awaits at the Lantern Festival: Magic Reimagined at the Missouri Botanical Garden, now through August 23. Don't miss the Cherry Blossom Arch (pictured), one of 22 installations crafted from silk and steel celebrating the Garden's ongoing botanical research in China. For more information, click here.
Photo by: Jardin botanique de Montréal - Claude Lafond.
Montréal:
Marvel at colorful lanterns in all shapes and sizes during Gardens of Light at the Montréal Botanical Garden. The carefully crafted lanterns illuminate the Chinese Garden and Japanese Garden from September 4 through November 1. Get more information here.