Atlanta Botanical Garden Glows with Bruce Munro's Light
A stunning outdoor art exhibition featuring miles of fiber-optic lights will run from May through October
Light in the Garden: By the Numbers
30,000 glass spheres used to create Forest of Light
4,320 recyclable water bottles used to create Water Towers
2,730 recyclable water bottles used to create Beacon
205+ miles of fiber optics used in installations
20 towers that make up Water Towers
11 designers, technicians, and staff required to create art
10 months it took to design exhibition
From this May through October, the Atlanta Botanical Garden will be aglow with hundreds of miles of fiber-optic lights as part of a stunning outdoor art exhibition, Bruce Munro: Light in the Garden. The British artist, internationally acclaimed for his fascination with light as an artistic medium, will transform the garden into an enchanting setting, with displays ranging from small sculptures to fields of illuminated flowers, both throughout the gardens and inside the conservatories.
"This show will be something unlike any other that Atlantans have experienced," says Atlanta Botanical Garden president and CEO Mary Pat Matheson. "At dusk, the garden will become this magical yet natural landscape that visitors just have to see to believe."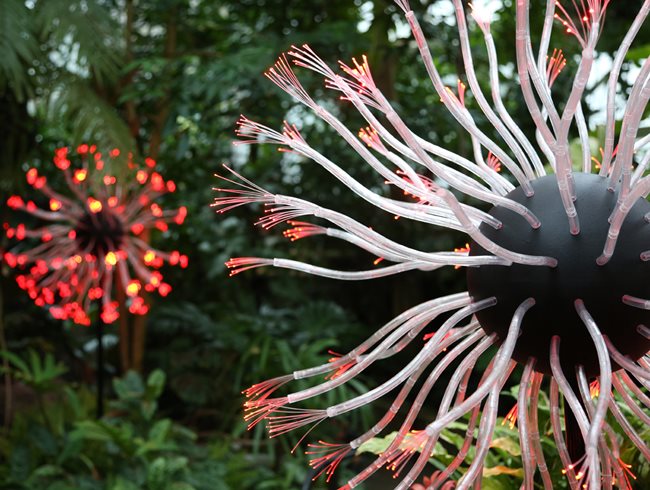 Like glowing exotic tropical plants, Eden Blooms features futuristic tendril-like blooms extending from a spherical core. The use of strong, vibrant colors makes them come alive at night. (Photo by: Mark Pickthall)
The show's largest and most spectacular installation, Forest of Light, features more than 30,000 flower-like stems of lights blanketing Storza Woods—a massive display that can be experienced both from the ground and from the Canopy Walk above. The display is the largest installation of its kind in the world to date. Another installation, Water Towers, includes massive cylindrical sculptures made of thousands of backlit water-filled recyclable bottles.
Forest of Light is Munro's best known and iconic artwork and features frosted glass spheres atop slender stems connected by illuminated fiber optics. At dusk, these 30,000 flower-like stems bloom with gentle rhythms of colored light as darkness falls over Storza Woods. (Photo by: Mark Pickthall)
Munro, whose first exhibition in this country was in 2012 at Longwood Gardens in Kennett Square, Pennsylvania, learned about design and lighting while living in Australia after college. In 1992, he returned to England and set up a studio as an installation artist working in light. Since then, his small team of lighting designers has become well known for creating architectural lighting schemes for private residences, hotels, restaurants, and other commercial spaces.
Created by Munro as a message of hope to cancer sufferers and survivors, Beacon is composed of 2,730 bottles built upon a geodesic dome illuminated by interior colored lights. (Photo by: Mark Pickthall)
"We have an enduring passion for light in all its forms and approach the creation of lighting plans for interiors and gardens as art in itself. But our large-scale installations are our heart and soul, and best express what we love about light," Munro says.
Water Towers is a series of 6-foot-tall illuminated columns standing in circular formation. The 20 towers, each constructed from 216 recyclable plastic bottles, are threaded with fiber-optic cables that pulse with music and color-changing light, creating a dazzling experience. (Photo by: Mark Pickthall)
Light in the Garden will run from May 2 to October 3, and will be open Wednesday through Sunday evenings. Matheson encourages visitors to come at dusk, when they can view the displays and enjoy dinner and entertainment at The Café at Linton's. Garden members receive half-price admission. For more information, click here.