Washington, DC: The National Cherry Blossom Festival
The Jefferson Memorial and the Tidal Basin at the south end of the National Mall, beyond the Washington Memorial, is where to go to see the cherry blossoms—the most famous floral display in Washington, DC.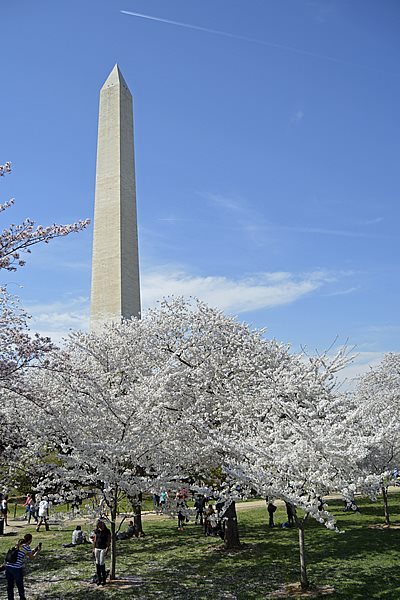 Cherry trees with Washington Memorial in the background.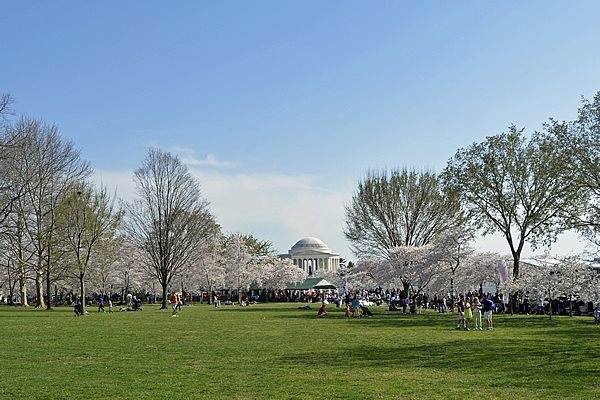 Cherry trees with the Jefferson Memorial in the background.
Each year the city hosts more than a million visitors who come to see the blooming cherry trees. First Lady Helen Taft and Japanese Viscountess Iwa Chinda planted the first of these trees in 1912. Since that time, more cherry trees have been planted throughout the city; for three weeks (beginning at the end of March) they grace streets and monuments with their ephemeral beauty in what is now known as the National Cherry Blossom Festival.
So many different varieties have been planted that those who love this harbinger of spring have the opportunity to see and compare them. They include: Prunus x yedoensis (yoshino) and Prunus serrulata 'Kwanzan' (Kwanzan) cherries are the most common. There are also Prunus subhirtella var. pendula, Autumn flowering Prunus x yedoenis 'Akebono', Prunus takesimensis, Prunus sargentii, Prunus spachiana f. ascendens, Prunus serrulata 'Furgenzo', and several others.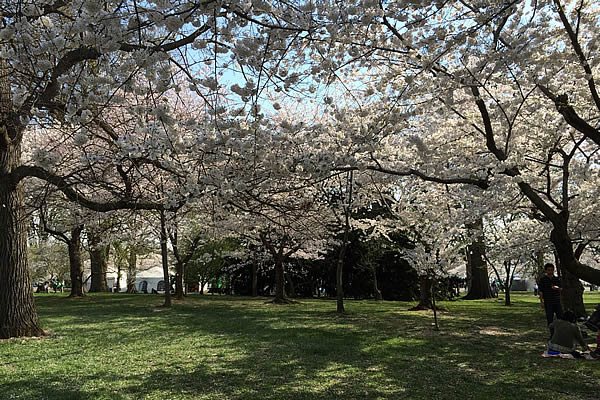 Blooming cherry trees providing shade.
Close to the entrance of the basin and throughout the city are stands of rental bikes that are part of the Captial Bikeshare program. These are specially branded for the festival. Take a ride around the basin earlier in the day if possible for a more pleasurable experience (the more crowded it gets, the more difficult it gets to ride these around).
Bike rentals available during the Cherry Blossom Festival.
This article is part of the Garden Destination: Washington, DC article.