Botanic Notables: A Public Food Forest in Seattle
Last week, a plum tree was planted in Seattle. Local volunteers planted the tree in an undeveloped field that will soon be dense with lots more trees, on a sloping seven-acre swath of land in the Beacon Hill neighborhood. The forager-friendly garden will be called Beacon Food Forest, and it promises to feed, educate, and connect the community from its verdant perch just two miles from downtown Seattle. With a projected seven acres of fruits, nuts, and vegetables, it will be the nation's largest public edible landscape.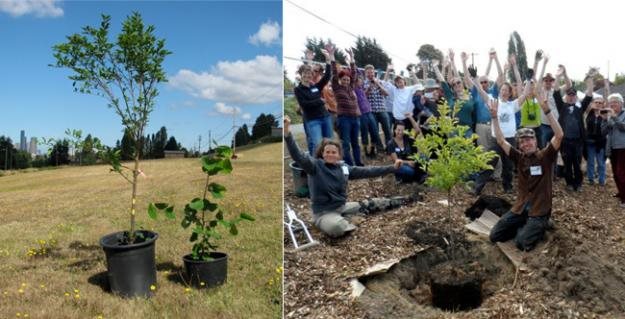 Volunteers plant the first trees at last week's "Ground Making." Photo by: Beacon Food Forest.
Food forests are evolving as the next phase of urban farming, says Glenn Herlily, a steering committee member of the Beacon Food Forest, and founder of the project. Grown with a permaculture infrastructure and citizen organization, a food forest is a sustainable farm that is planted for, and by, the community.
I visited Herlihy one day in June. The first plantings were still months away, but an optimistic anticipation hovered over the land, and a late afternoon sun warmed the grassy expanse. He explained that the location's south & west facing orientation made it a good place to grow things. And when it's not sunny, the Beacon Food Forest will be well-watered. "Seattle's climate is actually a subtemperate rainforest," he told me, "so the Beacon Food Forest will get great sun and rain."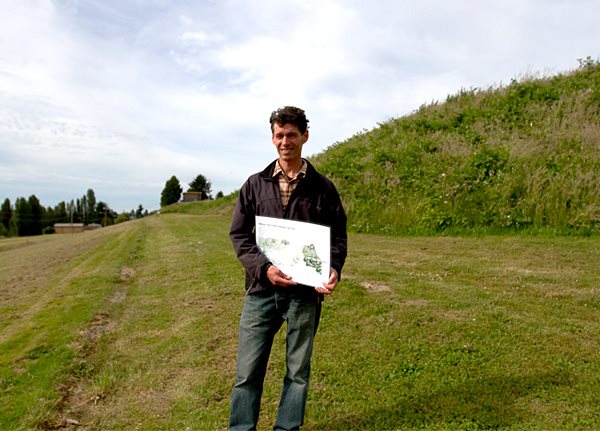 Glenn Herlily and blueprints for Beacon Food Forest. Photo by: Anna Laurent.
Herlihy envisioned the project several years ago, while taking a permaculture course. He wanted to design an urban farm that considered several green movements around food—the consumer's interest in where it comes from, the gardener's interest in how it is grown, the city's interest in how it relates to a community, and the ecologist's interest in how the garden functions as a whole.
Anyone can plant, and anyone can pluck—a democratic mission statement that comes with a caveat: how to manage those who take more than their fair share? It's something Herlihy and his committee have pondered over. Their hope is that, ultimately, Beacon Food Forest will sustain a level of abundance so that there really is enough for everyone, with a surplus for those who want even more. "Until that happens, though, we might have to come up with an enforcement strategy," says Herlihy. "Or maybe scarecrows dressed as policemen." I suggested policemen dressed as scarecrows. "Yes! Even better," Herlihy laughed.
Photo by: Beacon Food Forest.
Herlihy and his committee named their project a forest not just for their vision of sylvan beauty and density, but for its forest-like diversity and self-maintaining ecology. "Plant guilds are central to the Food Forest," he explains. "To cultivate a land management system that functions as an ecosystem, you have to think of plants in groups that function together. Fruit and nut trees are the upper stories, and below are dwarf fruit trees and berry shrubs, then edible perennials." The guilds include companion plants, which assist the group by attracting pollinators or fixing nitrogen in the soil.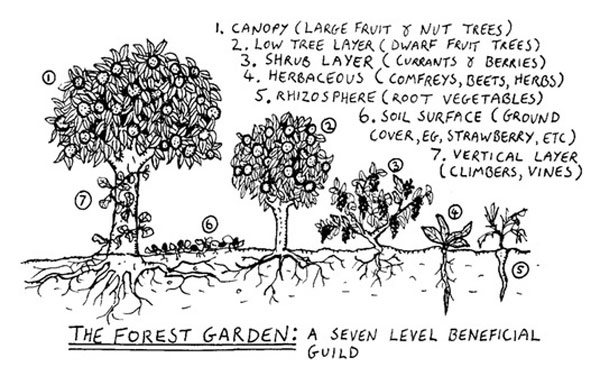 Beacon Food Forest is designed with plant guilds, where edible plants are grouped to mimic a sustainable forest ecology. Photo by: Beacon Food Forest.
At last week's Ground Making Day, the group planted the Forest's first plum trees and shrubs. This initial phase will focus on a 1.7-acre test area of the Forest. If all goes well, Beacon Food Forest will expand to fill the full seven acres with walkways, individual garden patches (which can be purchased for $10), and community classes in permaculture. Herlihy hopes people will arrive at the Forest with particular wish lists. "Say someone has always wanted a Filbert tree. We'll make it easy—become a member, offer a couple hours of labor a week, and plant your Filbert tree. We will show you how."