Water Wisdom: An Eco-Friendly Santa Fe Garden
A garden in Santa Fe honors the native landscape and makes the most of every drop of rain that falls
In arid northern New Mexico, the climate can be a hard row — 300 days of virtually cloudless sunshine, blistering summers, freezing winters and a temperature difference between night and day of as much as 40 degrees. Not to mention the mere 12 annual inches of rain and snowfall combined, which makes water a precious commodity and much on the mind of even the average, non-gardening citizen of the state. Runoff might be a nuisance in some places, but in Santa Fe, every drop counts. Yet the tough, natural beauty and distinctive Southwest character of the region are spellbinding. Those who live there become hooked on the ambience of the place, and many a non-New Mexican dreams of taking up residence in the Land of Enchantment.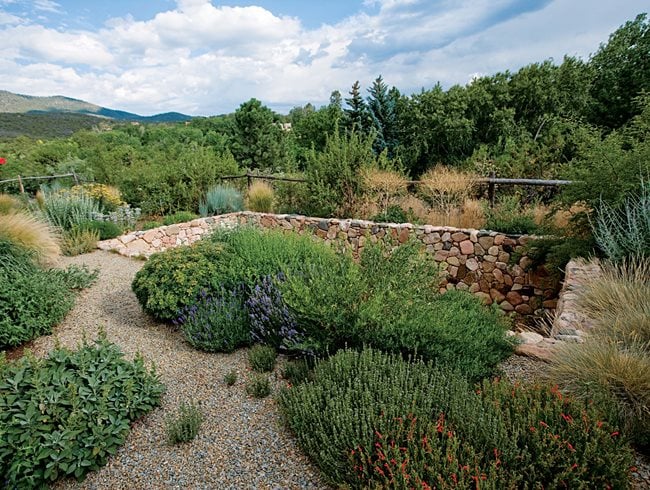 Being water wise is also beautiful in this New Mexico garden. A stone-lined retention pond encircled by drought-tolerant plants. (Photo by: Steve Gunther)
For Santa Fe landscape designer Donna Bone, founder and creative director of Design With Nature, the wild part of New Mexico — with its rugged mountains, rocky arroyos, grasslands, scrub and oases of cottonwoods — is her muse, and her firm has developed a reputation over the past 13 years for creating landscapes that are both beautiful and regionally appropriate. According to Bone, "Connecting people to nature is fundamental." Her goal is to create gardens that make sense on several levels, as she puts it, "to enliven spaces to suit the region as well as the client's needs."
A project bordering the Santa Fe River watershed presented a perfect petri dish to showcase Design With Nature's objectives. When Bone first approached the site in 2005, in a neighborhood on the outskirts of the city, it was a typical lifeless post-construction wasteland. But the surrounding landscape was an inspiration, as was the architecture of the house. A modern stucco dwelling with clean lines and thoughtful connections between interior and exterior, the home's modest acreage, with narrow and zero lot lines, had an enviable borrowed landscape — an adjacent natural area and a stunning view of the Sangre de Cristo mountain range.
Bone set about "greening" up the property in more ways than one, adding a living tapestry to wrap around the house that is also environmentally sensitive. The clients' only requests were that the garden be contemporary, suited to the site and low maintenance — a doable trio for Design With Nature. Paramount to Bone's modus operandi is water consciousness, which means minimizing water needs, capturing what falls naturally and respecting the nearby landscape. As David Salman of Santa Fe Greenhouses and High Country Gardens outlines it, three basic steps to this "xeriscape" approach are soil prep, water harvesting and regionally suitable plants. Exactly what Bone had in mind.
Avena grass as textural contrast for the house and a metal cube sculpture. (Photo by: Steve Gunther)
To start with, Bone believes in working from the ground up — literally. Over the past 10 years, Design With Nature has perfected an organic compost that creates a soil texture that is good for both healthy plants and rainwater absorption. With a bit of the chemist in her, Bone's first step in designing any garden is to have the soil tested, then to create a customized, site-specific fertilizing program. With the soil mix fixed, Bone then contours and sculpts it into berms and swales. While these add visual interest and three-dimensionality, they are actually part of a technique called "passive water harvesting," in which water is channeled directly to the roots of the plants, allowing plenty of time to soak in and making the most of every bit of moisture.
A popular water-conservation tool in the Southwest (though applicable anywhere), passive water harvesting is a sign of a paradigm shift, according to Cado Daily, program coordinator of the Water Wise program at the University of Arizona Cooperative Extension. "In the past, the goal has been to get water off the property, but in the Southwest, the goal is to keep the water on the property." A common statistic is one inch of rainfall on a 1,000-square-foot roof results in 600 gallons of water. Utilizing this can make a dent in irrigation, which accounts for about 50 percent of residential water use in the United States. In the Southwest, rainfall typically arrives in only tenths of inches, making it even more important to save and focus it. The push now, says Daily, is for rain-only gardens. For any "monsoon" that might occur, the Bone garden also has a stone-lined retention pond (the architect's contribution to the landscape) serving double duty as a garden focal point.
Cactus flowers in hot pink shades. (Photo by: Steve Gunther)
Although a well-laid infrastructure, like a good backstage crew, is key, what's on stage and above ground has the star power. The guiding concept in plant selection for Bone, as in any good xeriscape garden, is "regionally right." This includes not only indigenous species, which New Mexico has plenty to choose from, but also non-natives that thrive in dry sites, called xeric plants. Bone's plan was to keep the garden areas refined nearest the home, and more complex and natural the farther out you go as a way of connecting the chic modern building to the wild landscape. Setting the tone in the entry garden stands a Tanyosho pine accompanied simply by a metal cube sculpture, a lawn of native sheep fescue, and spiky clumps of avena grass and red yucca. Elsewhere in the garden, a piñon pine serves as a native counterpoint to its Japanese cousin. Outside the master bedroom, New Mexico privets (Forestiera neomexicana) and soft waves of native grasses continue the slightly Asian minimalism, well-suited to the architecture. Though the intense sunlight of New Mexico makes bright colors fair game, Bone's main color palette here is understated to complement the taupe stucco, with a predominance of blue, gray and green.
As the garden moves around the house and toward the natural area at the back of the property, the plants segue from a mix of native and xeric, including Russian sage, to indigenous species like Mexican feather grass, Datura meteloides and yellow prairie coneflower. Where cultivars of plants were used, such as 'Coronado' hummingbird mint and 'Terracotta' yarrow, Bone made careful selections based on "high performance," requiring that they be long-blooming, disease-resistant and hardy. At the farthest edge of the lot stands a coyote fence original to the site, made of tree branches and wire, which Bone incorporated for a touch of the vernacular. To further connect designed landscape and native, Bone seeded the same plants on each side of this see-through boundary line, as if the no-mow "constructed meadow" that occupies the side garden and backyard has "jumped the fence." Despite the weather extremes, Santa Fe residents are big on outdoor living, and Bone's clients here are no exception, frequently throwing open the sliding-glass doors and relaxing on their portal overlooking the meadow garden and mountains beyond.
Making the distinction between indoors and outdoors disappear, sliding-glass doors lead to a dining area on the portal, where the owners can feel at one with the garden and revel in a stunning view of the natural landscape. (Photo by: Steve Gunther)
When Design With Nature began in 1995, they had to do a lot of educating about ecologically sound gardening and wise water use. But that has changed in the past several years; Southwesterners now realize the futility and inappropriateness of a bluegrass lawn in the desert. Still there is room for improvement — the Santa Fe River is a waterless rocky bed due to damming to meet residential needs. But as Dave Groenfeldt, director of the Santa Fe Watershed Association, believes, "There is enough water here for sensible gardening, a sensible river and sensible people." It just takes the continued efforts of people like Donna Bone, one garden and one drop of water at a time.
For more information, call Design With Nature at 505-983-5633 or see designwithnatureltd.com.