The Well-Edited Garden: Sakonnet, Rhode Island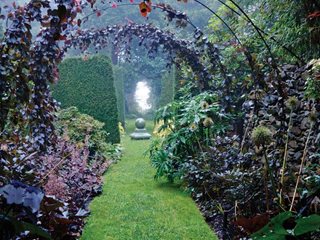 The Sakonnet Garden in Little Compton, Rhode Island, began as the private domain of the then 12-year-old John Gwynne—"a place I could explore," says Gwynne, now retired and again spending much of his time in the one-acre plot. Situated on a peninsula brushed by the Gulf Stream, Little Compton enjoys a maritime climate that allows Gwynne and Mikel Folcarelli, his partner of 30 years, to grow a wide variety of plants, from Himalayan blue poppies to palms. "We started collecting just to see what we could grow," says Gwynne.
Such indulgence eventually yearns for limits, however: lately, the couple has divided their plot into immersive color blocks, with a silver meadow, a yellow border garden, and a black border garden. "It's an experiment in color and light," says Gwynne. While each is a fantasy of its own—on foggy mornings, the bright sections addle the eye—they also work together: patches of sunlight are linked by the black garden's tunnel of dark foliage.
On June 18, the garden will open for a symposium titled "Lofty Aspirations of Down-to-Earth Gardeners." Last year, charity events drew more than 1,000 visitors; Gwynne hopes to use its renown to raise funds to restore local landscapes. "This is one of the earliest places of English agriculture in America," he says. "Its ecosystem has supported bobolinks and bobwhites since the Pleistocene." See sakonnetgarden.com for info.
1. Beech 'Black Swan,' an almost black weeping beech, is trained over steel hoops designed by a local artist.
2. Purple reads black, keeping the blooms of heuchera 'Chocolate Ruffles' within the directive.
3. A rogue arisaema, with leaves much too green for this area, is on its way out.
4. A tall network of boxwood hedges keeps the garden defined and orderly.
5. A green-glazed terra-cotta fragment, scavenged from the Bronx, marks the transition to the yellow border garden.