Botanic Superlatives: Oldest Topiary Garden in the US
The first topiary sculptures were trimmed in 1st century Roman villas. By the 16th century, topiary had become an emblem of European landscape design, and it was embraced by colonial American gardens of the late 19th and early 20th centuries. One of these Victorian-era menageries still grows today at an historic country estate in Portsmouth, Rhode Island. With its century-old living sculptures, Green Animals Garden is the oldest topiary in the United States.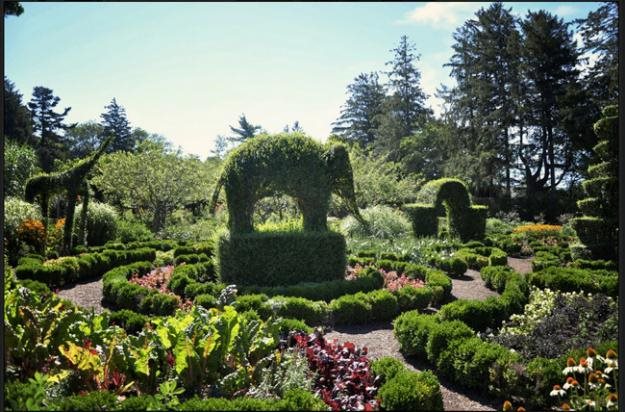 Photo by: landesinokinawa.com./p>
In 1872, Thomas Brayton, Treasurer of the Union Cotton Manufacturing Company, purchased a seven-acre country estate in Rhode Island. His family used the property as a summer home. When his wife died several years later, Mr. Brayton closed the house, leaving only the gardener, Joseph Carreiro, to tend to the property. Carreiro maintained the flowers, vegetables, and herbs, and began growing the garden's first topiary sculptures, in 1910. The gardens became a family affair: Carreiro's daughter and her husband later moved into the property, and Mr. Brayton's daugher Alice assumed residence when her father died in 1939.
Photo by: landesinokinawa.com./p>
Today, the garden includes fantastic imaginary figures such as a unicorn and a Don Quixote, as well as traditional likenesses of a giraffe (the garden's oldest topiary, c. 1910), a horse & rider (a traditional New England society pair), and a Rhode Island rooster. The garden maintains a sense of tradition: the camel is said to have been based on the label of a bunch of Christmas figs, and a topiary dog named Spot still wears the metal tag worn by Alice's own dog.
Most of the topiaries are California privet, whose malleable stems grow quickly, and are trimmed weekly. Dense, slow-growing boxwood is used for geometric shapes and the parterre, and some of the newer, larger topiaries are sculpted from English yew, a sturdy slow-growing evergreen that requires pruning once a year.
Photo by: landesinokinawa.com./p>
There are more than eighty pieces in the formal topiary garden, tended alongside orchards, a dahlia garden, petunias, ageratum, and vegetables.
If you're in the neighborhood, get to Green Animals Garden this week, or wait til next summer. The garden is open seasonally: this year, from June 20th through September 3rd. The property is maintained by the Newport Preservation Society, and it's about 30 minutes from the mansions.
Photo by: landesinokinawa.com./p>
Photos courtesy of Rhode Island Daily Photo.
Can't make it to Portsmouth? A video from Martha Stewart's visit to the garden is
here
.