From Garden to Table: Zucchini Bread
From Garden to Table is our new regular column from Katie Mendelson, the assistant editor at GARDEN DESIGN. She'll be cooking fruit and vegetables that are in season, as well as featuring gardening cookbooks that focus on growing edibles. Today she features Morning Glory Farm and the Family That Feeds an Island, the story of a favorite farm stand on Martha's Vineyard, and sharing the farm's recipe for zucchini bread—perfect for gardeners who are struggling with their abundant bouny of zucchini this time of year.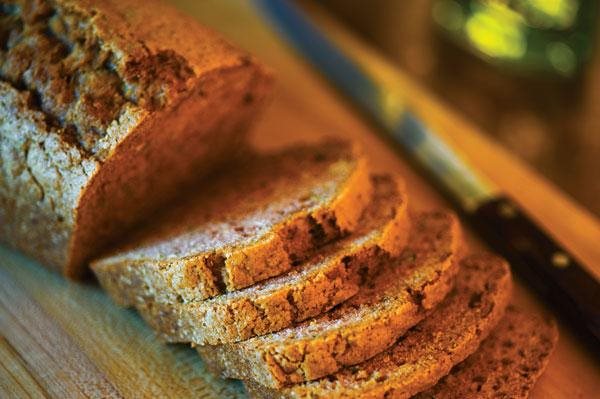 Morning Glory Zucchini Bread, from Morning Glory Farm and the Family that Feeds an Island. Photo by: Alison Shaw.
For as long as I can remember, my family has gathered on Martha's Vineyard, Massachusetts to celebrate July 4th. Our house bulges at the seams, straining to fit my parents, my siblings, and the significant others and friends that have come to be a part of our clan.
My mother is a terrific cook and I always look forward to eating whatever she happens to be making, but it's on the Vineyard that my family does our best eating. What I most look forward are the vegetables heaped on our plates: grilled zucchini, eggplant, spring onions, pasta salads tossed with basil and cherry tomatoes, and salad greens that, no matter how well washed, crunch between your teeth with the island's sandy soil. Unlike the local vegetables and generally healthy foods in the main course, though, our desserts are traditionally by way of Nestlé Toll House and Duncan Hines, the only local note coming in the form of ice cream made on the island and wedged between two chocolate chip cookies.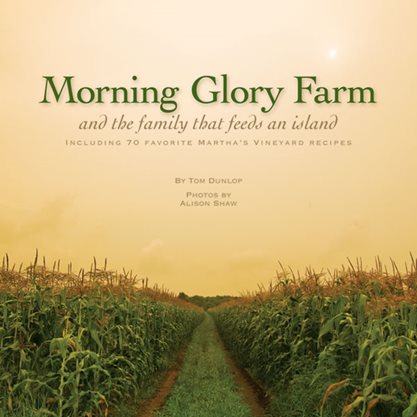 Morning Glory Zucchini Bread is one of 70 recipes featured in the book, which was a winner of a Gourmand World Cookbook Award for Best Local Cuisine cookbook in the United States.
I have zero complaints with straight-from-the-box yellow cake topped with chocolate frosting, but I decided to try to make a slightly more nutritious finale to our last lunch before leaving the island. I turned to Morning Glory Farm, a family-run farm in Edgartown, Massachussetts, that we return to year after year for its excellent produce, cut flowers, and the occasional baked treat from the farm stand's kitchen. Its founders, James and Deborah Athearn, started growing vegetables and raising cows on a small plot of family land in 1975, and the operation has since developed into the Vineyard's largest. Morning Glory has more than 55 acres of vegetables and small fruits and supplies islanders and visitors with meat and eggs from their pigs, cows, and chickens.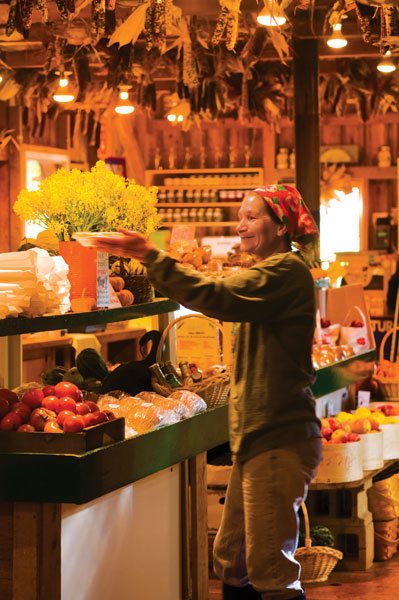 From Morning Glory Farm and the Family That Feeds an Island. Photo by: Alison Shaw.
The farm is still run by the Athearns and two of their grown children and it bears much more in common with a large personal vegetable garden than a mainland corporate producer. The attention and care paid to each individual crop is obvious in the earthy taste of all of Morning Glory's fruits and veggies.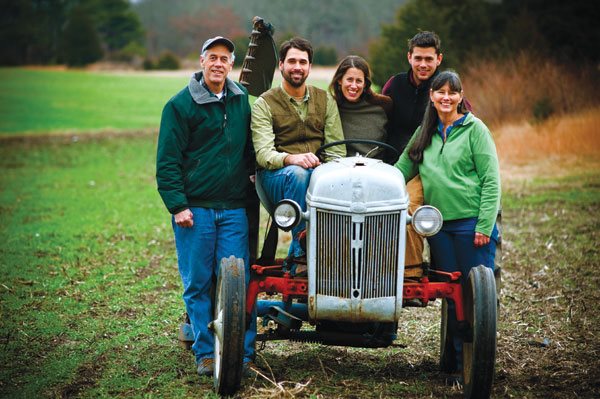 From Morning Glory Farm and the Family That Feeds an Island. Photo by: Alison Shaw.
In turn, the appreciation of Morning Glory's farming is also quite evident, both in the eager customers that buzz about the farmstand, snapping up everything on offer as well as in Tom Dunlop's Morning Glory Farm and the Family that Feeds an Island (Vineyard Stories; $24.95), a lovely book that contains the story of the farm's origins as well as seasonal recipes for all of its produce.
Photographer Alison Shaw, a longtime chronicler of island life, captures the tremendous amount of heart and soul that goes into all that Morning Glory farm does. Readers get a chance to see the process that from planting to eating in recipes including everything from kale soup to Korean salad.
I managed to introduce this homegrown goodness into our final dessert by way of Morning Glory's zucchini bread, the first baked product that the Athearns sold out of their farm kitchen and still one of the most popular. Zucchini bread isn't exactly groundbreaking, but it's simple, natural, and sweet—adjectives easily lent to both all of Morning Glory's produce as well as my time on Martha's Vineyard.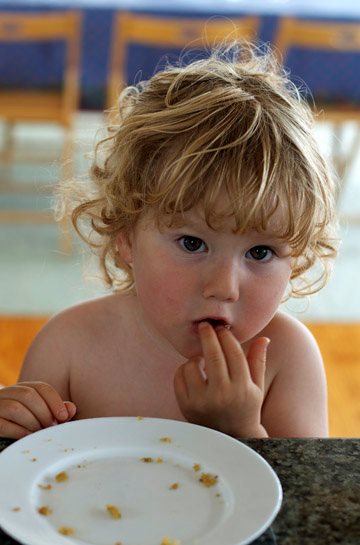 My nephew eats all of his share of the zuchhini bread. Photo by: Katie Mendelson.
Morning Glory Zucchini Bread
Adapted from Morning Glory Farm and the Family That Feeds an Island
Prep Time: 25 minutes
Cooking Time: 1 hour
Servings: 2 loaves
2 to 2 ½ cups shredded zucchini
1 cup vegetable oil
3 eggs
1 tsp vanilla (A little extra doesn't hurt)
2 cups sugar (This seemed like a lot to me, so I substituted with ¾ cup granulated sugar and ¾ cup light brown sugar)
3 cups all-purpose flour
1 tsp baking soda
¼ tsp baking powder
1 tsp salt
1 tsp cinnamon (Again, don't be afraid to go overboard with this one)
(1.) Preheat oven to 325 degrees. Spray two 9" x 5" bread pans with nonstick spray.
(2.) In a large mixing bowl, combine zucchini, oil, eggs, and vanilla. Mix thoroughly.
(3.) Beat sugar into mix until it is thoroughly creamed.
(4.) Once liquids and sugar are well mixed, add flour, baking soda, baking powder, salt, and cinnamon. Mix until batter is well blended and even in texture. The batter should be smooth, outside the zucchini shreds. It it's not, add a little juice from the zucchini.
(5.) Pour batter evenly into pans.
(6.) Bake for approximately 1 hour, or until bread is brown and springs back when gently pressed in the middle.