Spicy Cucumber Salad
Gardener, cook, and forager Laura Silverman shares a recipe for spicy cucumber salad.
For fresh, crisp cucumber pleasure, I look no further than an excellent Thai salad that offers crunchy morsels of raw cucumber tossed in an addictive dressing that balances the tang of lime juice with the funk of fish sauce. Sweetly aromatic sticky rice is the perfect foil for these bright flavors. I could eat a big bowl of this every day of the summer.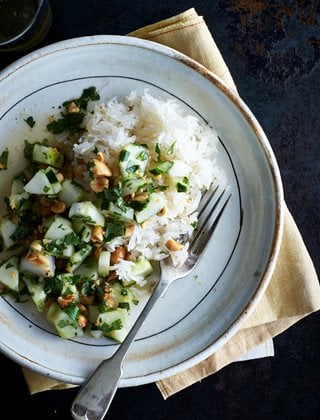 Photo by: Randazzo/Blau.
SPICY CUCUMBER SALAD
Serves 8
Takes 15 minutes to make
Ingredients
½ cup fresh lime juice
3 Tbsp fish sauce
3 Tbsp palm sugar
1 Tbsp minced seeded jalapeño
3 red Thai chiles, thinly sliced
2 small garlic cloves, finely minced
3 large cucumbers
½ cup chopped cilantro leaves
Sea salt
½ cup coarsely chopped roasted unsalted peanuts
Instructions
To make the dressing, whisk together lime juice, fish sauce, palm sugar, jalapeño, Thai chiles, and garlic in a small bowl and set aside.
Remove most of the peel from the cucumber (leaving a few long stripes for color if you like), and quarter lengthwise. If seeds are large and tough, remove them. Slice cucumber into ¼-inch-thick pieces.
In a large bowl, combine cucumber with cilantro. A half hour before serving, toss with the dressing. Taste and add salt as needed. Garnish with peanuts and serve.
This bonus content accompanies "Bumper Crops"—an article about how one gardener uses cucumber and nasturtium from her garden in the kitchen—in the Summer 2017 issue of Garden Design magazine.