Chile Relish and Pan-Seared Lamb
Gardener, cook, and forager Laura Silverman shares a recipe for chile relish and pan-seared lamb chops.
The piquant bite and jammy texture of chile relish make it the ideal accompaniment to tender, lightly charred lamb chops.
CHILE RELISH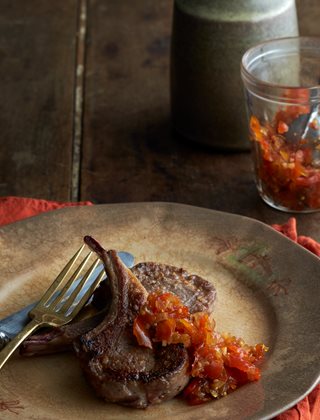 Photo by: Randazzo/Blau.
Makes about 2 cups
Prep time: 15 minutes
Ingredients
3 cups chopped chile peppers (a combination of spicy and sweet, predominantly red; remove seeds to reduce heat)
¾ cup cider vinegar
½ cup honey
2 cloves garlic, minced
2 large shallots, minced
1 Tbsp sugar
2 tsp yellow mustard seed
1 tsp ground cumin seed, lightly toasted
1 tsp sea salt
Instructions
Combine ingredients in a large, heavy saucepan over medium heat.
Bring to a light boil, then reduce heat to low and simmer (uncovered) until the liquid is absorbed and the chiles soften to a jammy consistency, about 40 minutes.
Add a little water as needed to prevent sticking.
When cool, taste and adjust salt.
Serve at room temperature.
LAMB CHOPS
Serves 2
Prep time: 10 to 15 minutes plus up to 4 hours refrigeration
Ingredients
4 to 6 small lamb rib chops
1 Tbsp minced garlic
sea salt
1½ tsp olive oil
Instructions
Rub chops all over with garlic and sprinkle with salt.
Place on a plate, cover, and refrigerate for at least 30 minutes or up to 4 hours.
When ready to cook, bring chops to room temperature and wipe off garlic.
Warm olive oil in a heavy skillet (cast iron works well) over high heat.
Add chops to skillet and sear on one side for 3 minutes; turn and cook another 3 minutes for medium-rare. Finish with a little sea salt.
This bonus content accompanies "Fall Finale"—an article about how one gardener uses chile peppers and grapes from her garden in the kitchen—in the Autumn 2017 issue of Garden Design magazine.