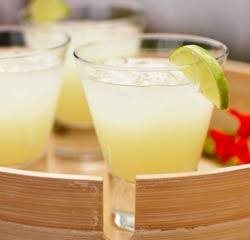 Photo by: James Carriére
Created by Taste Catering and Special Events' President and Mixologist, Mags Teskey for the garden party hosted by Davis Dalbok, featured in Garden Design's April 2009 issue.
This drink is worth the effort. You can make the ingredients in large batches and save in the refrigerator for up to two weeks.
Lemongrass Martini
Ingredients
Makes 2 drinks
2 oz. jalapeno-infused vodka
2 oz. mandarin vodka
2 oz. lemongrass simple syrup (recipe below)
3 tsp ginger juice (recipe below)
2 oz. fresh-squeezed lime juice
Instructions
Combine all ingredients, shake with ice and strain into a chilled martini glass.
Standard Simple Syrup
Ingredients
1 cup sugar
1 cup water
Instructions
Bring sugar and water to a simmer in a small saucepan, stirring until sugar is dissolved, then simmer five minutes.
Cool syrup completely.
Lemongrass Simple Syrup
Ingredients
1 cup standard simple syrup
1 piece fresh lemongrass
Instructions
Bend the lemongrass stalks to release the oils and then cut into three pieces.
Cover the dish with plastic wrap to seal in the scent and steep in the simple syrup for 30 minutes.
Ginger Juice
Ingredients
1 large piece of fresh ginger
Instructions
Peel the ginger and process using a juicer. Fresh ginger juice is also available in some organic markets.