Chef Jeanne Kelley Shares Garden-Fresh Recipes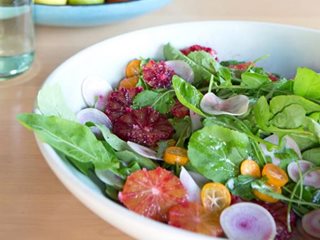 Chef Jeanne Kelley's Italian Arugula Salad with Blood Oranges, Kumquats, and Watermelon Radishes. Photo by: Diana Koenigsberg.
Garden Tomatoes with Herbed Goat Cheese and Griddled Bread
Griddled bread is delicious at room temperature, so you can enjoy it in the garden served with tomatoes just plucked from the vine!
MAKES ABOUT 6 SERVINGS
1 one-pound loaf country boule or sourdough bread, cut into 1/2-inch thick slices
Extra virgin olive oil for brushing
1 garlic clove, cut in half
3 pounds assorted garden or heirloom tomatoes
Sea salt
Herb sprigs for garnish
Herbed Goat Cheese (see recipe)
Heat a griddle or heavy large iron skillet over medium heat. Brush both sides of bread and arrange slices, working in batches if necessary, in a single layer on the griddle. Cook until the bread is golden brown, about 4 minutes. Turn the bread and continue to cook until the second side is golden brown, about 4 minutes longer. Rub bread lightly with garlic.
Cut larger tomatoes in slices and cut smaller tomatoes in half. Arrange the tomatoes on a platter; sprinkle with salt and scatter with herb sprigs.
Serve the tomatoes with the Griddled Bread and the Herbed Goat Cheese.
Herbed Goat Cheese
Jeanne uses whatever combination of herbs is plentiful in her garden for this creamy spread.
MAKES ABOUT 1½ CUPS
8 ounces soft fresh goat cheese, room temperature
1/3 cup extra virgin olive oil
½ cup coarsely chopped mixed fresh herbs such as basil, garlic chives, tarragon, mint and thyme
Sea salt and freshly cracked pepper
Stir cheese, oil, and herbs to blend in a small bowl or crock. Season the cheese to taste with sea salt and freshly cracked pepper. (Goat cheese spread can be made ahead. Cover and refrigerate up to one week. Allow cheese spread to soften slightly at room temperature before serving.)
Italian Arugula Salad with Blood Oranges, Kumquats and Watermelon Radishes
Freshly grown greens require very little seasoning. Use a mandoline or V-slicer to cut pretty, paper-thin slices of watermelon radish.
SERVES 4
8 cups loosely packed arugula
2 small blood oranges, peeled and sliced
1 medium watermelon radish, about 6 ounces, very thinly sliced
4 kumquats, thinly sliced
Sea salt and freshly cracked pepper
2 tablespoons extra virgin olive oil
1 tablespoon blood orange juice
2 teaspoons Sherry wine or red wine vinegar
Combine the arugula, blood oranges, radish, and kumquats in a large bowl and sprinkle with salt and pepper. Whisk the oil, orange juice, and vinegar to blend in a small bowl for dressing. Pour the dressing over the salad. Toss the salad and serve.