Hawaiian Recipes from Private Chef Dani Felix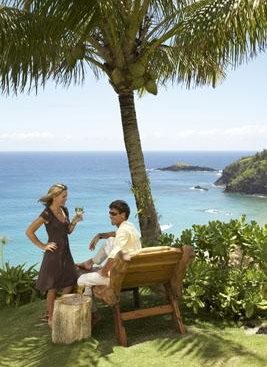 Photo by: Linny Morris.
Ok, so you aren't on Kauai and can't use island-grown locally sourced ingredients in these recipes from private chef Dani Felix. Look for substitutes grown closer to your own home and we're betting that the taste will, at least temporarily, transport you to the islands. (For more island inspiration, see Garden Design's Nov/Dec 2009 issue.)
LILIKOI DRESSING
Ingredients:
1/2 cup fresh lilikoi juice (passion fruit)
1 Tbs. Dijon Mustard
1 Tbs. Seasoned Rice Vinegar
2 Tbs. Honey or Agave Nectar
3/4 cup Extra Virgin Olive Oil
1/2 tsp. Hawaiian salt or kosher salt
pinch of fresh ground black pepper
Instructions:
-Combine lilikoi juice, mustard, rice vinegar, honey, salt, pepper in blender; blend until all combined.
-Slowly drizzle olive oil into mixture and continue blending until emulsified.
OKINAWAN SWEET POTATO LATKES WITH PINEAPPLE CHUTNEY AND CANDIED GINGER CREME FRAICHE
Ingredients:
1 cup shredded potatoes
1 cup shredded Okinawan sweet potatoes
3 eggs, beaten
2 Tbs. all-purpose flour
1 1/2 tsp. Hawaiian salt or kosher salt
1 Tbs. shredded sweet Maui onion
1/4-1/2 cup safflower oil
Instructions:
-Use a cheesecloth to wring liquid from shredded potatoes.
-In a medium bowl toss potatoes and onion with the egg, flour and salt.
-In sauté pan, heat 1/4 cup safflower oil over medium heat.
-Form 1-inch potato patties with hands and place in hot oil.
-Cook approximately 1-2 minutes each side or until golden brown. Remove from oil and place on plate lined with paper towel.
PINEAPPLE CHUTNEY
Ingredients:
1 cup diced pineapple
1 Tbs. diced sweet maui onion
1 tsp. organic sucanat (Dried sugar cane juice. Can substitute with brown sugar)
1 Tbs. butter
pinch of Hawaiian salt
1 tsp. minced candied ginger
Instructions:
-Heat butter in small sauté pan until melted.
-Add pineapple and onion, stirring frequently until onions are tender.
-Stir in sucanat and cook another minute.
-Remove from heat and add salt. Cool then mix in candied ginger. Spoon on top of latkes and top with candied ginger creme fraiche.
CANDIED GINGER CREME FRAICHE
Ingredients:
1/2 cup creme fraiche or sour cream
1 tsp minced candied ginger
Instructions:
-Stir candied ginger into creme fraiche and place a tiny dollop on top of pineapple chutney.