Pan-Seared Halibut with Nasturtium Butter
Gardener, cook, and forager Laura Silverman shares a recipe for pan-seared halibut with nasturtium butter.
Beautiful nasturtium flowers, in shades of saffron, russet, and burgundy, can also be ground into a paste and folded into softened butter to make a versatile compound butter. Chilled slices add bright flavor and a pop of color when set to melt atop pan-seared fish.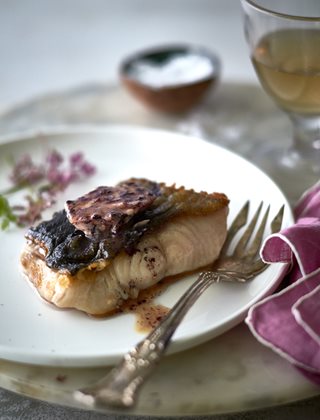 Photo by: Randazzo/Blau.
PAN-SEARED HALIBUT WITH NASTURTIUM BUTTER
Serves 2
Takes about 15 minutes to make.
Ingredients
2 6-ounce halibut fillets, skin on
Sea salt
1 Tbsp mild olive oil
Half a lemon
Nasturtium butter, chilled (see recipe below)
Instructions
Season fillets with salt on both sides.
In a large flat skillet over high heat, pour olive oil and tilt pan to coat.
When oil smokes, add the fish fillets, skin side down.
Cook until seared, about 6 minutes, then turn and sear the other side, about 3 more minutes.
Reduce heat to medium and cook until the fillets are just opaque in the center, about another 4 minutes depending on thickness.
Transfer fillets to plates, squeeze a bit of lemon over and top with a ½-inch-thick slice of nasturtium butter.
Photo by: Randazzo/Blau.
NASTURTIUM BUTTER
Makes about 8 ounces
Takes about 15 minutes to make, plus chilling time.
Ingredients
1 packed cup fresh nasturtium blossoms
1 stick (8 oz) organic sweet butter, softened
Instructions
Pick petals from nasturtium blossoms and gently brush away any critters or dirt.
Transfer the petals to a mortar and use the pestle to grind them into a paste.
In a small bowl, combine the paste with the butter and use a small spatula to mix well.
Scoop the butter onto a piece of plastic wrap or parchment paper and roll it into a small log, slightly shorter and fatter than a stick of butter. Twist the ends to seal.
Refrigerate until cold and firm. Compound butter may also be stored in the freezer for several months; in the fridge for several days.
This bonus content accompanies "Bumper Crops"—an article about how one gardener uses nasturtium and cucumber from her garden in the kitchen—in the Summer 2017 issue of Garden Design magazine.