Garden Cocktails
Four great cocktail recipes using fresh herbs and vegetables from the garden to try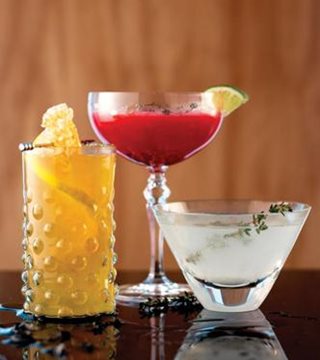 Photo by: Michael Kraus.
"Elixir of fruit juice, crushed root, and golden honey date back to the dawn of time and far beyond the written word," noted Charles H. Baker Jr., author of the esteemed 1939 volume The Gentleman's Companion. And indeed, it can be argued that virtually all cocktails stem from ingredients pulled in some manner from the earth, be it the julep (whose name, according to the above title, comes from the "Persian gulab, or Arab julab, meaning rose water") or the fresh strawberry juice-infused La Fraise d'Amour. And while gardeners everywhere take late spring and early summer as a time to sow seeds, cocktail aficionados know that the warmer weather will yield fresh herbs, fruits, and vegetables suitable for incorporating into delicious seasonal concoctions.
But alongside the art of drink creation comes the inevitable fact of trend, which has resulted, over the years, in cloying, mechanically produced frothy things. Therefore, we're delighted to see a number of bartenders across the country making a more analog connection between the garden and the glass, combining cocktail creativity with elemental restraint. From Brooklyn to Seattle, they have literally stepped just outside their domain to pull, clip, cut, and harvest the most local of ingredients and produced an array of subtly chic drinks that will inspire the rest of us to poke around our own gardens and concoct new libations.
From its inception in 2009, Atlanta's Miller Union restaurant has succeeded in bringing locally sourced ingredients to its Southern-inflected menu, thanks to the passion and vision of chef Steven Satterfield and owner Neal McCarthy. Its signature cocktail, developed by young bar manager Cara Laudino, takes happy advantage of the vast array of ingredients that grow in the restaurant's patio herb garden, just steps from the bar. Miller Thyme combines gin with fresh lemon juice and a simple syrup infused with fresh thyme, a savory herb that grows easily, prodigiously, and virtually everywhere. Gin, whose herbaceous, juniper-laden flavor can run the gamut from earthy to heavily floral and whose ideal companions should be mildly aromatic, is a natural mate for the thyme. The drink is bright and clean-tasting, an ideal refresher on warm evenings.
Gin's alcohol-forward flavor also inspired Prohibition-era cocktail creators to go to great lengths to hide its taste and smell. They added strongly flavored ingredients to mixed drinks, including honey-a strategy that suits the honey-loving Charles Veitch, bar manager at Seattle's Bastille, just fine. The restaurant's 4,500-square-foot rooftop garden provides lush greens and herbs year-round and, like an increasing number of gardens nowadays, is also home to thriving beehives that produce copious quantities of honey. Veitch uses it to make The Bee's Knees, a simple combination of gin, honey syrup, and lemon juice first concocted in the '20s. Veitch's version gets its darker-than-usual color from the honey, dyed a deep amber by the blackberry flower nectar that Bastille's docile honeybees find on their forages in surrounding parks and gardens.
Miller Thyme
MAKES 1 COCKTAIL
Cara Laudino, bar manager at Miller Union in Atlanta's historic Railroad District, uses fresh thyme from the restaurant's garden to create a bright contrast to the juniper and cucumber notes of Martin Miller's Gin.
1 1/2 oz. Martin Miller's Gin
3/4 oz. fresh lemon juice
1/2 oz. thyme syrup*
1 sprig thyme, for garnish
Combine liquid ingredients in a cocktail shaker with ice. Shake well and strain into a martini glass. Garnish with thyme.
*To make thyme syrup, bring 1 cup water and 1 cup white sugar to a boil until the sugar dissolves. Let cool, decant into a jar, add 2 thyme sprigs, and steep overnight.
In Brooklyn, New York, ripe strawberries can be found in green markets as early as late June, as can many herbs, including lovage. Both were an inspiration to Stephanie Schneider, mixologist at Huckleberry Bar. Located on a densely populated street in the borough's busy, gritty Williamsburg neighborhood, the speakeasy-like brainchild of Schneider and Andrew Boggs is a testament to cocktail creativity springing from market-fresh ingredients. Schneider crafted Huckleberry's popular, refreshing, ruby-hued Bond & Lovage, a cocktail that marries light, aged rum (a spirit that can easily stand up to strong, sweet flavors) that has been infused with celery-like lovage, with brightly flavored fresh strawberries. The result is refreshing and earthy.
The Bee's Knees
MAKES 1 COCKTAIL
At Seattle's Bastille, Charles Veitch uses honey from hives in the restaurant's roof garden to balance the strong flavor and aroma of gin. Sweet but not cloying, the resulting cocktail offers a pleasing blend of botanical flavors.
2 oz. gin
1/2 oz. honey syrup*
1/2 oz. fresh lemon juice
1 round slice lemon
1 slice honeycomb (optional)
Combine liquid ingredients in a shaker with ice. Shake well; strain into a cocktail glass. Garnish with lemon and honeycomb.
*To turn viscous honey into a thin syrup, Veitch adds a small amount of boiling water, thinning it until it's just pourable out of a shot glass or a squeeze bottle.
Not all garden-inspired cocktails are created solely with fruits and herbs. Vincenzo Marianella, bar manager at Santa Monica, California's Copa D'Oro, serves vegetable-based cocktails that are customized by request. And vodka, a neutral spirit that can handle infusions of every stripe and strength, is often a key ingredient. "If someone wants a vodka-based drink with cucumber or lychee, we build it for him," Marianella says. But what about the more unique items on his drink menu? "Red bell pepper adds earthy sweetness to any spirit," he says, "especially when it's muddled with grapes and fresh basil, which provides a hit of herb." This makes it a natural companion to vodka.
Bond & Lovage
MAKES 1 COCKTAIL
Stephanie Schneider, co-owner of Huckleberry Bar in Brooklyn, New York, takes advantage of the offerings at her local farmers' market to create a refreshing, ruby-hued cocktail that mixes lovage-infused rum with brightly flavored fresh strawberries.
5 strawberries, hulled and halved
2 oz. lovage-infused Cruzan Aged Blanco rum*
1/2 oz. fresh lime juice
1/2 oz. simple syrup
1 dash Peychaud's Bitters
1 lovage leaf, for garnish
Muddle the strawberries in a cocktail shaker. Add the rum, lime, simple syrup, bitters, and ice. Shake and strain into a martini glass. Garnish with a lovage leaf.
*To make the lovage-infused rum, place 4 sprigs and stalks of lovage into a large, airtight Mason jar, then add an ounce of boiling water to release the herb's essential oils. Add 2 oz. rum, seal the jar, and let mixture rest for 2 to 3 days prior to use.
"Cocktail purists may pledge allegiance to the stalwarts-the gin Gibsons, the martinis, the sidecars, the straight, peaty single malts-and we're all in favor of tradition. But with the seasonal profusion of fresh ingredients, these garden-to-glass cocktails are limited only by the creativity of their market-minded mixologists. In turn, they inspire us to experiment with what grows around us, and to that we say cheers.
Red Bell Pepper Cocktail
MAKES 1 COCKTAIL
Vincenzo Marianella, bar manager of Copa D'Oro in Santa Monica, California, makes drinks using vegetables he buys at his local farmers' market, especially red bell pepper, which he combines with grapes and, to counter the sweetness of the vegetable and fruit, a few leaves of basil.
3/4 oz. fresh lemon juice
2 basil leaves
5 chopped seedless grapes
1 slice red bell pepper, about 1? thick
2 oz. vodka
3/4 oz. Crème Yvette
1/4 oz. simple syrup
Muddle together lemon juice, basil leaves, grapes, and bell pepper in a cocktail shaker. Add vodka, Crème Yvette, and simple syrup, stir, and strain into a cold old-fashioned glass over a 2" x 2" cube of ice.
RELATED:
Glasses to Raise
Creating Night Garden Drama
Elissa Altman writes about food for numerous publications and is the author of the blog Poormansfeast.com.