Wood Grilled Duck with Marinated Butter Beans & Baby Collard Greens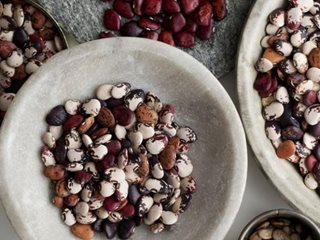 Photo by: Blackberry Farm.
Joseph Lenn, executive chef of Blackberry Farm's dining venue The Barn, says the key to cooking butter beans is to let them cool in their cooking liquid; otherwise they'll become dry and mealy. One of his favorite ways to prepare the beans is to cook them with herbs and vegetables, toss them in a vinaigrette, and serve alongside grilled duck breasts. He shares his recipe here.
For the marinade:
½ cup Italian flat-leaf parsley leaves (chopped)
¼ cup chives (finely sliced)
¼ cup basil (finely sliced)
¼ cup minced shallots
½ cup sherry vinegar
1 cup extra virgin olive oil
Combine all ingredients and let them infuse for at least two hours.
For the butter beans:
2 tablespoons canola oil
¼ cup shallots (small dice)
1 tablespoon garlic (minced)
1 carrot
1 rib of celery
4 sprigs thyme
2 bay leaves
1 pint fresh butter beans
1 quart vegetable broth
Salt and pepper to taste
In a medium-size saucepot over medium heat, heat oil until shimmering. Place shallots and garlic and sweat until shallots are translucent. Add carrot, celery, thyme, and bay leaves (tied together with butchers twine), butter beans, vegetable broth, and bring to a simmer. Cook butter beans until tender, then remove carrot, celery, thyme, and bay leaves. Cool butter beans in liquid. Once chilled, strain off all the liquid, reserving 1 pint of the liquid. Toss beans in marinade (you will want to taste as you go and probably not need all of the marinade) and reserve.
For the duck:
4 duck breasts (we like Pekin)
1 pint baby collard greens
Salt and pepper as needed
Prepare a grill using natural charcoal. When the coals are very hot, push them to one side of the grill to create a hot zone for direct grilling. Place duck breast side down on the grill, cook for about 5-6 minutes, until the duck skin is golden and crispy. Turn duck over and continue to cook for 5-6 more minutes until medium. Allow duck to rest. Divide the beans onto 4 plates (you might have more beans than you want to eat-they are great as a salad), place duck on beans and garnish with baby collards dressed in olive oil and salt and pepper to taste.