The Good Host: Q & A with Terence Conran
We chat with design legend Terence Conran about how he uses smart design to make his guests feel at home in the garden.
I like to think my grasp of Terence Conran's contribution to the world of design is pretty thorough, but then I walk into one of his stores or eat at one of his restaurants or revisit one of the many books he's authored, and I find myself surprised all over again. There's something about his work that never fails to impress me—his aesthetic is always spot-on and his approach to design just seems so doable. I'm not alone, of course. When Conran launched his first Habitat store in London in 1964, he addressed a major issue in the decorating and gardening worlds—the complete lack of access, for those without limitless resources, to good design. He believed then, as now, that people want information and tools to execute their own environments. That store launched others, plus furniture lines, restaurants, hotels—each an extension of his original blueprint for intelligent, comfortable living.
Terence and Vicki (right) Conran hosting a lunch at their home in Berkshire, England. Photo by: Julian Broad.
At 79, Conran is at work on what would be an enviable number of projects for someone half his age. He shuttles between his home and office in London and a country house in Berkshire, where he often hosts lunches and dinners for family and friends. An avid gardener, Conran has a unique ability to create outdoor spaces that are perfect for entertaining. When I asked him earlier this year for his design secrets, he was full of practical, actionable ideas.
GARDEN DESIGN: Do you have any specific layout tips that make having dinners and throwing parties outside easier?
TERENCE CONRAN: If you are able to plan where you put various rooms in the house, I always think it's a good idea to put the kitchen on the ground floor and to install big glass doors that lead out into the garden or onto a patio. I saw a kitchen I loved by the architect John Pawson, which has a countertop that runs through a window in the wall and straight out onto the patio area. Food can be cooked inside and put on the countertop and passed outside, which works marvelously well.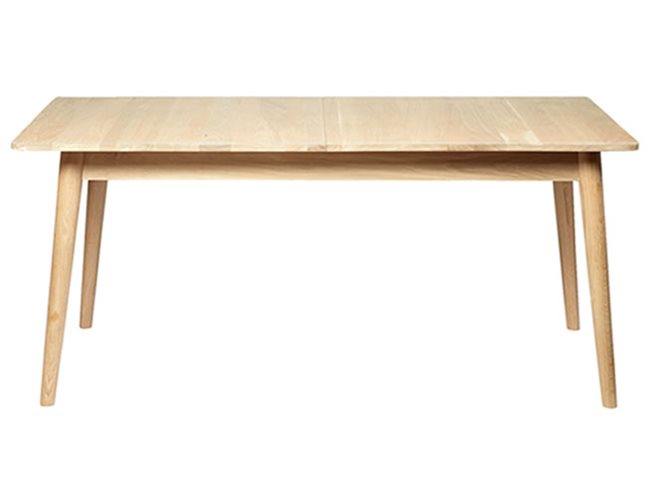 Rectangular extending table from Conran's Barton line demonstrate his affinity for simple, elegant design. Photo by: Barton.
GD: Aside from tables and chairs, what other items do you consider essential?
TC: I like sitting in the sunshine a lot, and I like it filtered through leaves, but I hate eating in direct sun. It's important to have some source of shade-a retractable awning or canopy. Our outside dining table is positioned next to a line of pleached lime trees that grow quite an intense wall of greenery. We put hooks on the upper branches and have a very simple white cotton canopy that we attach to the trees with rope and to some poles that stick into the grass on the other side of the paving.
GD: Do you have an outdoor refrigerator or other appliances in the garden?
TC: Not at our home, because we are able to walk out of the kitchen straight onto the patio. We have a side table with a marble top to hold trays and buckets of ice. We also have these excellent mesh cloches we cover our platters with, which come from India. They look like little umbrellas made out of very fine netting and they keep flies off the food.
GD: Do you try to set a certain mood when serving meals outdoors?
TC: Oh, I like it casual. I never try to lay it up like a formal dining table. I like the fact that we bring out trays of food and people help themselves to what they want, rather than having a plated service.
GD: What about plates and silverware?
TC: We use the same tableware outdoors as we use in the house. I'm not a great believer in eating off plastic, especially utensils. I always put out wooden-handled knives with carbon steel blades that can be honed properly. Sharp knives are one of the greatest pleasures of eating food, especially meat, which isn't always as tender here as it is in America.
GD: Are your outdoor meals always seated affairs?
TC: We often have children and grandchildren staying with us, and sometimes we do a picnic down at the riverbank. We put bottles of wine in the river to keep them chilled and sit on a blanket on the ground. I must admit I do much prefer to sit at a table to eat, but maybe that's just old age. I hate going to a buffet supper, for instance. Can't stand standing up trying to hold a glass and a plate and eat at the same time.
Conran loves how the fig trees at the Colombe d'Or, a restaurant in the south of France, shade diners from the sun. Photo by: Colombe D'Or.
GD: Have you gotten design ideas from any places you've visited?
TC: I think my favorite place to eat outside is a restaurant in the south of France called La Colombe d'Or. They have a sort of tracery of fig trees you sit under, and the leaves give you shelter from the sun. At one of our restaurants in London [Coq d'Argent], we have a rooftop garden where we set up a trellis of wisteria over the tables, which is fantastic when it's flowering, because the blooms hang down like little chandeliers. Except when we get a frost and the flowers start to shed blooms that trickle down and fall in the soup.
GD: How do you make the most of the garden, year-round?
TC: The outdoor spaces at our London restaurants are packed throughout the summer months, partially, I suspect, because they are one of the few places you can go and smoke. But they are also very popular in winter, which I find kind of extraordinary. On the roof at Boundary [Conran's hotel in London's Shoreditch neighborhood] we build a big fire in the fireplace and set up space heaters. But I think the thing that keeps people reasonably happy is that we put Welsh wool blankets over the back of all the chairs, so people can wrap themselves up if they like.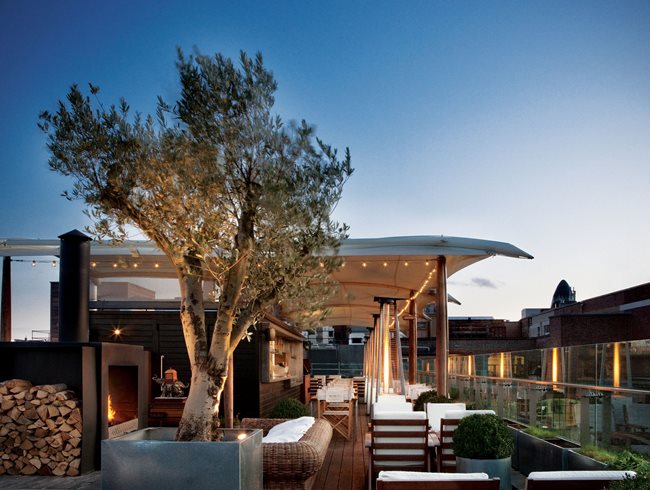 At Boundary, his hotel in Shoreditch, London, Conran planted shrubs and trees in containers to give a rooftop restaurant a gardenlike feel. Perimeter plantings are sheltered from the wind by a glass fence. Photo by: Boundary.
GD: Do you have strategies for making balconies and rooftops feel gardenlike?
TC: At Boundary we did plantings around the edges and a few containerized plants and shrubs in the middle. We plant a lot of annuals in the spring and, if possible, I like to set up little grassy areas. We used glass fencing around the perimeter, which acts to an extent like a greenhouse. So the plants grow rather well and make it through our cold winters.
GD: How do you make outdoor spaces as comfortable as interior ones?
TC: When I bought my house, the south-facing side, which looks down at the river, had a gravel area for cars. I switched it around and put the cars on the north side and some big basket chairs with cushions on the south side of the house. Now, one of the first things I try to do if it's a nice day, is sit out there in the sun and read and drink a coffee or whatever.
GD: How do you create smooth transitions from indoor to outdoor spaces?
TC: I'm in love with the indoor-outdoor garden, where a room of the house doesn't stop at the windows, it continues onto a terrace or something. And maybe the same furniture that's used outdoors goes indoors, and vice versa. In some cases you can use the same flooring, or an old rug, outside as you do inside.
GD: An indoor rug? Outside?
TC: A friend of mind has an outdoor patio that's got a rather hideous stone floor, and he was complaining how horrible it was, and he couldn't afford to hack it up and replace it. So I said, "Why don't you just buy an old rug-it doesn't matter if it gets rained on-and put it outdoors," and he did. It was a sort of revelation for him. He was able to cover up his horrible paving with a very old, worn-out Afghan carpet. It's thin, so if it gets wet, it dries out in under an hour.
GD: Do you have a favorite memory of being outdoors?
TC: I used to be, when I was a child, a passionate lepidopterist. I hunted for moths, beetles, and butterflies, day and night. And I collected and pressed wildflowers, which you're not supposed to do now, but it was a passion of mine.
GD: And now, do you plant flowers and plants that attract butterflies?
TC: Yes, and the one they love most, of course, is buddleia, or butterfly bush, which we have quite a lot of here in the garden. It's constantly smothered with butterflies.
GD: When will you be in your garden next?
TC: The whole of this weekend, if it keeps up as it is. It's funny you should ask these particular questions at this particular moment. We've had the most wonderful weather and have been eating out in the garden a lot this year. But no rain for six weeks, so everything is going a bit limp at the moment. We're told we may get some rain this weekend. And Chelsea Flower Show is next week, so undoubtedly it will rain. [As luck would have it, it did not rain. Conran had lunch in his garden the day after this conversation and a friend snapped the photo shown at the beginning of this story.]
Sourcebook: Gather goods from Conran's Barton Line (conranshop.co.uk; 0-844-848-4000). Stay at the Colombe D'or Hotel in France (la-colombe-dor.com; +33-(0)4-93-32-80-02)