Designing for Fireside Warmth: Tips for Outdoor Furnishings
Now that it is past the autumnal equinox we begin to think of coziness and warmth as the days begin to get shorter and cooler. What better way to do that than to sit around the fire with friends with hot cider and S'mores outside around a beautiful fire pit or fireplace in furnishings that perform well despite fickle fall weather.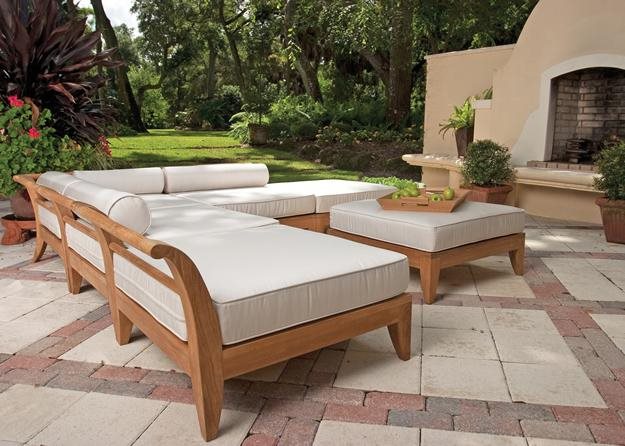 Photo by: Westminster Teak.
The first thing that comes to mind when sitting outside on a cool fall day is having something cozy to sink into. Open wire chairs made of metal will be cold and will allow air to pass through, so consider furniture with comfortable seat and back cushions and/or pillows. Wood and synthetic wicker are better choices because they don't get cold the way metal does if you have to sit directly on it. Make sure you select a wood that performs well outdoors. There are many that will last 25 years or more, if not in contact with soil! High backed chairs, too, offer a surface that will help contain heat, which is why fabricators created them hundreds of years ago.
An outdoor sofa with a back is warmer, and more comfortable than a bench.
If you have stone surfaces on which to sit around your fire, consider some thick cushions made with outdoor cushion material. Its biggest difference from other cushions is that it doesn't absorb moisture and is fast-draining to reduce any possibility of mildew. The wide variety of outdoor fabrics now available also includes materials with "nap" on them, like velvet, corduroy, and grospoint. They are thicker, cut-pile fabrics that will help hold heat and make warmer surfaces on which to sit. Consider outdoor leather piping on cushy pillows to add a little rugged durability at the edges. Getting cushions and pillows in fall colors that will highlight those beautiful autumn leaves and holiday décor would be an especially nice touch.
Fabric cushions top a gabion wall filled with stones.
One final tip: occasional rain should not hurt the above-described cushions, but I store mine inside during days of steady rain under the bed in our guest bedroom. Now, go forth and enjoy those outdoor fireside chats with friends and family this autumn!
An up-close look at outdoor cushions.
Vanessa Nagel (APLD, NCIDQ) is author of The Professional Designer's Guide to Garden Furnishings, a reference source providing both visual inspiration and practical information about how to choose and where to find just about every kind of accessory a garden might need.