My Garden: Lessons Learned
Now a landscape designer, Candace Mallette once knew nothing of gardening until she moved into her Ottawa, Ontario home. Fast forward years later to her beautiful, seasonal garden where she now has lessons to share and ideas to inspire.
A garden can be an excellent teacher, revealing by its successes and failures the ways of Mother Nature. When Candace Mallette and her husband moved into their home in Ottawa, Ontario, she became an apt pupil. "I knew absolutely nothing about tending a garden when we moved into our home. I started spending time in the yard and was just amazed at the new growth on the plant material in the spring. I started to experiment with new plantings and read everything I could on gardening. My fire was lit," she says. Today, gardening is Mallette's profession, and she even runs her own landscaping firm specializing in residential design and garden restoration. In addition to the lessons she learned in her own garden, she augmented her education by attending courses in professional landscape design at a local university.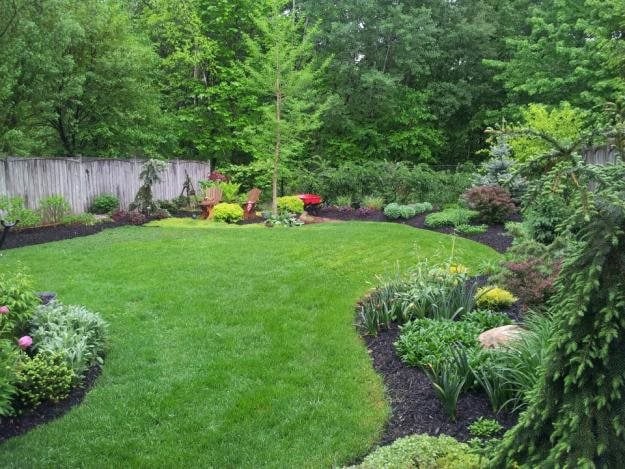 Mallette designed her garden to include an abundance of winter-interest plants, structure plantings, and color. Repetition is also prevalent.
As you might expect, Mallette is incredibly passionate about garden design and she welcomes the opportunity to share what she's learned with other fledgling gardeners, hoping to ignite their fire as well. "I've faced and overcome many challenges. This has given me the expertise to design and plant my clients' yards because I have run my own trials," she says. Here are Mallette's top landscaping lessons:
1. Design for all seasons
A newly installed pergola is surrounded by Dutch white clover as an alternative to a grass lawn. "In Ottawa, we are no longer allowed to use pesticides for lawn care. Dutch white clover has proved to be a great option, since grubs will not lay their eggs in the clover. It stays green throughout the season and is easy care," says Mallette.
In Canada and the northern U.S., adding conifers, grasses, and shrubs will add winter interest and much-needed structure to the garden. A couple examples of my favorites are Chamaecyparis pisifera 'Mops' for its beautiful four-season color; Picea pungens 'Glauca Globosa', again for its stunning color and four-season interest; and Hydrangea 'Limelight' for its height, strong branches, and beautiful flowers that add visual interest, even in the winter.
2. Adapt to the local environment
Our family is lucky to own a property that backs onto a wooded ravine. The challenge for us was to create a space that worked with the borrowed landscape and the many animals and insects living in the area. In our region, we get a heavy snow load and the local animals (rabbits, coyotes, and foxes) are busy looking for food. Many of the common plantings used for our zone did not work because they would get eaten by animals in the winter and by bugs in the summer. Through trial and error, we were able to discover what flourished in our space.
3. Design for the needs of the whole family (including pets)
A side view of Mallette's garden, with a stepping-stone pathway for the family dog. Some of the plants shown are 'Princeton Sentry' gingko, Picea pungens 'Baby blue', Sedum 'Dragon's blood', 'Rose of Sharon' hibiscus, and Chamaecyparis 'Mops'.
Formerly a swing set, this pergola was transformed into an intimate eating area after Mallette's children grew older and lost interest.
Our family has two dogs, and their needs are taken into consideration as well. Many dogs like to run the fence line of the property, so we design gardens to leave anywhere from 2 to 3 feet at the back for the dogs to run. We also encourage our clients to watch the areas and the paths their animals like to take and work with that by adding stepping-stones through the garden to allow for their movements. Children grow and change as well. A pergola swing set can be changed into an intimate eating area as the children lose interest in the swings.
4. Plant a garden that suits your schedule
Take into consideration how much time you have available for gardening when you make your plant choices. Some perennials require a lot of maintenance such as staking, dividing, and dead heading. If you are looking for lower-maintenance options, consider adding colorful shrubs and conifers for beauty throughout the seasons.
5. Make it manageable
One of my favorite projects involved restoring a garden for a client whose husband had passed away. He had been an active gardener, but his wife became overwhelmed with the effort. We suggested simplifying by keeping some of his cherished favorite perennials and adding some easy-care structure plantings to create a beautiful oasis. The gardens became manageable with the changes that we made and also brought back many happy memories for the homeowner.
6. Keep spacing in mind
Leave room for trees, shrubs, and plants to grow. When selecting them, look at the tag for the expected size and growth rate.
7. Use planters for seasonal interest
Left: A front entry planter designed to display color without the use of flowers. In the center is a 'Bloodgood' Japanese maple, which is surrounded by assorted fillers, including coleus and ivy. Mallette will replant the Japanese maple in the garden during the fall and reuse it next year. Right: This planter spills over with color, drama and a tropical feel. 'Pachira Aquatica' is the center plant, surrounded by asparagus fern, ivy, and assorted tropicals.
It can be a challenge in Ottawa to keep the landscapes looking great year round, so planters really help. I use planters to bring a tropical feel to our Canadian summers. I also switch out our planters in the fall, winter, and spring.
8. Make a connection
A 'Bartzella' peony getting ready to open. "I have 15 peonies in the garden and this is by far my favorite," says Mallette.
An informal reading area done on a budget. "What is interesting about this reading nook is that we created it using scrap marble counter pieces and pea stone for the hardscaping. Most granite shops have to pay to dispose of their broken or unused pieces so they are more than happy to have someone take them," says Mallette.
Each client and property is unique. We focus on what works for that particular client and their family, as well as what connection they would like to make to their space. We have an extensive questionnaire that clients fill out so that we get a chance to design a landscape that will work for that home specifically. We ask about garden memories from their childhood and what kind of memories they would like to make in their current space. For example, we had one client that loved waking up as a child to the smell of a lilac tree outside her bedroom window. When we discovered this, we were able to create a similar environment at her current home.
To see more photos of Mallette's yard and some of the projects she's been involved with (including before-and-after shots) visit her website at Candace Mallette Landscape & Garden Design.