New York's Completed High Line
The third section of the High Line in New York offers gardeners an experience to learn from and appreciate. From wild and cultivated plantings to the use of narrow space, the section is sure to inspire one to look at a design problem from all sides and then create either a distinction or celebration in the space available, as the High Line shows.
Now five years old, New York City's High Line seems embedded in the public consciousness and is successful beyond anyone's expectations. It's a primary tourist destination boasting five million visitors each year, but it is also a public park. The final section of the park (Section 3) recently opened to the public in late September. The newly-opened section is a welcoming, gathering place, and a celebration of the industrial past and future of the Hudson River. Design elements tie the newest section to the two; but the river vistas, series of broad plazas, and the long "undesigned" and "uncultivated" portion of track in this new section evokes a different kind of emotional power.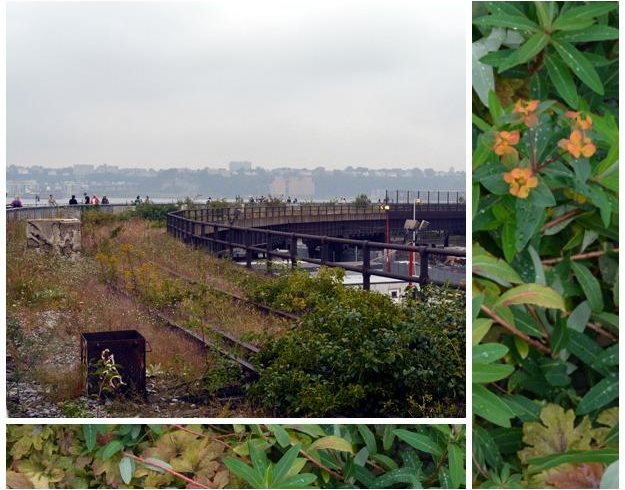 Depending on which entry is chosen, cultivated plantings give way to wild spaces or vise versa.
A picnic bench and new gathering places in Section 3.
Walking through Sections 1 and 2 is akin to waking through a wonderful secret garden among a canyon of buildings. And if you traverse the bridge over 30th Street, Section 3 opens up to broad views (of the Hudson Rail Yards and the Hudson River), sweeping curves, and plazas. The empty space above the rail yards is rare in Manhattan and will morph and change in the next few years as glass towers are built above them.
Existing tracks have been filled with fused gravel enabling them to become pathways adjacent to the gravel planting beds.
James Corner Field Operations' overall design features are augmented with rail-lined pathways, an imaginative playground, and new furniture that underscores the site's previous use. Piet Oudolf's planting design becomes less lush as you walk along, ultimately leaving off at a sweeping section of track that is intentionally left wild. The existing tracks become garden borders; cultivated in some areas and uncultivated in others—as they were when the elevated railroad was an abandoned relic. This transition slowly follows the park downhill, ending at 34th Street and the Jacob K. Javits Convention Center. Art installations have been a regular and cyclical part of the High Line, and Section 3 is no different. The inaugural pieces by Adrián Villar Rojas, entitled The Evolution of God, at first appear so roughhewn that they could be industrial relics—until sneakers, bones, and plants appear.
The inaugural art installation by Adrián Villar Rojas follows the curve of the tracks and ends in a broad plaza near 34th Street.
The High Line has something to teach all garden makers, especially those with long, narrow spaces. This becomes especially clear when you enter the park from the end of Section 3 at the 34th Street entrance. The trajectory and experience is different. Building on the wild places, it gradually evolves from a somewhat stark path bordered on one side by "abandoned" tracks into a highly designed space that builds in crescendo through the lush gardens of Sections 1 and 2 to Gansevoort Street. The front-to-back, back-to-front High Line experience is also something gardeners can learn from. Look at a design problem from all sides and create a destination—either one that honors its origins or celebrates what it has become (or both). Make it a garden for people, instead of a precious space only to be looked at. Creating a garden has always been a process of manipulating human experience, and the completed High Line does that in a way that has exceeded every expectation.
The Pershing Square Beams is a subterranean yet airy, exploratory play area that is enclosed and allows for free play. It has a rubber floor and a pop-up lookout that comes up through the adjacent garden.