9 Takeaways from a Blooming & Vibrant Garden
Lessons learned after exploring Tracy VanVolkinburg's colorful, thriving Michigan garden.
Just looking at pictures of Tracy VanVolkinburg's garden in western Michigan is like getting a dose of medicine for the soul. Vibrant colors, thriving plants, and thoughtfully tended garden beds abound. For years, we have admired pictures of the garden on Tracy's Instagram account, @plaids.and.poppies. This summer, we had the opportunity to experience her colorful retreat in person.
After touring the garden and chatting with Tracy—who is just as lovely, colorful, and vibrant as her garden itself—we share some of our takeaways from the Plaids & Poppies garden.
1. Don't Skimp on Plants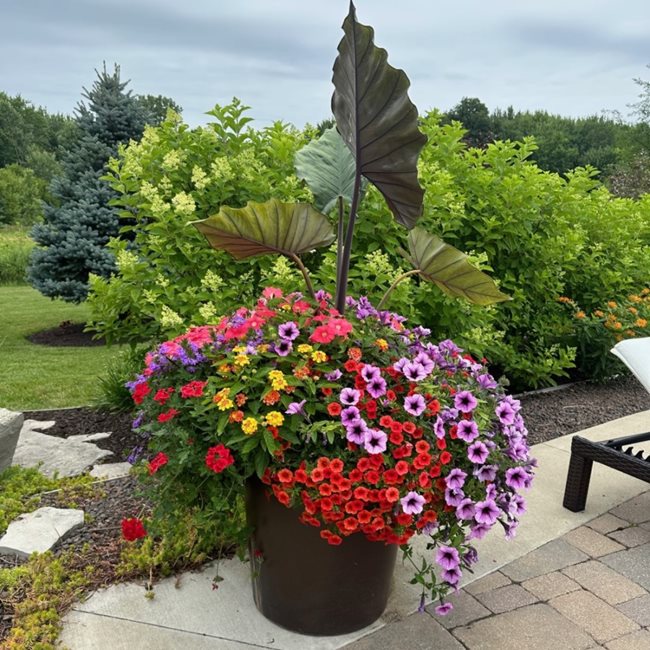 A colorful container on Tracy's patio bursts with colorful purple, yellow, red, and pink blooms. (For obvious reasons, Tracy refers to this as her "Skittles" container.) Four huge leaves of elephant's ear rise above the bright combination. Photo by: Linda Hagen
Proper spacing between plants needs to be taken into consideration in many cases, but it's okay to push the boundaries a little. At Tracy's, blooms and gorgeous foliage burst from containers and garden beds, the fullness creating a sense of vibrancy throughout the garden. "Because of my zone, 5b, I don't have to worry about a long growing season where the plants crowd each other out," says Tracy. "I do like to put plants very close, and they tend to grow up and out...I love that they intertwine! I prune back the plants that tend to be bullies and give the others a chance to grow."
If you do live in a location with a long growing season, keep in mind that you can always pull plants out and replant them elsewhere if things get too crowded.
2. Name Your Garden Spaces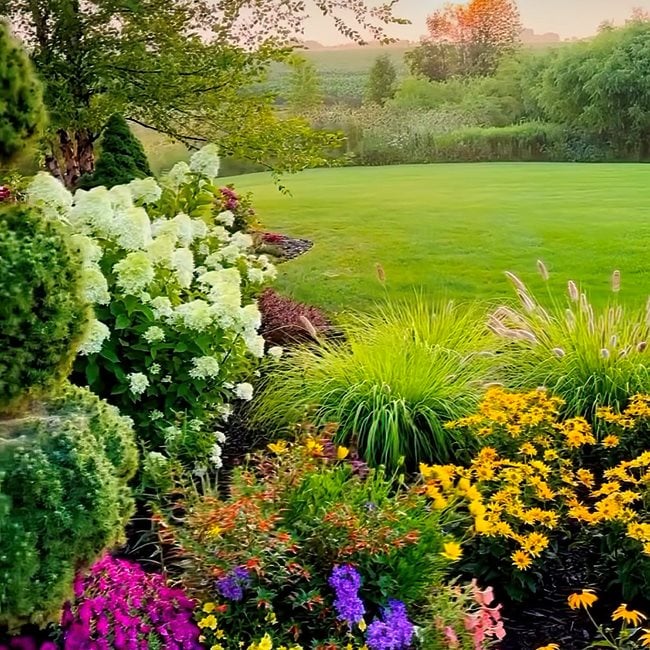 Tracy has dubbed this area of her garden "The Good Morning Garden." Looking out at this area of the garden gives her a great view of the sunrise, so it's where Tracy spends every morning, with a cup of coffee in hand. Photo by: Tracy VanVolkinburg
Is naming a garden bed or container box necessary to being a good gardener? Of course not! Will it endear you to your garden spaces and make your gardening experience more fun and whimsical? Absolutely! On Tracy's property, she has named several areas: The Rise Up Gardens (a series of raised beds), The Morning Joy Gardens (where the sun first hits in the morning), The Pretty Path Garden (this one's self-explanatory…a garden path flanked by blooming beauties), and more!
In addition to being a simple way to add some fun to your gardening endeavors, it's also a great way to stay on top of your garden care. Tracy uses it as a method to keep track of her maintenance schedule. "I've named all 16 of my garden areas and make it a point to visit one area each day," she explains. "If I stick with my plan, I get to each one about twice a month. It helps me stay focused." Each day, when she visits a different area of her garden, Tracy takes care of what's needed: weeding, pest control, pruning, and determining next steps, if any.
3. When Adding Color, Don't Stop With Blooms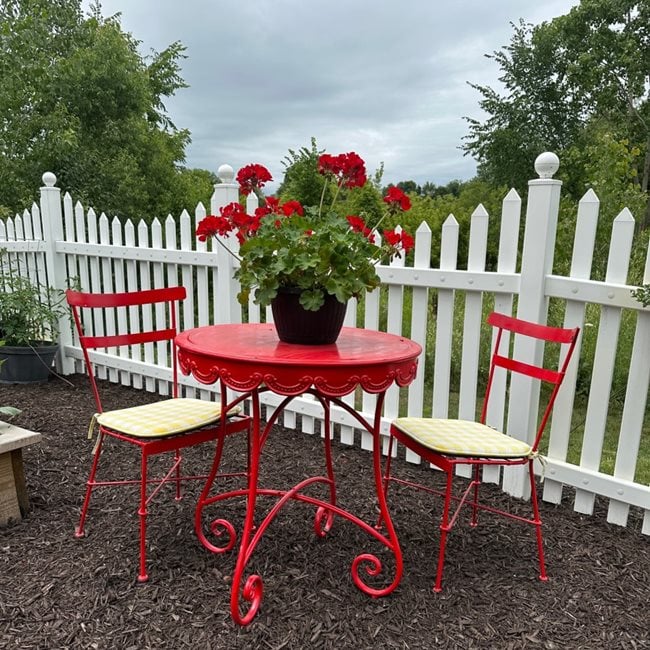 The red bistro set adds a touch of whimsy to the edge of Tracy's cutting garden. A potted red geranium atop the table adds the scene, creating a picturesque vignette. Photo by: Linda Hagen
Color in the garden doesn't just come from flowering plants. Yes, you can also get it from foliage, but adding pops of color with garden furniture and art can also create visual interest. Tracy goes beyond simply adding color though—in her garden, colors are methodically chosen to further enhance each space. A pot bursting with red geranium blooms atop a red table and pair of chairs. A yellow door leading out to a side porch is complemented by nearby lime green Lemon Coral sedum. Black Adirondack chairs emphasize the vivid red, yellow, pink, and purple blooms that surround them.
"Everybody is drawn to certain colors. For me, it's the hot colors," says Tracy. "So when I decided to paint this bistro set, I went for it with bright red knowing that it would coordinate with the rest of my garden where you'll find red blooms in just about every space. I love a good red geranium and could picture this combination." When it comes to green, Tracy considers it a neutral. "Looking out at the garden, there's so much green," she says, so it fits right into the scene nicely.
4. Create Comfortable Spots to Sit & Lounge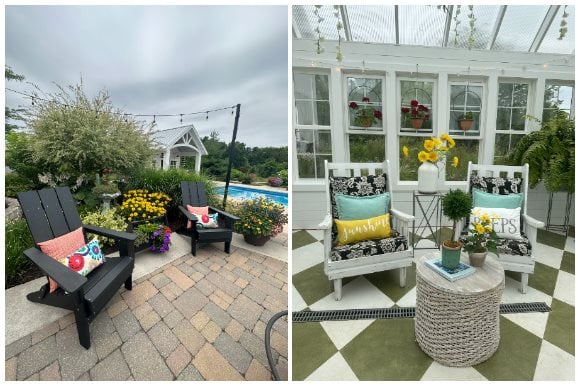 Left: Black Adirondack chairs on a patio near the pool deck provide a comfy spot to lounge, and their bold color brings out the bright blooming plants nearby such as the yellow Tuscan Gold™ heliopsis.
Right: In the greenhouse, two chairs with comfy and stylish cushions create an inviting spot to lounge and take it all in. Photos by Dayna Springfield.
All your hard work and efforts should be enjoyed, so having a spot to sit and relax in your garden is a must. Her main objective when outfitting these areas? Coziness! "I add pieces that make it feel like I'm bringing the inside out," says Tracy. "Things like outdoor pillows, rugs, patio lights, and baskets with extra throw blankets make outdoor spaces feel comfortable and inviting."
Comfort is the main goal, but by strategically choosing decorative pillows with colorful and whimsical patterns and furniture in colors that complement surrounding plants, Tracy has created sitting areas that not only fit right into the rest of her garden's style—they add to the overall aesthetic.
5. Consider Views From All Angles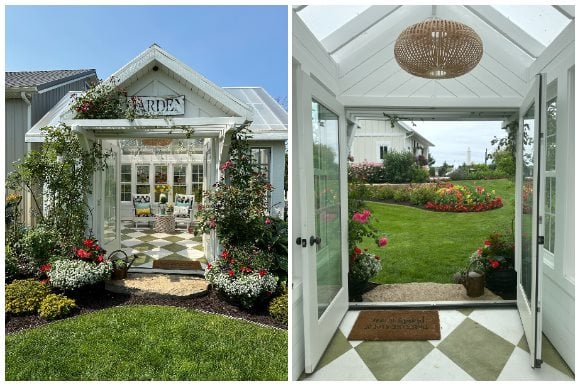 Tracy's greenhouse is just one element that exemplifies her attention to detail. Here, whether a person is entering or exiting the structure, they take in an alluring scene. Photos by: Dayna Springfield (left) Linda Hagen (right).
For most, thinking about the view of a garden from the window of a home or another structure isn't a new concept. But have you ever considered the view from the outside, in? For example, if you have a large picture window in your living room, what does one see when looking back at your living room from your backyard?
For Tracy, views from all angles are considered when designing and planning. That's apparent when approaching her greenhouse from the lawn: Tracy has created a picturesque, inviting scene. This approach is both aesthetically pleasing (no matter which direction you happen to be looking!) and helpful in making the outside spaces blend seamlessly with the indoor spaces. "During the summer, I keep the doors of the greenhouse open," Tracy shares. "It's like an invitation."
6. Get Organized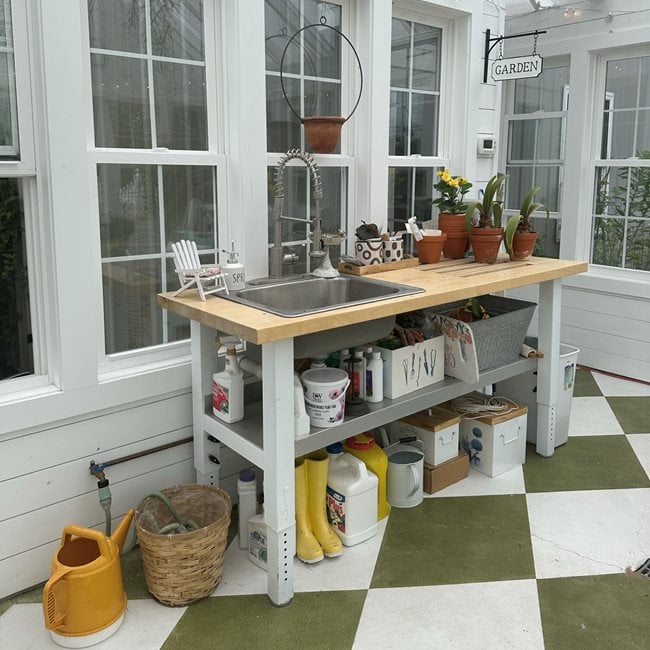 A potting bench in the greenhouse, built by Tracy's husband, provides her with a handy place to organize pots, plant fertilizers, tools, and more. The right side of the butcher-block top has slits in it so she can sweep dirt right into the container below with ease. Photo by Dayna Springfield.
Figuring out where to put all the tools and other materials you need for gardening can be overwhelming. "There are so many gardening products, and when it comes to things like fertilizers and pest control, you don't want that just sitting out," says Tracy. "I find that it's easy to throw them in a bin." Using storage bins that are nice to look at is a great way to organize your garden tools and other materials in a way that doesn't create an eyesore.
Group materials into categories and find large bins to store smaller items—such as plant markers and drip emitters—so they don't get lost in the mix. Other small touches, such as a wicker trash bin to hold her hose, make the storage part of the décor rather than a cluttered distraction.
7. Use Perennials in Containers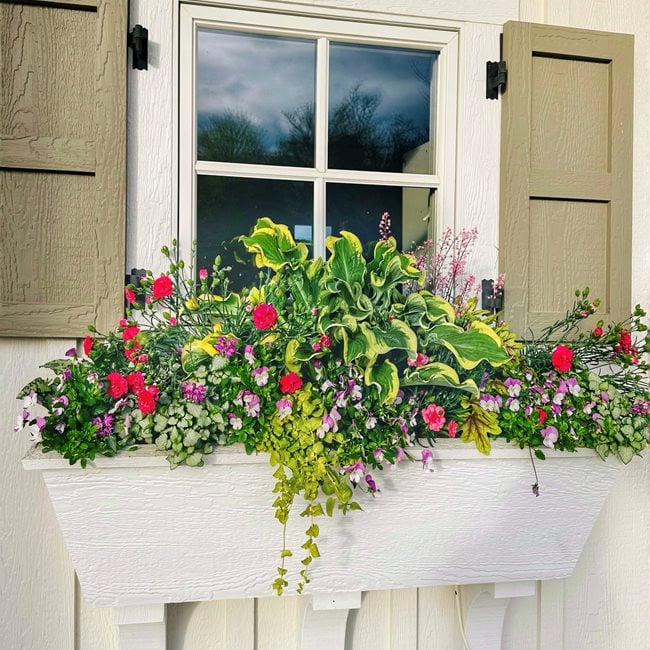 Here, Tracy uses perennials from Proven Winners such as lime-green edged foliage of Shadowland® 'Wheee!' hosta (at center), pops of bright pinkish-red Fruit Punch® 'Cranberry Cocktail' dianthus, trailing 'Goldilocks' creeping Jenny, and more—all of which Tracy can transplant into the ground once they've outgrown the window box. For more details on plants used here, see her Instagram post. Photo by: Tracy Van Volkinburg.
If you live in a colder climate and you're eager to get your planter boxes filled come early spring, take a tip from Tracy and reach for perennials instead of annuals. When they're done flowering in her window boxes, she places them in the ground in her garden. "They look mature right away," she notes. "I do love filling my window boxes and containers with some cold-tolerant annuals but when they're done, you're out the money. Using perennials in your containers or window boxes is ultimately a win-win. You get spring flowering containers and new perennials for the ground."
8. Simplify Your Gardening Life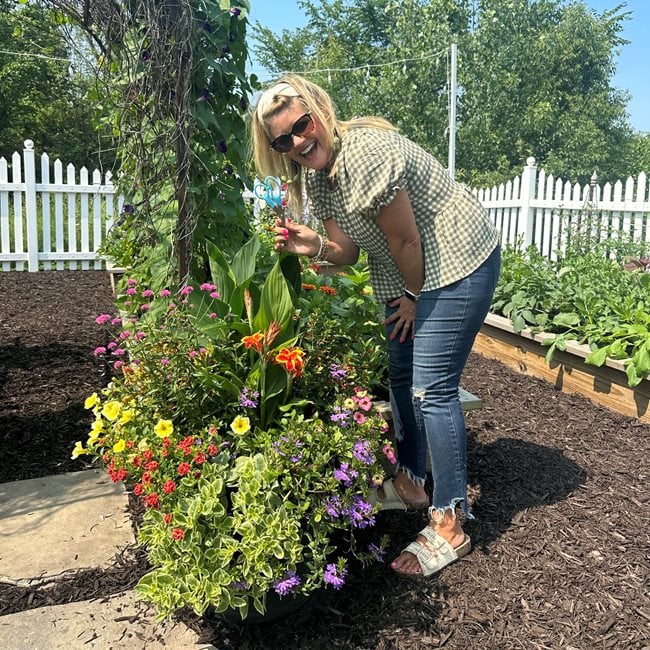 Here, Tracy pulls a pair of scissors out of a container in the Rise Up Garden area. Easy access to scissors makes it easier to prune on the fly! Photo by: Dayna Springfield.
Maintaining a garden requires a lot of work, so think creatively about how to make things easier on yourself. One invaluable idea from Tracy is to hide inexpensive scissors in containers around your garden so you can quickly and easily deadhead when you need to. She gets her scissors from the Dollar Tree. They're cheap, but they do the trick!
Additionally, Tracy keeps a few things next to each garden spicket for easy access: a watering can, a container of water-soluble fertilizer, pruning shears, and even a bar of soap! "I wrap the soap in nylon and tie the end," shares Tracy. "That way the soap is right there and I can easily wash my hands after doing my work in the garden."
9. Embrace the Sentimental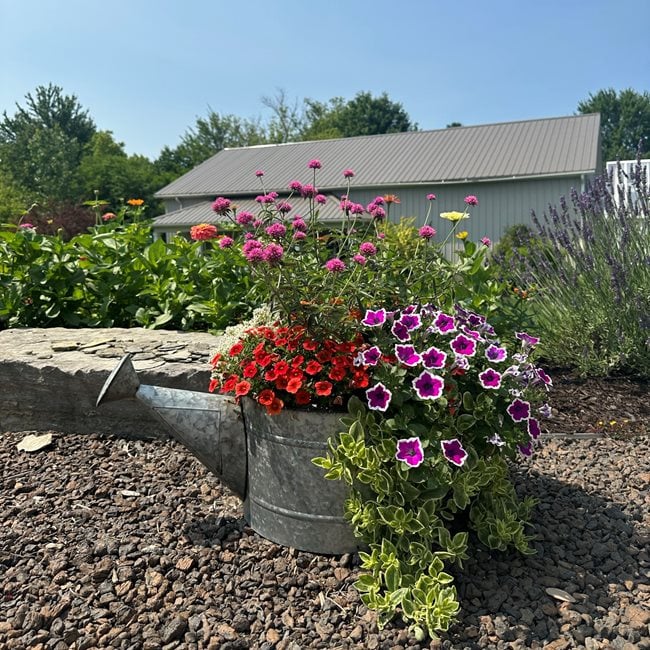 Tracy and her granddaughter turned this watering can into a container, planting it with (clockwise from top): pink Truffula™ Pink gomphrena, Supertunia® Hoopla™ Vivid Orchid™, trailing red Mezoo™, orangy-red calibrachoa, and Diamond Frost® euphorbia. Photo by: Dayna Springfield.
Gardens are for sharing, and they're often places where sweet memories are made. Maybe you have a plant you've added in remembrance of someone special or a container gifted by a grandmother that you can't bear to part with. Here, a lovely watering-can-turned-planter is home to a container planting that Tracy and her granddaughter completed together. "I let my granddaughter pick her favorite plants," Tracy shares. "It wasn't a combination I would have necessarily picked, but I really like the way it turned out, and it's even more special since I planted it with my granddaughter." Think outside the box to find ways you can make your garden uniquely yours-a meaningful space for you to reminisce.
TRACY'S COLORFUL FAVORITES (AT THE MOMENT)
Yes, we asked Tracy the impossible question. And she was kind enough to humor us by providing four of her current favorite garden stunners!
MORE FROM TRACY'S GARDEN
We just couldn't get enough of Tracy's garden. If you're feeling the same, here are several more pictures for you to enjoy!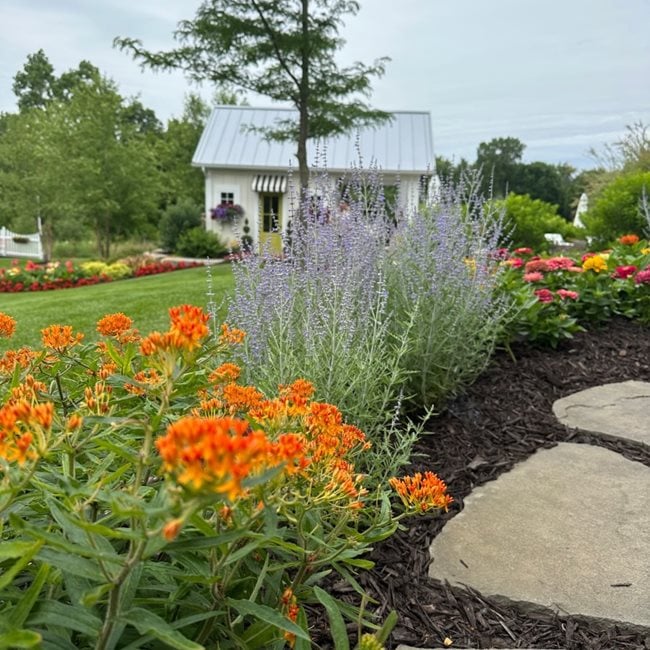 In the "Pretty Path" area of the garden, a stone walkway allows Tracy and visitors to meander next to self-seeding orange butterfly weed, 'Denim 'n Lace' Russian Sage, and zinnias in a variety of bright colors. Photo by:Linda Hagen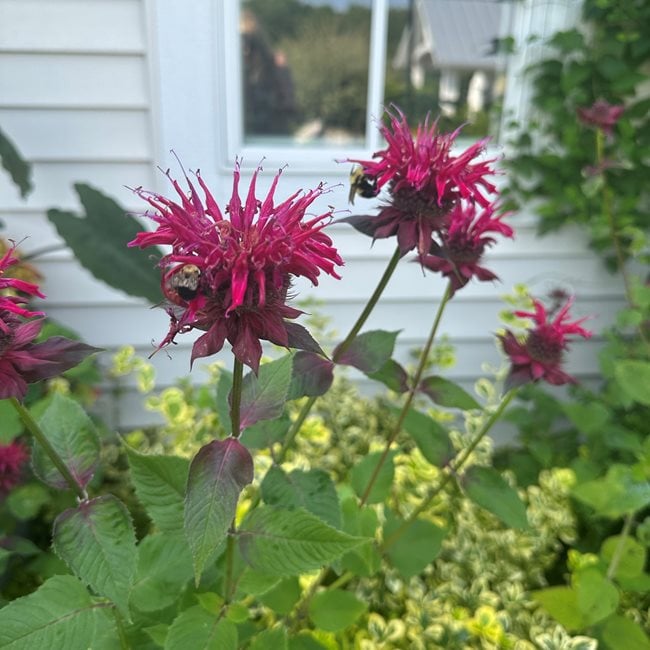 Tracy isn't the only fan of bee balm in the garden—bees, hummingbirds, butterflies, mothers, and other pollinators love it, too. Photo by: Dayna Springfield.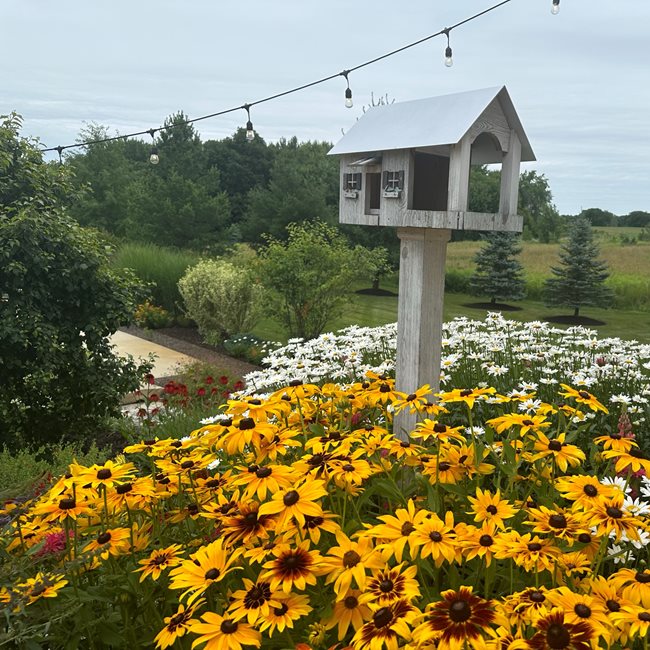 A birdhouse rises above the plantings in the butterfly garden, bursting with blooms of rudbeckia and daisies. Beyond, a row of blue spruce trees create a natural barrier between Tracy's property and the neighboring land. Photo by: Dayna Springfield.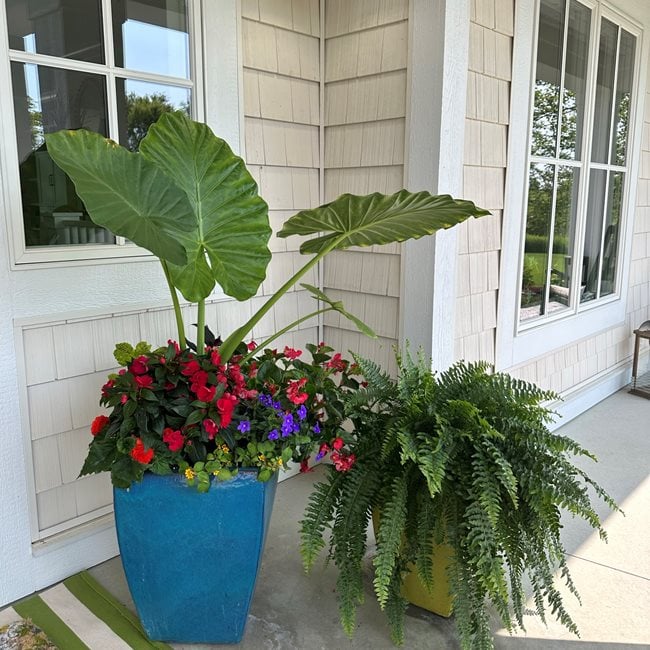 On Tracy's shady front porch, container plantings need a little assistance. To help them get the light they need to grow, she replaced the porch lights with grow lights—just one of Tracy's many clever ideas on display! Photo by: Dayna Springfield.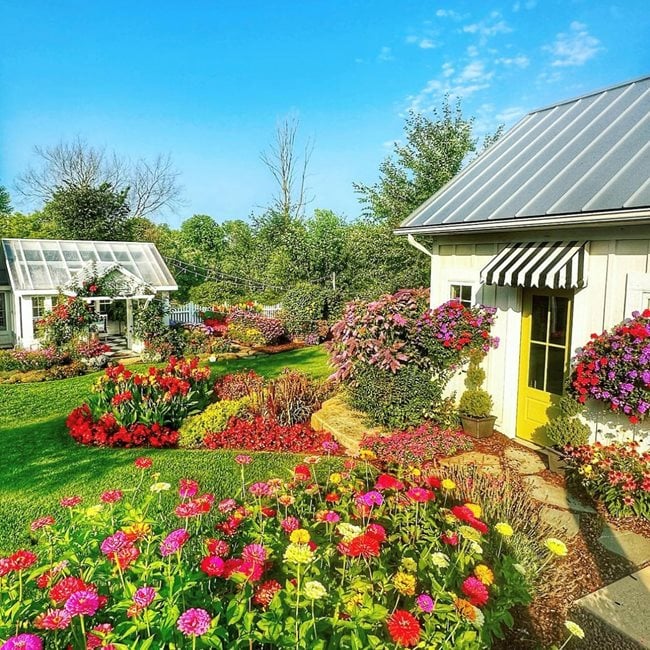 A late-summer view of Tracy's garden—a symphony of colors working in tandem to create a garden that one can't help but feel happy in! Here, we get a look at the greenhouse straight ahead, the pool house to the right, and the "Rise Up" gardens in the distance. Photo by: Tracy Van Volkinburg.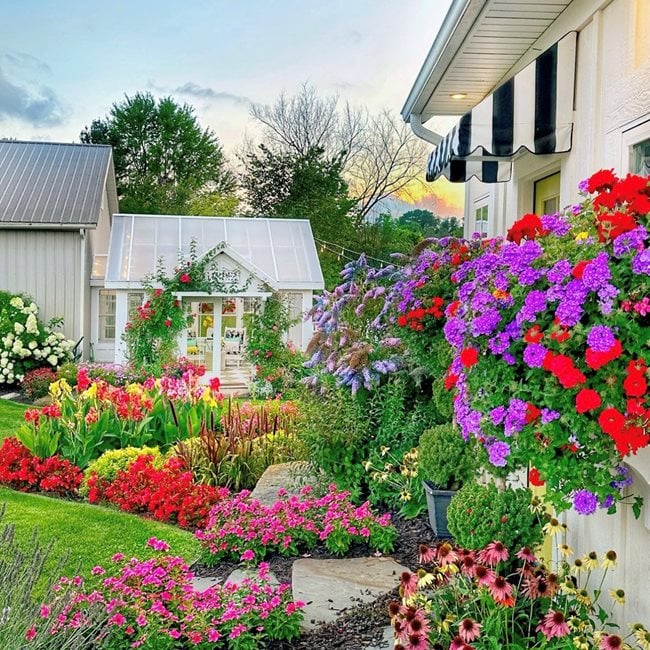 Tracy's "Playhouse Gardens" and her signature window boxes that adorn the pool house are in full bloom in late summer. Photo by: Tracy Van Volkinburg.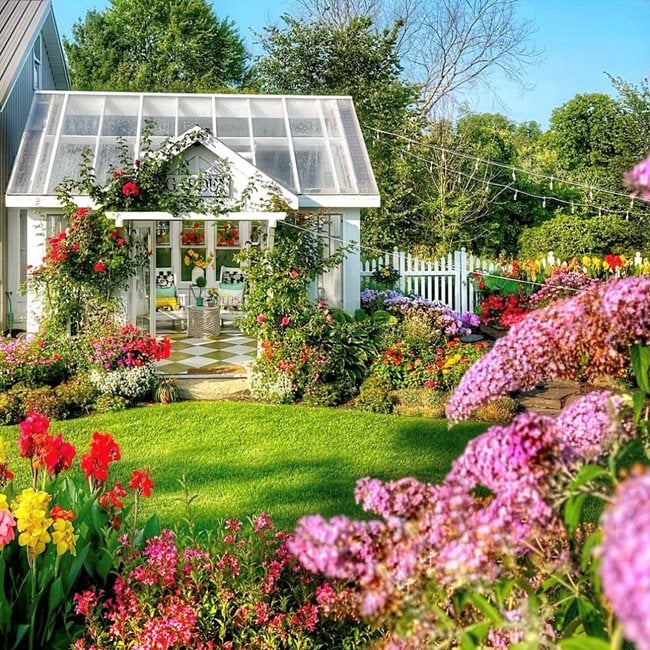 Have you ever seen a more beautiful, inviting greenhouse? We could sit and look at this one for days! Photo by: Tracy Van Volkinburg.
See more of Tracy's garden on Instagram @plaids.and.poppies or on her website plaidsandpoppies.com.