Secret Gardens: When In Louisville
Don't miss these botanical highlights on your next trip to Louisville, Kentucky
When the glitterati set out for Louisville, Kentucky, from New York, Los Angeles or anywhere else, I am sure it isn't just the Derby that lures them. Simultaneously progressive and grounded, this city offers every good thing for discriminating pleasure and beauty seekers. Invited for a visit by my friend, the Kentucky native and garden designer Jon Carloftis, I discovered modern gardens and shops, wonderful parks and a sustainable urban agriculture movement to rival the big cities. Here's one urban girl who can't get enough of the New South.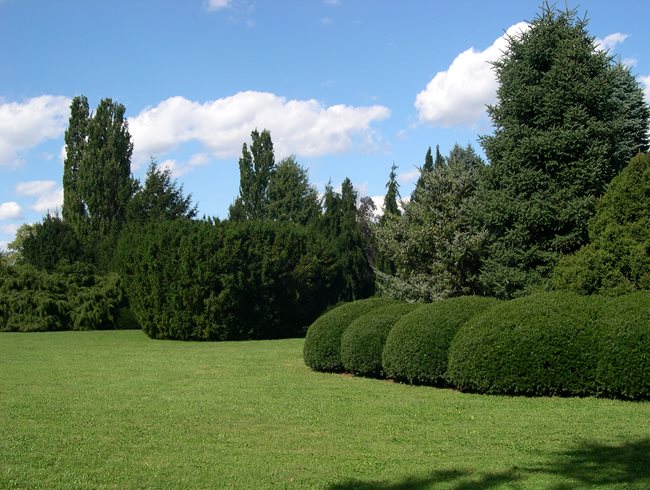 The Serpentine Garden at Yew Dell Gardens is composed of evergreens, including including species of Abies (fir), Picea (spruce), Pinus (pine), Taxus (yew) and Tsuga (hemlock). Photo by: Yew Dell Gardens.

SEE MORE PHOTOS OF LOUISVILLE GARDENS
BOTANIC ENCLAVES: It's not all they do, but city shapers and hotel owners Laura Lee Brown and Steve Wilson had a vision for the future when they transformed five buildings, including a former bank and saddlery, into the chic 21c Museum Hotel, built, in part, to exhibit their modern-art collection. On its roof grow vegetables and herbs for their restaurant, Proof on Main, and among the potted blossoms you'll find comfortable seating (rooftop garden and restaurant patio landscape design is by Jon Carloftis) with great city views. A short drive away in Crestwood, Yew Dell Gardens is home to the historic woody plant collection of the late plantsman Theodore Klein.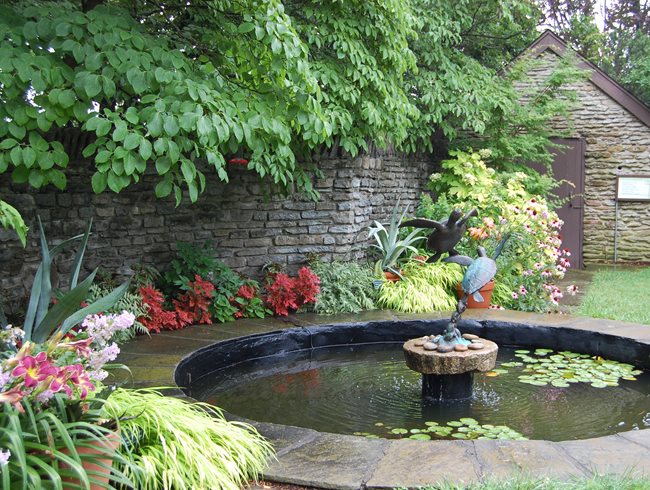 A traditional English walled garden at Yew Dell Gardens. Photo by: Yew Dell Gardens.

SEE MORE PHOTOS OF LOUISVILLE GARDENS
PARK PLACE: Once a collection of scrap-metal yards, Waterfront Park — developed by the Waterfront Development Corporation over the past 20 years — is now the heart of the city. Head for the Great Lawn, a playing field for picnickers, kids, free concerts and festivals. Locals I met are especially proud of the butterfly garden just outside the Bernheim Arboretum and Research Forest education center, but there is so much more to whisky distiller Isaac Bernheim's gift to the state of Kentucky. The 14,000 acres of parkland include nature trails, a garden pavilion, outdoor sculpture, a canopy walk and a lakeside "Quiet Garden."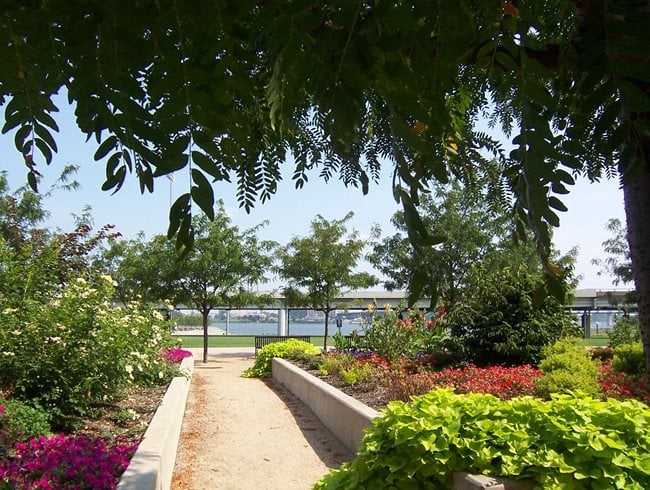 Louisville's Waterfront Park was once a collection of scrap-metal yards. Photo by: Waterfront Development Corporation.

SEE MORE PHOTOS OF LOUISVILLE GARDENS
A PERFECT SATURDAY: Find cool garden furnishings and accessories at Digs Home & Garden (502-893-3447) in Chenoweth Square. My favorite discovery there: a Kentucky bluegrass-scented candle. More rustic garden décor is to be found at the nearly two-century-old Louisville Stoneware (see some of their containers here). The Fleur De Lis Bell Luminary and the black flowerpots in all forms are worth ordering online. I also got a sneak peek of a vintage French flowerpot soon to be reproduced. Ivor Chodkowski helps get locally grown foods from small farms to restaurants and stores in town. Get even closer to the source when stopping by his stand at the Bardstown Road Farmers' Market in the Highlands on Saturday morning for a farm-grown breakfast. From as far back as the 1890s, farmers used to come with their produce and sell it at the Haymarket area, a part of Louisville's downtown. Some things never change.