GARDENFIT
Helping gardeners take care of their bodies while taking care of their gardens

GardenFit Hosts: Madeline Hooper and Jeff Hughes
We all know that gardening can be great exercise. But, all that physical activity can sometimes lead to aches and pains. Join expert gardener Madeline Hooper and professional fitness trainer Jeff Hughes as they visit some of the most beautiful private gardens and farms in the U.S. While there, they gather gardening inspiration and tips from the garden hosts, while trainer Jeff Hughes teaches techniques to counteract the physical toll that gardening can have on the body. Learn how to not only care for your garden, but also your body, in this new series on PBS.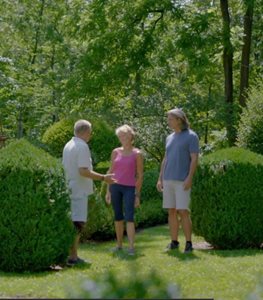 GardenFit — New on PBS
Check your local listings or view online
HOSTS:
Madeline Hooper, Expert Gardener
Jeff Hughes, Professional Fitness Trainer
EP. 8: THE STABLE VEGETARIAN
WATCH NOW
In this episode, Madeline and Jeff visit Karl Cook of Pomponio Ranch, in Rancho Santa Fe, California. Karl has transformed the traditional landscape he inherited on his property to one filled with edibles—so many edibles, that his goal is to cook something different every day. Karl has focused on creating nutrient-rich soil and shares tips on how he has built up the soil in his garden.
Karl is a professional horse rider and show jumper and is in good physical shape. He has figured out some fixes on his own to eliminate a strength imbalance in his hips that was causing knee pain. Jeff helps him expand the exercises that he does to correct the imbalance and get a more well-rounded result. Since Jeff doesn't have much to fix physically for Karl, he asks Karl to project into the future and take a look at what he thinks a good plan for him would be.
---
EP. 7: BAREFOOT AND FANCY FREE AT 95
WATCH NOW
You'll truly enjoy Madeline & Jeff's visit with Peggy Walsh, an energetic 95-year-old woman in Somerset County, NJ. Peggy's garden encircles her home and was created at the same time her home was built. She walks a stone path that runs through her garden every morning with a cup of coffee, checking on her plants and nodding "good morning" to the statues. Peggy's garden is beautiful and her outlook on life is even more so.
Although she still gets around wonderfully, Peggy occasionally has balance issues and trouble with—what she calls—a lazy foot. She recognizes some anxiety and tension issues that exacerbate her problems. Jeff teaches her how to lengthen and relax her posture to combat the tension and improve her posture which also helps with her balance. He also gives her some simple exercises to help retrain her "lazy" foot.
---
EP. 6: SAFFRON SPENDOR
WATCH NOW
This week, Madeline and Jeff take a trip to Northern California and visit the largest saffron farm in North America. Farm owners Melinda and Simon wanted a change of life and started the farm without any farming background, learning as they went along. They've added a market garden and a flower garden to create a nectar and pollen-rich environment for pollinators. In this episode they share how they conquered a field full of weeds, as well as how they keep from "feeding the gophers."
With no heavy machinery on the farm, one can only imagine the amount of manual labor that it takes to care for the farm. Both Melinda and Simon are very tall, and their harvest work is done at ground level. With the amount of time they spend bending over, their backs were their main complaint. Jeff shows them how to use the proper "hinge" for standing from a bent position and take the strain off the lower back. He also shares with Madeline how to stretch her hip flexors—good for those who spend a lot of time kneeling or sitting (in the garden or in the office).
---
EP. 5: PROPAGATION ON THE PRAIRIE
WATCH NOW
Go with Madeline and Jeff to where the Rocky Mountains meet the plains in Colorado, as they visit with Lauren Springer and walk through her personal garden. Lauren is a true plainswoman who propagates plants, either by division or seed, and shares tips on how to repot cactus. Her approach to garden design is very insightful. "I often just think when you put together plants, imagine they're in black and white, and you're taking a black and white picture. It takes the color off the table, and it makes you see the forms and the textures more. Then the colors just become this special ice cream at the end."
Years of working with her hands has caused Lauren to suffer from carpal tunnel syndrome and other hand and wrist pain. Jeff shows her how to alleviate some of the pain by finding balance and strengthening the opposing muscles, as well as how to deal with weakness in her leg from an old injury.
---
EP. 4: WELCOME TO THE JUNGLE
WATCH NOW
Head south with Madeline and Jeff to Miami, where they visit landscape architect Raymond Jungles (yes, that's his name!). Raymond is passionate about preserving nature and creating habitats for all living things, using local flora and fauna to bring a garden to life and put nature back into the city.
Raymond finds that he has lower back pain after a full day of gardening, and Jeff gives him a core strengthening routine (that he calls his 5-minute abs) to help support Raymond's lower back. Along with that, Jeff adds on some upper body exercises to round out a full upper body workout.
---
EP. 3: BRINGING AFRICAN FARMING HOME
WATCH NOW
This week Madeline and Jeff get insights into African cultural planting methods from Brooke Bridges of Soul Fire Farm in Upstate New York. Brooke shares their sustainable gardening techniques such as using brown paper and straw mulch, and how and why she waters seedling holes first. Soul Fire farm also teaches local youth about growing, farming, and harvesting, as well as delivers fresh food to local families.
Gardening and farming have given Brooke ongoing foot and lower back pain. Jeff observes her gardening practices, helps her identify where her pains are coming from, and offers her GardenFit fixes to help alleviate them.
---
EP. 2: ZEN GARDEN
WATCH NOW
Episode 2 takes us to a Japanese Zen-style garden in Roxbury, CT. Homeowner Bob Levine talks in detail about the fundatmentals of designing a Japanese garden and opens our eyes to the use of stone in the garden. Bob's garden has a pleasing combination of texture, shapes, and color that give his garden a refresing balance.
The open gravel and rock spaces in Bob's garden require him to do quite a bit of weeding, leading to knee and lower back pain. See what a difference a few strech, strengthening, and body positioning techinques from Jeff can do for Bob (and you!).
---
EP. 1: MEET RENNY REYNOLDS, HORTULUS FARM
WATCH NOW
In episode one, travel with Madeline and Jeff as they visit Renny Reynolds at Hortulus Farm. Renny's perspective gives gardeners big ideas, and he encourages vegetable gardeners to consider incorporating surprising design features in their gardens, believing veggie gardens should be beautiful as well as productive. You'll see how he designed geometric beds along with unexpected elements, such as topiaries and evergreens. Renny also likes to design around unusual features found on his travels— just wait until you see what he's done with a 20-foot replica of the Eiffel Tower!
Renny's garden comes with a lot of tasks which have led to knee and shoulder discomfort. Learn some "fixes" from Jeff, along with Renny, to keep your joints happy and healthy in the garden and out.
---