Permeable Pavers
How storm-water management is transforming the roads we drive on.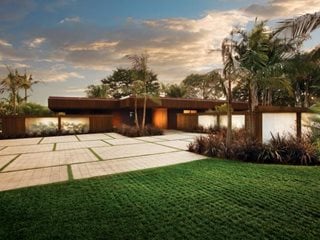 (Photo by: Jim Bartsch)
Among the heartaches of landscape design is that most any given front yard must contain a big slab of heat-sinking, water-collecting pavement upon which homeowners drive and park. But one possible solution has been under our feet all along.
Grass driveways have been around for ages. In warm parts of the world where grass will conquer any driveway, people have long since surrendered to it, laying cinder blocks on their sides and raking in topsoil and seed. The results aren't elegant, but they're immanently functional. In recent years, a number of companies have developed grass driveway systems—rolls or sheets of plastic or metal spacers to be placed on top of a prepared gravel bed and planted with turf or seed. These products, easy to install and maintain, also distribute weight and protect roots, keeping grass healthy even in more wintery climes.
The aesthetic possibilities are obvious, but the appeal of plant-based and other nontraditional paving materials has suddenly reached new heights. That's because municipalities across the nation have begun to regulate how much concrete and asphalt pavement can be used in commercial and residential development. Traditional asphalt and cement roads and parking areas are impermeable and don't allow water to seep through: Water collects then flows (along with things like trash and oil) into storm drains, which then overflow into streams and rivers during heavy rains. The more square footage covered by impermeable pavement, the greater the chance of flooding.
"It is one of the biggest challenges developers face," says Thomas Johnston of ThinkGreen, a Pennsylvania landscape architecture and construction firm. "Everybody is trying to figure out ways to keep water on-site to meet the new codes." Those efforts include decreasing pavement footprints and using a raft of new materials (see "Go with the Flow" below) that allow rain to percolate down to the subsoil instead of rushing into storm drains. Grass pavement, because it absorbs water quickly and blends well into landscapes, has grown in popularity. "It's great for drainage, and it's great at alleviating the heat-island effect," says Johnston. ThinkGreen has installed a product called Geoweb, which comes in long roles, to construct an auxiliary parking lot for a pharmaceutical company in Pennsylvania and Grasspave2, sheets of circular spacers made from recycled plastic, to build fire lanes and passing areas on long driveways. "As long as the grass doesn't see too much traffic, it's fine," he says.
For Keith LeBlanc, principal at Keith LeBlanc Landscape Architecture in Boston, the decision to use grass pavement at a Carpinteria, California, home (pictured above) centered on design. "The property has a solid gate at the street for privacy," says LeBlanc. "We installed a grass driveway to avoid having a big slab of concrete — another visual solid — as part of that sightline." LeBlanc abutted the grass pavement with squares of permeable cement pavers rimmed with grass. "I think [grass paving] material works best when it's part of an overall design and not used as a coverup," he says.
Both Johnston and LeBlanc suggest grass paving be used sparingly. "It requires upkeep and can be problematic in colder climates," points out Johnston. "In California, grass needs to be watered regularly, which of course has its own environmental implications," adds LeBlanc.
Dustin Glist of Invisible Structures, the company that makes Grasspave2, agrees that grass paving is not right for every situation. "But if it's installed correctly," he says, "grass will grow on it very well. Designers and homeowners are a lot more conscious of the environment. They also want things that are nice to look at; grass can be both."
GO WITH THE FLOW
Porous Asphalt
Made of the same stuff as regular asphalt concrete (petroleum-based bitumen) but with more chunky aggregate and less sand, the mix allows channels to form between aggregate through which water can seep. Developers like it because it's inexpensive and easy to use. Downsides: It's black and therefore attracts and holds solar heat.
Permeable Concrete
Like porous asphalt, it's simply a different recipe of a familiar building material. Portland cement is mixed with aggregate and only a small amount of sand. It has a distinctive (some say ugly) look but allows water to drain nicely to the ground below. Like all permeable systems, it must be laid on a porous bed, usually gravel.
Permeable Pavers
Interlocking pavers that come in a variety of shapes, colors, and materials allow water to drain through cracks between them and, in some cases, through the paver itself. Pavers offer many aesthetic options and can be used in conjunction with other permeable materials. A properly prepared bed will prevent shifting blocks.