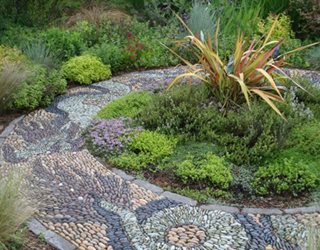 Photo by: Vanessa Nagel.
The design trend away from solid concrete to permeable walking surfaces has opened the door to fresh paving options. Smaller homes and yards make it possible to explore alternative, sometimes truly unique surfaces without breaking the budget. One of the most exciting is pebble mosaics, which utilize naturally rounded stones in various colors to create patterns and images. This technique predated Roman mosaics by a thousand years.
Pebble mosaics are adaptable, whether used to fill gaps between flagstones, creating narrow walkways or graphic works like the one shown here. This circular walkway makes a fine alternative to lawn and provides an artistic ground to accent adjacent planting. Pebble mosaic originated in landscapes where slip resistant paving is desired, so use it to make your spa, fountain or koi pond safer in all weather.
Pebbles result in an irregular surface without stains or dyes, imported or manufactured materials. More and more masonry contractors and mosaic artists are mastering this technique for inserting visual interest via the ground plain into home landscapes. This is not difficult to master and makes a great do-it-yourself project for those on a budget. Anyone who longs for beautiful mosaic floors will find their desires fulfilled in a garden rich in pebble work where an ancient art is reborn in the modern era.