The 12th Annual Great Gardens and Landscaping Symposium
SOLD OUT! - April 16, 2016 at The Woodstock Inn & Resort in Woodstock, VT
THIS EVENT IS SOLD OUT!
This premier gardening symposium takes place April 16, 2016 at the world-class Woodstock Inn & Resort in Woodstock, Vermont. This popular symposium, which usually sells out, features five dynamic lectures, a Gardener's Marketplace, great food, door prizes and gifts. Over 200 gardeners from around the Northeast annually attend this festive, cutting-edge event. In addition to the symposium, there is a special design and garden care seminar on Friday, April 15, from 1:00 - 4:00 p.m.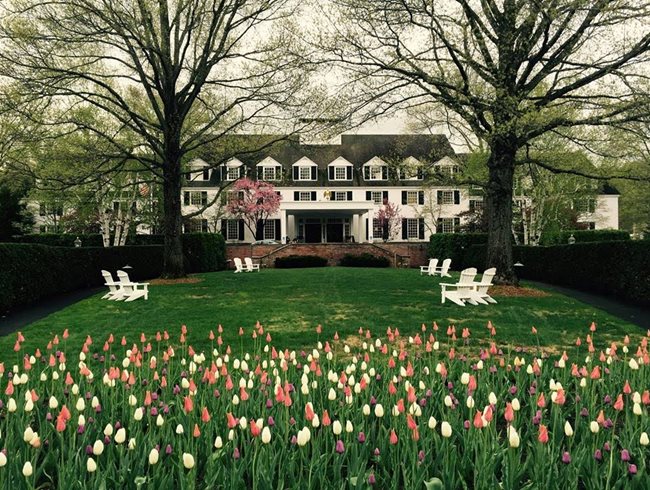 The symposium will be held at the Woodstock Inn & Resort in Vermont, which is beautiful in spring. Photo by: Woodstock Inn & Resort.
Featured speakers, horticultural experts and notable authors are:
Joseph Tychonievich: author, independent plant breeder, popular guest speaker on public radio's food show, The Splendid Table, and named by Organic Gardening Magazine as one of "…six young horticulturists who are helping to shape how America gardens"
Kim Eierman: the founder of EcoBeneficial!, a certified horticulturalist with The American Society for Horticultural Science; instructor at New York Botanical Garden and Brooklyn Botanic Gardens and steering committee member of The Native Plant Center
Benjamin Pauly: landscape designer and architect, Master Gardener for the Woodstock Inn and Resort, in which role he designed, created and maintains a 2.5 acre kitchen garden to provide the Resort with certified organic flowers, herbs, vegetables and fruit
Kerry Ann Mendez: recipient of the 2014 Gold Medal from the Massachusetts Horticultural Society, guest on HGTV and former TV garden series host, featured in many magazines including Fine Gardening and Horticulture, and author of three best-selling titles including The Right-Size Flower Garden.
Sponsored by:
The American Horticultural Society
Broken Arrow Nursery
Coast of Maine
Corona Tools
Espoma
Garden Design magazine
Gardener's Supply Company
Neptune's Harvest
Plantskydd
Proven Winners
The Garden Conservancy's Open Days Program
White Flower Farm
How-to, informative lectures:
The New Rock Garden: How to Grow Alpine Gems that Thrive in Small Spaces
EcoBeneficial Gardening 101: Boosting the Ecosystem in Your Own Yard
Remarkable Flowering Shrubs for Three Seasons of Interest
Great, Unusual Perennials You Don't Already Know
Gardening with Intensity - Habits of the Highly Effective Kitchen Garden
Symposium registration: Fee includes five garden lectures, morning and afternoon refreshments, lunch, handouts, garden gift and door prizes. $98 per person. Special Master Gardener and group rates available. To register please visit the symposium's web page at www.pyours.com/symposium. Questions? Please call Kerry Ann Mendez, symposium founder at 207-502-7228.
Special Design and Garden Maintenance Seminar: Friday, April 15 from 1:00 - 4:00 p.m. This new presentation combines the art of designing low-maintenance, high-impact gardens with sustainable maintenance practices and shortcuts. The 3-hour class has a separate registration fee. $49 per person includes helpful handouts & afternoon refreshments. Registration is also on the symposium's web page, www.pyours.com/symposium.
Special Room Rates at The Woodstock Inn and Resort for registered Symposium guests: $159 per night, single or double (usually $300+). Price includes resort fee (admission to Billings Farm & Museum, afternoon tea and cookies, use of the Racquet & Fitness Club, use of the Mt Peg Hiking Trail Preservation, touring bikes and more!) To make reservations, please call (866) 592-9611 and request the special Great Gardens Symposium rate.
www.woodstockinn.com