A Fruit Revival: The Marshall Strawberry
Once abundant in the Pacific Northwest and praised as "the finest eating strawberry in America," the Marshall strawberry is today very rare. Now an artist in Indiana has begun an effort to revive the berry, offering starter plants in hand-sewn containers.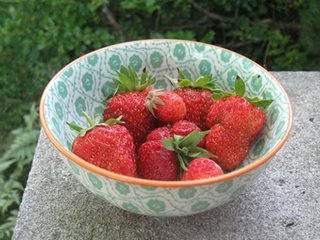 Photo by: Leah Gauthier
A rose by any other name is as sweet, but what about a strawberry? If its name is Marshall, it's the sweetest of them all, but chances are you've never eaten one, at least not lately. Abundant and popular in early- & mid-century, the aromatic, juicy berry has since become very rare. Now, thanks to the loving propagation of Leah Gauthier, you can plant one yourself. The Indiana-based artist and food revivalist has pledged to replenish the Marshall strawberry's near-extinct status, and is hoping to disperse starter plants to any Marshall lover with a little water and sunshine.
Lauded as "the finest eating strawberry in America," the Marshall strawberry has a history of delicious honors. The Marshall was served to Queen Elizabeth and King George IV at a lunch in Vancouver, B.C. in 1939 (800 crates were delivered for the royal table). An esteemed American agricultural encyclopedia notes that the Marshall strawberry was "the standard of excellence for the entire northern strawberry industry." And, according to James Beard, it was one of only two kinds of strawberries his mother would allow into the house.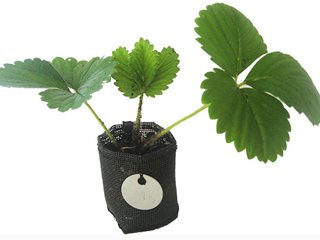 One of 600 Marshall strawberry starter plants, packaged by the artist. Photo by: Leah Gauthier.
Marshall strawberries filled fields in the Pacific Northwest after World War II, but its numbers would later dwindle as it succumbed to viruses and, as its geographic popularity increased, the stresses of traveling. This shortcoming was due, ironically, to its sweetness: According to the Oregon Strawberry Commission, the Marshall was so full of sugar that its shelf life was measured in hours rather than days. Delicious but costly to cultivate, the Marshall was phased out of fields in the mid-1960s.
In 2004, it was named one of the ten most endangered foods in the country by RAFT (Renewing America's Food Traditions). By 2007 "the only hint of this remarkable strawberry existed] at the USDA's Germplasm Repository in Corvallis, Oregon in the form of a single clone."
Gauthier, an art professor, took on the cause of the disappearing fruit in 2007, when she ordered a single runner plant from the USDA, and began planting. Her Marshall strawberry plant blossomed into a small crop. Today, a "limited edition" of 600 plants are available for $65 (including overnight shipping), or $30 if you an pick it up at her Bloomington home. The plant includes a "hand-sewn fabric container with a metal tag designating its number in the series and care instructions," she promises in her pop-up shop.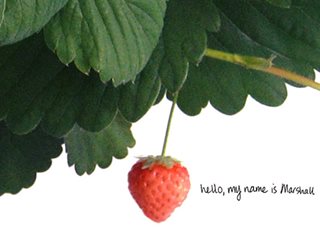 An introductory image from Gauthier's site, where she hoped to reintroduce you to the Marshall strawberry. Photo by: Leah Gauthier.
The Marshall strawberry is the first of several endangered food crops Gauthier hopes to revive through a project she calls "Rising Fields." Other plants include "Fish Pepper, Boston Marrow Squash. Pawpaw, Moon and Stars Watermelon, Granite Beauty Apple, Early Blood Turnip-Rooted Beet, Mayflower Bean and Green Mountain Potato." Through her work, Gauthier focuses on the collective effort necessary for any crop revival, a feature of the initiative that Nicola Twilley, at EdibleGeography.com, compares to Marcel Duchamp, the artist who declared that "the creative act is not performed by the artist alone."
Indeed, "I can't revive this berry by myself," Gauthier writes on her website. "My hope is that once plant numbers are sufficient, we will be able to give away plants and seeds so folks can grow at home and on their farms to increase numbers even further." She hopes that the strawberry's revival will have a wide geographic reach, so those adopting a Marshall can plot their location on a map titled Marshall's Journey.
Anna Laurent is a contributing editor.