A Fruit Revival: The Marshall Strawberry
Once abundant in the Pacific Northwest and praised as "the finest eating strawberry in America," the Marshall strawberry is today very rare. Now an artist in Indiana has begun an effort to revive the berry, offering starter plants in hand-sewn containers.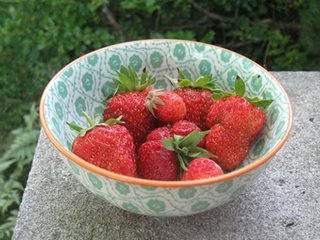 Photo by: Leah Gauthier
A rose by any other name is as sweet, but what about a strawberry? If its name is Marshall, it's the sweetest of them all, but chances are you've never eaten one, at least not lately. Abundant and popular in early- & mid-century, the aromatic, juicy berry has since become very rare.
At one time, lauded as the finest eating strawberry in America. An esteemed American agricultural encyclopedia notes that the Marshall strawberry was "the standard of excellence for the entire northern strawberry industry." And, according to James Beard, it was one of only two kinds of strawberries his mother would allow into the house.
Marshall strawberries filled fields in the Pacific Northwest after World War II, but its numbers would later dwindle as it succumbed to viruses and, as its geographic popularity increased, the stresses of traveling. This shortcoming was due, ironically, to its sweetness: According to the Oregon Strawberry Commission, the Marshall was so full of sugar that its shelf life was measured in hours rather than days. Delicious but costly to cultivate, the Marshall was phased out of fields in the mid-1960s.
In 2004, it was named one of the ten most endangered foods in the country by RAFT (Renewing America's Food Traditions). By 2007 "the only hint of this remarkable strawberry existed] at the USDA's Germplasm Repository in Corvallis, Oregon in the form of a single clone."
Learn more about how to grow strawberries.
Anna Laurent is a contributing editor.