Garden Under Glass
How to create a botanical display under glass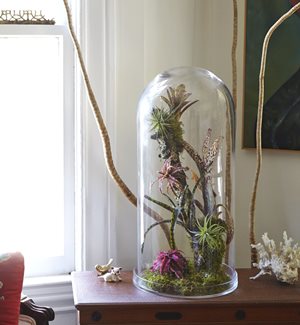 Photo by: Caitlin Atkinson
Low-maintenance gardening doesn't get much simpler than a display of bromeliads and tillandsias. Designer and stylist Zenaida Sengo, author of Air Plants: The Curious World of Tillandsias, created this display. She offers a few tips for setting up a miniature garden.
Materials:
Plants featured in display: Neoregelia ampullacea (green and purple); Tillandsia aeranthos (dusty light green); Cryptanthus 'Pink Starlight' (light pink and purple); Billbergia 'Hallelujah' (white and purple); Neoregelia punctatissima (green and purple); another Tillandsia aeranthos (dusty light green); and Cryptanthus bivittatus 'Minor' (maroon and rose).
Tips:
Place moist mood moss at the base of the wood to help stabilize it and add a decorative touch.
Use clear fishing line to affix bromeliads to the wood.
Place wet sphagnum moss between the bromeliads and the wood when attaching to provide more surface for the plant to attach to.
Use thin wire and glue to attach tillandsias to the wood. Let the glue dry for several hours, then remove the wire.
Care:
Avoid long periods of direct sun. The glass magnifies the sunlight and can scorch the plants. Place the arrangement in a spot where it gets direct morning sun and several hours of bright indirect light.
Leave the glass dome closed for a temporary arrangement. Left under the glass undisturbed, it should last about a month. If you want the arrangement to last longer, remove the glass after a week and completely spray the plants with water every few days.
---
When you purchase products through links on our site, we may receive an affiliate commission. Thank you for your support.