Imagining Gardens
Tour through conceptual garden installations built by designers, horticulturists, architects and artists in France, Canada, and California where the boundaries of garden design are pushed, and why one designer feels "Mother Nature will always win in the end".
What gardens are, should, and might be is a constant source of debate among professionals and amateur garden makers. Twenty-one years ago, the International Festival of Gardens at Domaine de Chaumont-sur-Loire, France started to answer some of those questions with its annual showcase of conceptual gardens. Designers, architects, horticulturalists and artists there have made more than 580 gardens over the years that have pushed the boundaries of garden design. The installations are meant to freely nudge at the boundaries of the possible. They are not the short lived theatrical show gardens of Chelsea and Philadelphia flower shows, these are actual built landscapes of the imagination. Each year, the theme is different. For 2014, the theme of the Chamount gardens will be "Gardens of the Deadly Sins".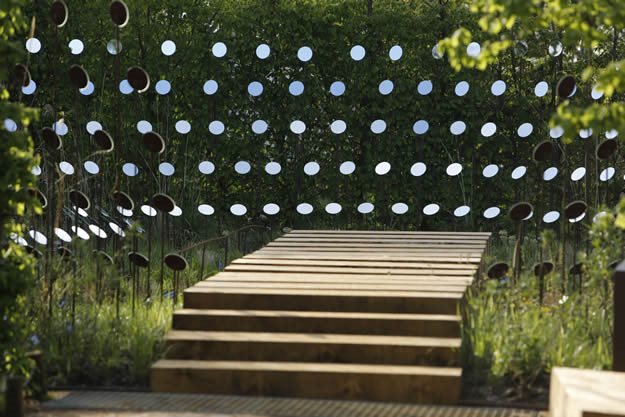 Cesar Gourdon and Amélie Busin, La Jetee, (the Pier) 2013. Photo by: Chaumont-sur-Loire International Garden Festival.

SEE MORE PHOTOS OF THESE GARDENS
Two venues in North America continue this dialog, Les Jardins de Metis/Reford Gardens in Quebec and CornerStone in California. In Canada, the selections for the 2014 were announced in early December for the fifteenth iteration of the International Festival of Gardens at Les Jardins de Metis/Reford Gardens. North of Quebec City, it has mounted new gardens every year since 2000, based on an open competition that encourages interdisciplinary collaboration. The festival has attracted many U.S. designers and architects who have won sites and built experimental gardens including Ken Smith, Michael Van Valkenburgh and Associates and students at the Harvard Graduate School of Design. Some gardens remain for years after they are built, others are more temporary.
Since 2004, CornerStone in Sonoma, Calif., has strived to blur the lines between art, design and landscape, and to create an environment that allows both the designer's and the public's imaginations to soar. Its newest addition to the previous gardens that have been installed on its nine acres was created by designer and sculptor Suzanne Biaggi. Ecology of Place for Phil Biaggi fuses memory, art, landscape, ecology, and sustainable design into a cohesive whole that challenges visitors. Inspired by the regions original wetlands, Biaggi says about the garden's concept, "It highlights the importance of ecological balance to the future of our planet, and is about restoring what was once here - wetlands, and it's about what is here now -vineyards…"
ATK Engineering, Bryophta Technologies and students from Harvard Graduate School of Design, Surface Deep, 2011-13. Photo by: Reford Gardens, Susan Cohan.

SEE MORE PHOTOS OF THESE GARDENS
A winding path bordered with a runnel and drifts of wetland plants guides visitors through the space. Hedges intentionally block and reveal views. There are quiet places to stop and rest along the path that Biaggi hopes "that visitors slow down enough to contemplate and wonder what the garden holds and teaches." Sculptor Regan Gentry was chosen by the designer to create a feature piece for the garden. Inspired by the California Buckeye, a native wetland tree, Gentry created a life size wire tree that also inspired the grape vines that Biaggi constructed as another garden feature that is a visual nod to what has happened to the native landscape.
An overview of Suzanne Biaggi's Ecology of Place for Phil Biaggi. Photo by: Marion Brenner, Laura Reoch, Scott Hess.

SEE MORE PHOTOS OF THESE GARDENS
As a landscape designer, Biaggi practices sustainable design that always harkens back to the ecology of its site. Of her garden at CornerStone, she reflects, "The creation of this space has furthered my awareness of place and how it changes over time with how it is used, but the ecology of the space doesn't really change. The area is still a wetlands. If we honor the ecology of a site the cycle is not broken and we are working in harmony with nature. When we try to impose our needs on a site, it's really an uphill battle and Mother Nature will win in the end."