Desert Garden Ideas from Steve Martino
Enter the world of Phoenix-based landscape architect Steve Martino, whose work blends colorful man-made elements with native plants to reflect the sun-drenched beauty of the desert
When Steve Martino began his career over 35 years ago, people thought of the desert as a blank canvas on which they could paint their own version of paradise, often a lush oasis that bore little resemblance to the natural surroundings. "When the power of water is shut off, your garden should not die," notes Martino whose desert landscapes showcase indigenous plants and natural scenery.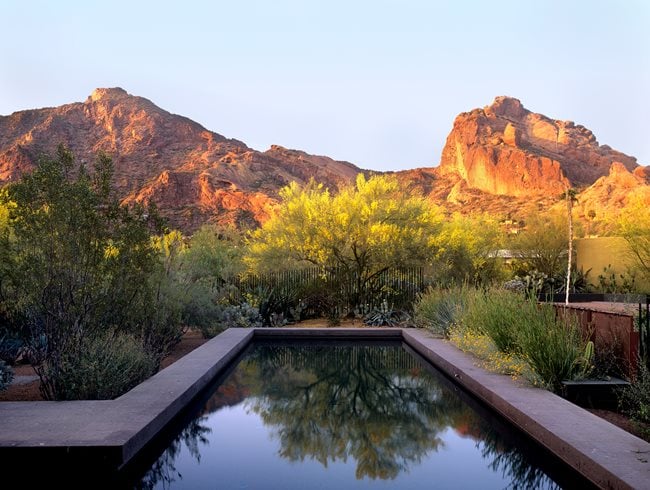 In Paradise Valley, Arizona, a burst of golden desert blooms from the Cercidium floridum (blue palo verde) helps merge the ochre and rust tones in the landscape with the natural beauty of Camelback Mountain beyond. Photo by: Steve Gunther.

SEE MORE PHOTOS OF MARTINO'S WORK
"It's been ingrained in us that desert is a wasteland," says Martino. Yet it's his love for the desert—the interplay of light and shadow, the colors, plants, and wildlife—which inspires his work. "I want my gardens to say something about the site and its history," he says. Inherent in that philosophy is not only a respect for, but a celebration of the natural elements that belong here. "Native plants connect the landscape to the region and give your garden soul." Though it's become common practice for designers to emphasize indigenous plants, Martino was a groundbreaker in elevating natives from "weeds" to an integral part of the landscape.
At this landscape in Scottsdale, Arizona, a foreground planting of Echinocactus grusonii (golden barrel cactus) relates to, in smaller scale, the Carnegiea gigantea (saguaro cactus) and boulders in the backdrop. In front of the red wall are Echinocereus engelmannii (strawberry hedgehog cactus). Other cactus include: Cylindropuntia versicolor (staghorn cholla) and Stenocereus thurberi (organ pipe cactus). Photo by: Steve Gunther.

SEE MORE PHOTOS OF MARTINO'S WORK
Of course, plants are only one part of what makes Martino's designs stand out. Boldly colored stucco walls frame compelling views of the desert and sky, expanding the outdoor living area while solving common site problems such as lack of privacy or shade. "I love ruins; gardens should make wonderful ruins, and I think they should stand on their own as a space even without plants, he says. In fact, notes Martino, "Gardens are made up of two worlds: the man-made and the natural world. I try to juxtapose these two. I've described my garden design style as 'Weeds and Walls—Nature and Man.'" The lighthearted use of unexpected shapes, materials, and colors is one of the most striking elements of Martino's landscapes. And his enthusiasm for trying new things has led to some interesting discoveries. Years back, when he visited a local manufacturer of race-car parts and realized they could build custom structures from translucent fiberglass in vivid hues, he came alive with ideas for colorful arbors, outdoor showers, and internally lit benches. "When I try something new, sometimes I don't know right away whether it's the neatest thing I've ever done, or the dumbest thing I've ever done," he says. But his inventiveness means that the walls, shade structures, and accents can be perfectly tailored to the personalities, interior design, and site characteristics in each project, as well as the desert setting beyond the garden fence.
SET DESIGN
Though Martino's work is deeply connected to the natural world, he also has a flair for the dramatic, which is apparent from his lively color selections, sculptural use of plants, and keen attention to lighting, shadows, and reflections. "We look at gardens more than we use them," he points out, "so I create mood and atmosphere the same as for a theatre. I'm basically a set designer, and I edit and manipulate elements to control views on the site."
In front of the "piano key" wall are plantings of Agave americana var. medio-picta 'Alba' (white-striped century plant), Cleistocactus strausii (silver torch), and Echinocactus grusonii (golden barrel cactus). Photo by: Steve Gunther.

SEE MORE PHOTOS OF MARTINO'S WORK
Colors are used to evoke emotion, and for this Palm Springs project (pictured above), Martino chose upbeat colors that enhance the desert setting, such as ochre, coppery orange, and fiery red. This sets the stage for an outdoor living area that is cohesive with its surroundings, while creating an inviting and energizing scene to draw people outside. He also used the power of iconic objects or plants. "If you have a white room and you put a Chinese chair in it, suddenly it's a Chinese room," he says. "You can do that with plants. If you have an empty courtyard and you put a cactus against the wall, suddenly it's a courtyard in the desert."
For this particular design, the client asked for a "groovy, cool, and sexy" space in which to entertain. Each area has a distinct personality, with loungers built into the pool so swimmers can sunbathe while being cooled by the water, a contemporary seating area and hearth set against a backdrop of vivid red-orange, and an eye-catching ochre wall with pillars that stand offset like piano keys in motion.
BORROWED SCENERY
At this project in Scottsdale, Arizona (pictured below), Martino used natural boulders in the background to frame a view of homes in the valley and the mountains beyond. The view is no accident. "The first thing I do when I get on a project is I put my hands together, rub them devilishly, and ask: What do the neighbors have that we can use? Scenery!" says Martino. Most designers are familiar with the concept of borrowed scenery: framing the most attractive views beyond the property line to give the landscape a feeling of expansiveness. But Martino takes it a step further by considering how to enlarge the interior space by connecting it to the landscape. In this home, the living room floor is on the same level as the exterior paving, and the pool "looks like a spill on the concrete," he says, because of careful alignment of the vanishing edge pool with the paved patio.
Martino framed an attractive view of natural boulders beyond the property line to give this Scottsdale landscape a feeling of expansiveness. Photo by: Steve Gunther.

SEE MORE PHOTOS OF MARTINO'S WORK
To borrow scenery effectively, make sure that your garden fences or walls don't draw a strong dividing line between your property and the view beyond. In this case, a 5-foot security fence around the pool was made nearly invisible through the use of glass panels and a glass handrail, with a small gap between each panel rather than traditional mullions which would have been obtrusive. Another way to de-emphasize the height and scale of any less visually important element (like a required fence) is to position it on a lower grade so that you look over it from entertaining areas.
NATIVE PLANTS
Though Martino is known for his creative use of walls and structures, a reverence for the local habitat is what allows his inventive style to blend so seamlessly with the surroundings. "I started to use native plants to make the transition from the building to the adjacent natural desert. If you have 100 acres next to you, by bringing native plants right up to the building, you visually take ownership of all of that," he explains. "It seems like a no-brainer as a technique to visually claim the adjacent land as part of your project. Instead of designing within a small space, it makes the landscape the biggest room in the house."
Fusing man-made with natural, this landscape blends privacy screening and shaded entertaining areas with a selection of natives designed to echo the naturally occurring plants on the mountain beyond. The cooling cobalt of the Fletcher Benton sculpture contrasts with the yellow wisps of Acacia farnesiana (sweet acacia) and Encelia farinosa (brittlebush). Photo by: Steve Gunther.

SEE MORE PHOTOS OF MARTINO'S WORK
On a smaller scale, an added source of interest in his landscapes comes from watching the lives of insects, birds, and other creatures unfolding before your eyes. "Native plants bring along their own entourage; they are tapped into the food chain. The pollinators and predators are like a parallel universe to our life that you never see, and native plants are the windows that let you see them." Inspired by a study that said people like songbirds more than benches or water features in the landscape, Martino exclaims, "How do you get songbirds? Songbirds eat insects! If you want songbirds you need insects, and if you want insects, you need native plants."
Desert natives such as the ones used in this project—saguaro cactus, Fouquieria splendens (ocotillo), and Encelia farinosa (brittlebush)—create an ecosystem where fat lizards do push-ups on rocks, cactus wrens nest within spiny pillars, and bobcats drink from water features. That sense of connection with the rhythms of the desert immeasurably enriches his clients' lives. As Martino says, "I never make apologies for the desert. The plants are so unique here, and it should be celebrated as a special place."
ZONING CHALLENGES
Looking at this entertaining space (pictured below), you'd never guess the privacy challenges the site initially posed. An elevated public sidewalk runs along the back of the property, above the existing 8-foot wall (seen in the background). Since the garden is on a lower level than the street, passersby were looking straight into the owner's landscape and home as though she was in a fishbowl. Worse, zoning restrictions dictated that the existing wall could go no taller.
Zoning restrictions prevented Martino from building a tall privacy wall at the back of this property. Instead he found a loophole, opting for a multilevel, 15-foot-high shed, which did not require a permit. Photo by: Steve Gunther.

SEE MORE PHOTOS OF MARTINO'S WORK
"My approach to garden design is pretty straightforward. I look at it as problem-solving with style," says Martino. Preferring to use permanent elements rather than trees for screening, Martino discovered a loophole in the city's rules. "My secret weapon is 'sheds.' Here, you can build a 200-square-foot, 15-foot-high shed without a permit, yet a wall can only be 6 feet tall. I've built sheds which act as garden walls to provide privacy and define the space." With the addition of a multilevel shed, the backyard became a flexible entertaining and seating area, with a crushed-rock floor. An elevated viewing deck allows a glimpse into the natural areas nearby. A black concrete reflecting pool, next to Hesperaloe parviflora 'Perpa' Brakelights®, mirrors the passing clouds. In the heat of the day, guests can take shelter under the shade screen, which is made of perforated steel punched with differently sized and shaped holes. By overlapping these sheets in varying ways, psychedelic patterns and shadows are cast as the sun moves across the sky. Two Fouquieria splendens (ocotillo) flank either side of the shed entry, and a Carnegiea gigantea (saguaro) and Baileya multiradiata (desert marigold) adorn the front of the stairs. One Opuntia ficus-indica (prickly pear or Indian fig) sits next to the butterfly chairs; another is to the left of the paving.
Editor's Note: This article originally appeared as "Weeds & Walls" in the 2014 Autumn issue of Garden Design magazine.
RELATED:
A Desert-Adapted Landscape
Desert Gardening Plants & Books
Backyard Landscaping