A JOURNEY THROUGH YOUR GARDEN WITH DAVID CULP

Pictured: Flowers in the garden at Brandywine Cottage. Photo by: Rob Cardillo.
Get notified of future discussions with David Culp of Brandywine Cottage fame and Jim Peterson of Garden Design. You'll learn about David's famous garden and his gardening philosophy, and come away with plenty of ideas for your own garden.
*Required fields
We will never sell or distribute your email to any other parties or organizations.
---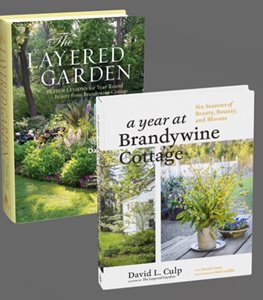 Photos by Rob Cardillo.
WHAT PEOPLE ARE SAYING ABOUT THE WEBINARS
"Thank you so much for running these webinars, especially at this time of year. And thank you for the notes although I've avidly been taking my own. I feel like I'm in a fireside chat with David and you, and I just love Ted (David's dog)." — Isabel B.
"Thank you for a most interesting program. I had just coincidentally finished reading The Layered Garden. Learning more about David's garden and his philosophy was a welcome treat while waiting for mine to come to life here in snowy Rhode Island. I look forward to the next talk." — Dale F.
"I have to thank you and all who contribute to this awesome sharing of time, knowledge, artistry, precision, and friendship in gardening. My daughter and I visited David's garden several years ago, and we love visiting again through the book and the lectures. We are blown away by the attention to detail and the wealth of amazing information you compile and share afterwards. You are all so wonderful! David is such a talent and such a blast! It's pure joy and so valuable to us during these frightening times. Thank you all!" — Paula F.
See more online classes