Dahlia Types & Classifications
Learn about different types of dahlias, including dinner plate dahlias, cactus dahlias and more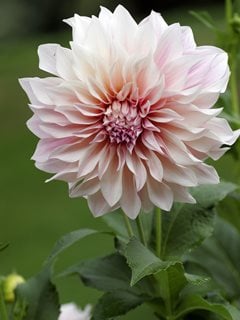 'Cafe au Lait' is a dinner plate dahlia with 10 inch flowers. Photo by: blickwinkel / Alamy Stock Photo.
According to the American Dahlia Society, there is a plethora of dahlia colors and forms. They address them in three groups according to purpose—garden type dahlias, dahlias for cutting and border or container dahlias.
Official dahlia classification identifies them by flower form, here are the different types:
Cactus dahlias
Decorative dahlias
Ball dahlias
Pompon dahlias
Single dahlias
Mignon dahlias
Semi-double dahlias
Collarette dahlias
Anemone dahlias
Orchid dahlias
Peony dahlias
Waterlily dahlias
Stellar dahlias
Flower size is another factor that varies between dahlia types. Some are 2 inches or less, while others are 10 inches or more. The dahlias with the largest flowers are often referred to as dinner plate or giant dahlias. The popular 'Cafe au Lait' is a dinner plate dahlia.
Other popular dahlias include types that are especially tall (5+ feet), types that are early blooming and types with dark foliage.
Learn how to grow dahlias.