Garden of Curiosities
In Michael Trapp's world, old plus older equals new
If an Uzbekistani treasure-hunting spree isn't in your immediate future, not to worry: Michael Trapp's got you covered. The Connecticut-based antiques dealer and designer regularly traipses the world's bazaars and antiques fairs, bringing back Tsung Dynasty shipwreck pots, teak Dutch Colonial garden benches, and 18th--century Portuguese printed bed curtains, among other unique finds. Much of the bounty fills his West Cornwall shop, but a fair portion goes home with him, at least for a time.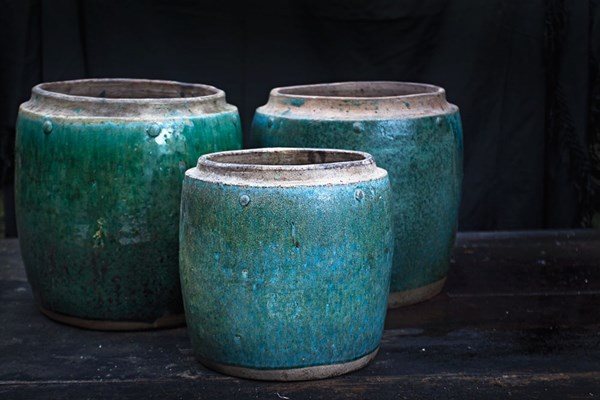 Pictured here are Green Glazed Bonero Pots ($235/$265). "These beautifully glazed 19th-and 20th-century pots make great containers for annuals or herbs, and add a nice accent color." Photo by: Rachel Schwarz.

SEE MORE PHOTOS OF THIS GARDEN
Home, in Trapp's case, means homes: He admits to a mild renovation obsession, which is why he has three residences within a 12-minute radius. While each property has a distinct personality, all showcase a love of the natural world and a fluid connection between interior and exterior living.
A peaceful reflecting pool in Trapp's West Cornwall garden is framed with Chinese Juipers. Photo by: Tim Street-Porter.

SEE MORE PHOTOS OF THIS GARDEN
Trapp's original West Cornwall base, an 1820s Greek Revival, still houses his shop on the ground floor. "It's quite baroque," he explains, "a cabinet of curiosities." This property, complete with a whimsical Trapp-designed garden full of lush plantings and architectural fragments, became so overrun with visitors to the store that in the mid-'90s he relocated to a nearby ranch-style mountain house. There he installed multilevel stone terraces, as well as a 900-square-foot deck that takes advantage of a spectacular view. Trapp's most recent purchase, a 1780s farmhouse, is the roomiest of the three, as evidenced by a pilot whale skeleton hanging from the great-room ceiling. "It has that 'the castle is too big to furnish and they ran out of money a generation ago' feel," he says.
Trapp boldly blends different styles and centuries in each of his dwellings. As he is fond of saying, he loves to juxtapose old with older. In West Cornwall's airy dining room, for example, the table crafted from a 17th--century English sidewalk is topped with a Ming dynasty fishbowl and draped with an embroidered textile from the -African Kuba tribe. A 19th-century French chandelier hangs from the ceiling, and early 20th--century ram skulls line the walls.
Packed with antiques, Trapp's West Cornwall pool house doubles as a "small natural history museum." Photo by: Tim Street-Porter.

SEE MORE PHOTOS OF THIS GARDEN
The result is a spirited eclecticism, but it's outdoors where Trapp's genre blending truly shines. The West Cornwall garden, designed as a series of rooms connected by small stone staircases and elegantly crumbling balustrades, is full of surprises: terra-cotta olive oil jars line this path, while headless statues are tucked into that greenery. Weatherworn cobblestone paths, laid by Trapp, give a timeless air to the garden, and even the stone lap pool, installed in 2001, feels centuries old.
Though his own garden is one of a kind, Trapp's design sensibilities inform all of his projects, from historic Connecticut homes to the interior courtyard of Robert De Niro's Greenwich Hotel in Manhattan. Click on the photo gallery above to learn how you can recreate Trapp's unique style in your own backyard.