Designing in Mountains
ASLA member, Courtney McRickard's tips on landscape design in mountainous regions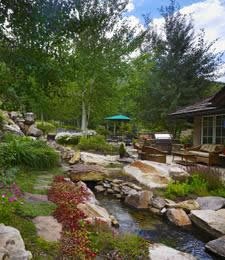 (Photo by: Wayne Brent Bingham/Photo Effects)
When you make your home near Colorado's ineffably beautiful forests and majestic mountains, how can your residential landscape compete with the natural landscape?
It can't. Instead, in such stunning surroundings, your landscape design succeeds when it works with the alpine environment - after all, the existing natural beauty is a primary reason why people move to mountain homes. Your alpine landscape design should not only increase your enjoyment of your home, it also should increase your home's value. At the same time, you want to practice good stewardship, preserving as much as possible the existing esthetics. Landscape architects working in the Rocky Mountain region pay particular attention to conservation of mountain sites, focusing on sustainability, preserving views and bearing in mind wildlife habitat. With thorough planning and painstaking execution, your design will reflect you, the homeowner, respect the ecosystem and integrate all green systems seamlessly.
ASLA Colorado board member and registered landscape architect Courtney McRickard offers these tips for creating outdoor alpine space with form, function and a feel for eco-justice:
Begin with the intention to honor the existing environment and to keep it healthy.
Study the topography and understand the site's grade.
Decide which trees will get incorporated into the design and which will be felled. Do the same for other existing vegetation.
Familiarize yourself with views from all angles. Decide which views to frame and maximize and which - if any - to minimize.
Use natural landscape elements like rocks or a hillside as the foundation of your design.
Use native rock on-site or nearby to hold slopes and build walls, pathways or patios.
Create a water-efficient design with measures to conserve water and also to mitigate water runoff on slopes.
Analyze the soil. Most mountain soils will need amending.
Before planting, understand solar exposure in all seasons.
Place trees effectively to reduce heating and cooling costs.
Know which plants fare well in high altitudes. Learn more about native plants.
To conserve water, use xeric plant species on hot, southern exposures. Use shade-tolerant plants on northern exposures.
Weigh the pros and cons of various hardscapes and softscapes for function and maintenance.
Educate yourself about local wildlife, and consider animal habitat and habits. (If bears live in the area, you probably do not want shrubs with berries bordering your patio.)
Consider building materials that are most appropriate for an alpine setting.
If your budget does not allow for an entire project to be completed at once, break the project down into phases.
Let your setting inspire you: As the British Romantic poets understood, nature is our teacher. Spend as much time as possible on your property to glean an understanding of your alpine environment.
Author Bio: Kim Douglas, RLA, ASLA, is president of the Colorado Chapter of the American Society of Landscape Architects and senior associate with studioINSITE. With more than 400 members, ASLA Colorado promotes the development, education and awareness of the landscape-architect profession in Colorado. With unparalleled professionalism, ASLA Colorado members are dedicated to inspiring the public through work that enhances the natural and built environments. For more information or to find a qualified landscape architect, call 303-830-6616 or visit aslacolorado.org.